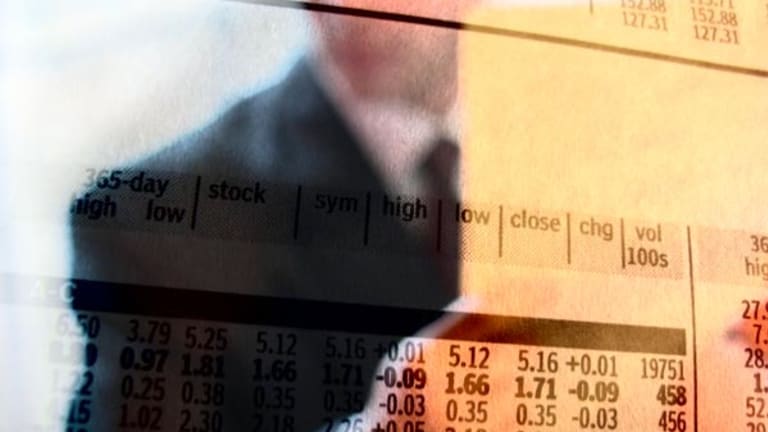 Maybe you can sneak out of the office early and catch up on some late-afternoon television. The stock market really wasn't easy to look at. Ticker tapes ran with red despite a pretty good-looking
employment report.
Unemployment remained at 4% in December, despite forecasts it would rise to 4.1%. New nonfarm jobs rose to 105,000, just above forecasts of 102,000 and a bit of a rebound from November's surprisingly low 94,000. But growth in average hourly earnings came out just above forecasts at 0.4%, indicating that wage inflation continues to grow. Economists were expecting a 0.3% increase.
On one hand, the employment report is a pretty good sign the economy isn't taking a joyride to hell in a hand basket. Fears of a recession may not completely abate, but they can take a little solace in the fact that the employment situation overall is still quite strong. Those aren't traditionally the hallmarks of a recession, when the economy has negative growth for at least two consecutive quarters.
But the
Dow Jones Industrial Average and
Nasdaq Composite Index weren't really paying the data much mind, focusing instead on earnings warnings that continued to flow in across the board. Investors were focused on the prospect of a few difficult quarters before the results of this week's
interest-rate cut can be felt. And they were likely engaging in some profit-taking in the wake of Wednesday's massive stock-market run up.
Both major market indices were off. The Dow was lower by almost 200 and the Nasdaq is below where it opened the New Year. Manufacturers and financials were the big negative story of the day.
Volume was far lighter than it was yesterday, when the
New York Stock Exchange passed 2 billion shares for the first time ever. Today, there wasn't a whole lot of rally support out there, with stocks falling to the downside as volume dried up -- a common complaint during the dark days of November and December.
Fear and Loathing in Financials
Aside from internals, perhaps the most-watched thing today was
Bank of America
(BAC) - Get Bank of America Corp Report
. Trading in the company's stock was halted as the day started, pending some news. The market waited and speculated just what news from one of America's largest bank could be. Most bets were on bad news and the markets quickly sank. Bank of America has been about 6.8% lower since it opened around 10:30 a.m. EST.
So, what was the news?
Well, there really wasn't any. Bank of America released a terse one-paragraph statement that said: "We know of no basis to support speculative rumors about our operations. We are conducting business as usual. The company has not experienced any significant losses in derivatives or other trading activities. And the company is comfortable with its guidance for credit quality in 2001 as provided to investors last month."
Nobody listened. Nobody cared. The concern was out there.
Markets accentuated the negative and dragged the entire sector lower. On the Dow,
J.P. Morgan Chase
(JPM) - Get JPMorgan Chase & Co. (JPM) Report
,
Citigroup
(C) - Get Citigroup Inc. Report
and
American Express
(AXP) - Get American Express Company Report
were all way off. The three major indices that track financials, the
American Stock Exchange Securities Broker/Dealer Index
, the
Philadelphia Stock Exchange/KBW Bank Index
and the
Nasdaq Financial 100
were all off more than 3% as people focused on credit problems and not the Fed.
With two of California's biggest power companies,
Edison International
(EIX) - Get Edison International Report
and
PG&E
(PCG) - Get PG&E Corporation Report
, pushed to the brink of bankruptcy and see their credit ratings get downgraded to near-junk or junk status, the major fear is that bad loans will destroy the financial sector. This terror is quite real, given the fact that some companies have already been burned by bad loans --
and the Fed cut might not help.
Toward the end of December, the
Federal Deposit Insurance Commission
, which is that little FDIC thing that ensures your money will be in the bank when you need it, said that there could be more trouble ahead for banks. Bad credit quality, or rather, "bad loans," were one of the myriad reasons cited as problematic.
Xerox's
(XRX) - Get Xerox Holdings Corporation (XRX) Report
uncertain future and massive debt
has shaken banks, while
First Union
undefined
had already been burned by a bad loan , when news surfaced in November that consumer products maker
Sunbeam
(SOC)
, a First Union client, was in trouble.
Financials are a scary place to be right now, with market forces split between two camps. One says that the Fed cut will help financials out, allowing them to avoid bad loan problems and other woes. Others think financials are in trouble. On Wednesday the glass was half full and the sector had heady gains. Today, that glass was clearly half empty in investors' eyes.
Churn, churn, churn
The
Morgan Stanley Consumer Index
rose, while the
Morgan Stanley Cyclical Index
fell -- a complete reversal from yesterday's action. The
Dow Jones Utility Average
gained after a huge stumble yesterday, while the
Dow Jones Transportation Average
fell. That's another reversal from yesterday.
Technology -- well, technology just stinks. Networkers, large-cap tech, dot-coms, wireless names, semiconductors, PC makers, computer peripherals, telecommunications and biotechs were all way lower.
And the Dow was like that old lady from the MedicAlert commercial. It fell, but couldn't get up.
Death By Analysis
3M
stands for Minnesota Mining and Manufacturing. The nickname just avoids unnecessary typing for lazy people.
Lehman Brothers
today said 3M's recent rise in value in the wake of the hiring of new chief executive and former
General Electric
executive Jim McNerney has given it little room to go any higher. Since his hiring in December, 3M has jumped about 20%. Lehman cut 3M's 2001 earnings estimates to $4.80 a share from $5.20, telling investors that it thinks the company is fully valued and that a slowdown in technology spending will affect the bottom line. And that estimate just isn't low, it's 45 cents lower than the average Wall Street estimate -- $5.25 a share.
Supporting the move, Lehman said that 3M's electronics and communications segment, which accounted for 17% of its sales in 2000, would see lower demand for its products as a result of slower spending in technology. So will 3M's optical system branch, which makes things for liquid crystal display screens.
3M fell 6.4% and helped drag on the Dow.
Lehman didn't stop with 3M, however. The brokerage also trimmed
Alcoa's
fiscal estimates, cutting its 2000 earnings per share estimate to $1.78 from $1.82, and its 2001 estimate to $2.25 from $2.35. This puts Lehman more in line with the rest of its friends on Wall Street. The analysts' average estimate for 2000 was $1.79 a share, while 2001 is $2.22 a share.
Robertson Stephens
snipped
Wal-Mart's
(WMT) - Get Walmart Inc. Report
2000 and 2001 earnings estimates after the major retailer had said yesterday that fourth-quarter
same-store sales would come in below estimates. The company originally wanted sales to rise between 3% and 5%, but feeling the pain of many retailers, cold temperatures and slow sales hit results.
Today, in reaction,
Robertson Stephens
cut Wal-Mart's fiscal 2000 earnings per share estimate to 1.40 from $1.42, and 2001 to $1.60 from $1.68.
But not every analyst shop was in agreement.
Prudential Securities
raised Wal-Mart's 2000 estimate to $1.41 a share from $1.40 and 2001 to $1.62 from $1.61, saying that it had already factored a bad holiday season into estimates.
Elsewhere on the blue-chip front,
Goldman Sachs
took down
Hewlett-Packard's
(HWP)
2001 earnings estimates, trimming it to $1.75 from $1.85. It also knocked down
IBM's
(IBM) - Get International Business Machines (IBM) Report
2001 estimate, knocking it to $4.95 from $5.00.
UBS Warburg
jumped in the fray and moved H-P's first-quarter forecast to 41 cents a share from 45 cents, and its full-year 2001 to $1.91 a share from $1.95.
The consensus first-quarter estimate, according to
First Call/Thompson Financial
, was 43 cents a share, while the full-year was $1.93. Goldie's pretty bearish on H-P, moving its estimate 18 cents below the average estimate on H-P's fiscal 2001.
Here's a snapshot on how the five affected blue-chips were doing. Again, check out 3M. It's getting socked!
Market Internals
Breadth stunk. Volume was lower than yesterday's record-setting pace.
New York Stock Exchange: 1,150 advancers, 1,636 decliners, 767.3 million shares. 99 new 52-week highs, 6 new lows.
Nasdaq Stock Market: 1,187 advancers, 2,340 decliners, 1.1 billion shares. 40 new highs, 52 new lows.
Back to top
Most Active Stocks
NYSE Most Actives
Nasdaq Most Actives
Back to top
Sector Watch
As mentioned earlier -- technology wasn't pretty today. Here's a more specific look.
Back to top
Bonds/Economy
Treasury notes are higher as traders remain convinced the
Federal Reserve will cut interest rates again by the end of the month. The long bond, after falling earlier in the session, has checked its slide. It should finish higher if its daily drift over the past week holds true. Treasury yields are near their two-year lows.
The unemployment data released today was not as bad as feared, but it didn't change the market's mood. Some analysts are guessing the currently available payroll and unemployment information will be revised and next month's report will be a lot worse. The morning didn't go by without a flutter though. Misleading news about the financial services sector being exposed to defaulting California utilities supplied the tension. The equity market fell sharply and shorter treasuries shot upwards until Bank of America denied rumors rattling the markets.
The benchmark 10-year
Treasury notelately was up 12/32 to 105 22/32, lowering its yield to 4.996%.
In economic news, the
employment report
(
definition |
chart |
) had non-farm payrolls, which are new jobs created during the month, rising by 105,000 in December. The government accounted for more than half of this growth, while privately held manufacturers continued to lose jobs. The unemployment rate remains at 4%, slightly better than expected. Economists polled by
Reuters
had forecasted it at 4.1%.
The augmented unemployment rate rose 7% in December as compared to 6.9% the previous month. It differs from the regular unemployment number by also counting those unemployed individuals who are not actively looking for a job but will begin working again if offered one.
The average hourly earnings increased 0.4%, little more than expected, as the annual rate edged up to 4.2% from 4.1%.
New home sales
(
definition |
chart |
source
) fell 2.2% to 909,000 in November, a little more than predicted, from 929,000 in October. Due to the low mortgage rates, economists had expected the number to come in at 913,000. It has now declined for the third consecutive month but remains well above the level it had dipped to earlier last summer.
Back to top
International
Overseas markets reacted positively ahead of the U.S. open. Europe was broadly positive, as telecoms and banks were gaining.
Not anymore. The American downturn has sapped a lot of the European strength, leaving London and Frankfurt clinging to slim gains at the end of their trading day. France fell like, well, France usually does when faced with tanks and troops.
London's
FTSE
gained 12.5 to 6198.1, as investors dipped back into technology. Germany's
Xetra Dax
rose 8.8 to 6385.3, while Paris'
CAC
fell 73.9 to 5742.1.
Japanese markets traded for the first time in 2001 late last night, well, that is, judging by New York clocks. And although the
Nikkei
missed out on a 7% first day dip on the
Nasdaq Composite Index, a massive rate cut rally and yesterday's rotation, it caught up today. The Nikkei rose 176.12 to 13,867.61. Hong Kong's
Hang Seng
rose 212.58 to 15,447.61.
The euro last traded at $0. 9538 cents. The yen at 116.11.
Back to top