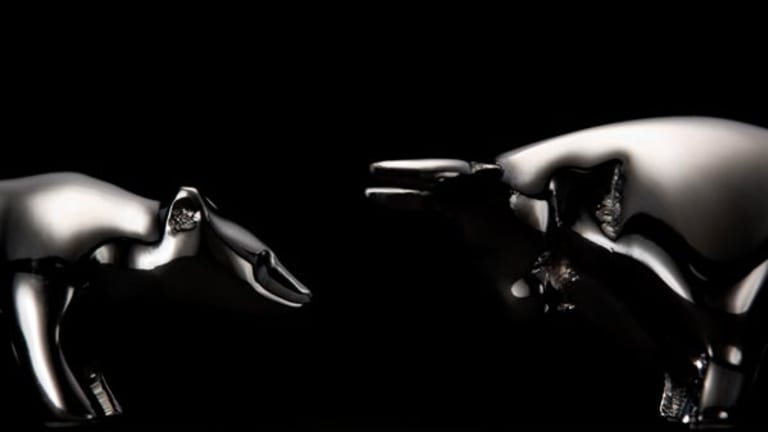 Today's Market: Election's Dramatic Stasis Sends Stocks on a Wild Ride
The market rebounded healthily after its sickening drop during a midday news conference held by the Al Gore campaign; even so, seat belts may be in order.
How clean are
your
underpants? This could have been
much
worse.
Wall Street rebounded healthily after dropping about 140 points in 20 minutes on the
Dow Jones Industrial Average
and 70 points on the
Nasdaq Composite Index
after the Gore campaign voiced strong concerns over Florida's voting results. At one point, the Dow was down to 10,618 while the Comp hit 3087, 61 points away from a 52-week low. Cooler heads prevailed and the market began a slow climb, resuming pre-Gore announcement trading levels.
Volume remained slim during the day but picked up significantly, to just below normal levels, as the rebound kicked in. Today's moves lower follow yesterday's 5% Nasdaq drop and is the fourth day of dips on the Dow.
The midafternoon fall came as the Gore campaign said it would support legal action, although not as a direct participant, while demanding a manual hand-count of the votes. "Because this disenfranchisement of these Floridians is so much larger than the reported gap between Governor Bush and Vice President Gore," Gore Campaign Chairman
William Daley
said at 1:25 p.m. EST, "we believe this requires the full attention of the courts in Florida and concerned citizens around the country."
A manual hand-count will add another two days of uncertainty to markets, spooking investors who'd like to play sectors favorable to whoever the next President will be. The oft-said adage is "markets don't like uncertainty." Never before has that been truer. After today's announcements, it's clear that this election won't end when the recount finishes at 5 p.m. EST this evening. Fewer than a thousand votes separate the two candidates and objections over 19,000 West Palm Beach ballots that have been thrown out are stoking apprehension that the election will remain uncertain deep into next week.
"Unfortunately for the market, there have been some legal challenges," said Mary Farrell,
PaineWebber
market strategist. "It's certainly not going to be resolved today at 5 or 6, as the market originally thought. This is unprecedented¿. Most of the time we know who the president will be after Labor Day. Right now everything is in the realm of guesswork."
One one hand, the surge in both late-afternoon stock prices and trading volumes is a good thing. But on another, it's an indication that traders and investors are clueless how to handle breaking news, which Farrell said markets are watching very closely.
"The market is not happy. It's responding to every piece of information," she said. "Ultimately, the market will be priced on its fundamentals, and those look good. But the uncertainty says that the market will continue to be volatile and fail to get a direction. Just look at today. We had a broad trading range."
Other market strategists called for calm. But seat belts may be in order.
"Investors should not be panicking," said Steven Goldstein,
Weeden
market analyst. "
The Gore campaign used a lot of strong language, which may lengthen this," he said. "And uncertainty is not the best environment for stock prices. It's gonna come down to the legal system, which will expedite the process.
"This makes for a difficult environment," Goldstein continued, "and that perception is a concern for stock prices. But still this is a concern for traders and not long-term investors. We're still talking about the likelihood of gridlock in the government, no matter who is elected President, given the slim margin in the House and the deadlock in the Senate."
But markets didn't see things that way. Within the Dow, the blue-chips were quite negative. Fourteen of the 30 industrials sat with losses. Of those,
Home Depot
(HD) - Get Home Depot Inc. (The) Report
,
Hewlett-Packard
(HWP)
and
Wal-Mart
(WMT) - Get Walmart Inc. Report
were taking the index down by 10 points or more.
IBM
(IBM) - Get International Business Machines Corporation Report
,
Intel
(INTC) - Get Intel Corporation Report
and
Merck
(MRK) - Get Merck & Company Inc. Report
were once some of the worst in the Dow, but came well off their session lows.
But a certain entertainment company stayed the biggest loser for the entire day.
Disney
(DIS) - Get The Walt Disney Company Report
wasn't such a magical kingdom today, despite beating analyst estimates and last year's quarter. The company announced fourth-quarter earnings of 20 cents a share, better than the 18-cent
First Call/Thomson Financial
estimate and the year-ago 7 cents. Operating income doubled to $898 million from the year-ago period.
But don't bust out the Mickey ears just yet. Analysts have rushed in and cut ratings on the company, after it warned about soft television advertising sales and said its first quarter would come in even to last year's quarter.
Merrill Lynch
cut its rating to near-term neutral from accumulate.
Salomon Smith Barney
cut its rating to outperform from buy. And Disney's stock fell 15.6% on the day.
As for the market overall, Jeff Hirsch, vice president of
StockTradersAlmanac.com
, said investors will stay out of markets while uncertainty lingers, delaying would-be gains in battered stocks.
"It's clear that uncertainty is causing the downturn," he said. And down markets usually come on small volume. Buyers are on the sidelines. I know a few futures traders who aren't trading. There's no sense making a bet if you don't know who the horses are."
"This puts the November and December rally on hold and I don't think that it will end quickly," Hirsch said from the offices of
The Hirsch Foundation
in Old Tappan, N.J. He said those controversial Palm Beach ballots will be the key factor in delaying the official announcement of the next President of the United States.
"The Gore camp said they'd contest it, and they have the right to."
As this election stays in limbo, with ballot objections raised both in court and in the mediacentric sphere of public opinion, technology stocks were sheep. Well-shorn sheep taken to the slaughter, that is. There was one notable exception: semiconductor stocks.
The
Philadelphia Stock Exchange Semiconductor Index
, which has taken huge hits lately as investors fear the effect of higher-than-usual inventory and slowing demand on future earnings, was a miracle sector today. At one point off more that 4%, it recovered, sprinting into the green as the closing bell pealed. The SOX ended with a slight gain of 0.6%.
Those beleaguered dot-com stocks, which have suffered lately as Pets.com has gone the way of the dodo and many non-public entities have been shuttering their doors, also dropped heavily.
TheStreet.com Internet Sector Index
fell 8.3%, one of the worst areas in the entire market.
Market Internals
Late day volume improved greatly as the markets rallied. Too bad internals didn't.
New York Stock Exchange: 1088 advancers, 1726 decliners, 1.1 billion shares. 57 new 52-week highs, 51 new lows.
Nasdaq Stock Market: 1260 advancers, 2606 decliners, 1.9 billion shares. 35 new highs, 189 new lows.
Back to top
Most Active Stocks
NYSE Most Actives
Disney: 25.4 million shares. AT&T (T) - Get AT&T Inc. Report: 24.3 million shares. Nortel (NT) : 21.6 million shares.
Nasdaq Most Actives
Back to top
Sector Watch
The tape was red and bleeding heavily.
Technology was the goriest, pumping buckets of blood like some early 1980s slasher flick. Shades of the gross-out classic
I Spit on Your Grave.
The PC makers in the
Philadelphia Stock Exchange Computer Box Maker Sector
fell 3.3%. And the Internet stocks in the
TheStreet.com Internet Sector Index
fell 8.3%.
Still, those numbers, as bad as they were, are all improvements from session lows. Simply put, uncertainty is not good for the stock market and it's worst for those already-shaky technology names.
The chip makers staged today's miracle comeback. After dropping more than 4% early on, the bruised and battered
Philadelphia Stock Exchange Semiconductor Index
careered into the bell with a slight gain.
Retailers took a huge hit, led by Wal-Mart and Home Depot. The
S&P Retail Index
fell 4.2%.
There wasn't a whole lot of cover out there today, but what shelter there was could be found in the financials. The
S&P Insurance Index
rose 1.3%, while the
Philadelphia Stock Exchange/KBW Bank Index
rose 0.9%, driving home the point that good news was simply scarce.
Back to top
Bonds/Economy
Bonds continue to shrug off the presidential impasse and took some encouragement from the latest price data. A weak start in the equities market was also helpful to the fixed-income sector.
The benchmark 10-year
Treasury note is at 99 18/32, up 12/32, to yield 5.808%.
The 30-year
Treasury bond is at 105 12/32, up 5/32, to yield 5.864%.
The
Producer Price Index
(
definition |
chart |
) for October rose 0.4% after a 0.9% rise in September, An increase of 0.1% had been expected.
The core rate -- which excludes food and energy costs -- fell by 0.1% after a rise of 0.3% in the prior month. Overall, the index is seen as benign despite the uptick in the headline rate.
Initial jobless claims
(
definition |
chart |
source
) for the week ended Nov. 4 rose sharply to 344,000 from 309,000 last week, well above expectation. The claims number is the highest since Jan. 9, 1999, and the 4-week average for initial claims has now moved up to 317,250 from 303,250 on Oct. 14.
Back to top
International
European markets were lower at the end of the day. The
CAC-40
in Paris was off 64.88 to 6271.15. The still-trading
DAX
in Germany was down 24.43 to 6984.21. In London, the
FTSE
was 35.20 to 6984.21.
The euro,
ever embattled, was trading higher at 0.8574.
Asian markets ended mixed Thursday, as the outcome of the U.S. presidential election continued to keep investors on the sidelines. Technology shares throughout the region, however, were lower on the heels of the Nasdaq drop Wednesday.
In Tokyo, the
Nikkei 225
closed down 339.6 points, or 2.2%, at 15,060.1. Japanese technology shares from electronics giants to chipmakers were lower.
Sony
, for example, fell 170 yen, or 1.8%, to 9,060 ($84.42) andNEC
(NIPNY)
fell 50 yen, or 2.1%, to 2,290.
The dollar lately traded at 107.48 yen.
Hong Kong's
Hang Seng
index also ended in the red, falling 149.3, or 1%, to 15,504.8.
China Mobile
(CHL) - Get China Mobile Ltd. Report
fell HK$1.75, or 3.3%, to 50.75 ($6.51) after its rating was downgraded to a sell by
Credit Suisse First Boston
.
South Korea's
Kospi
rose 2.6, or 0.5%, to 560.7, as financial shares led the broader market higher.
Back to top