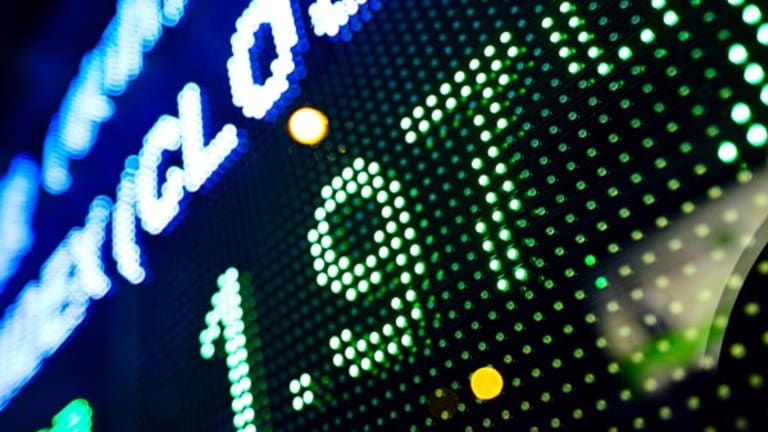 Publish date:
Today's Market: Election Uncertainty, Tech Weakness Roil Stocks Ahead of Holiday
Both the Dow and the Nasdaq have something to be thankful for -- at least they can't go down more tomorrow.
Both the Dow and the Nasdaq have something to be thankful for -- at least they can't go down more tomorrow.
A calm Wednesday before the holiday. That's all the market wanted.
A calm day before investors spend the holiday with their families. Instead, they got the turkey. Two turkeys, really.
The ongoing legal tussle between the teams representing presidential candidates
Al Gore
and
George W. Bush
, which resulted in yesterday's decision by the
Florida Supreme Court
to allow hand recounts to proceed, put the market in a foul mood. It tried to rally mid-session, but to no avail, and the
S&P 500 and
Nasdaq Composite Index both finished at levels not seen since last October.
The brutal tale of the tape looks like this -- the Nasdaq closed at 2755.34, 45% off the all-time closing high of 5048.62 reached March 10, and at its lowest close since Oct. 19, 1999. A meager 13 stocks reached new highs today while 626 hit new lows on the
Nasdaq Stock Market
. Decliners beat advancers by nearly 3-to-1.
The damage wasn't confined to the speculative stuff, either. The S&P 500 lost 24.99 today, dropping to 1322.36, or 13.4% off its all-time closing high of 1527.46. The index's close today is its lowest since Oct. 27, 1999.
Breadth on the
New York Stock Exchange was dreadful, with losers outpacing winners 2-to-1.
It's been said and said again that the market responds well regardless of who is president. That implies, of course, that at some point there will actually be a new president. But if you think the election doesn't matter, when Miami/Dade County officials announced they were suspending the recount because it would take an additional 10 days to complete, the major indices put together their only rally of the day. That rally failed, however, and that only increased the pessimism, both about a resolution of the election, but also about the market's state.
"The market's going lower because it seems we're going to do the mambo with the court system in Florida," said Phil Ruffat, vice president at
Fuji Futures
, at around 2:30 p.m. EST today. "Is there anything big going on? We're watching the screen. It's not fundamentals; we're waiting to see what the latest blow by blow is."
But the election, which is still wreaking some havoc, is clearly a secondary factor in the mess that is the equity market right now -- stocks sunk anew after a brief rally today, and finished the day with their heads lowered.
The stocks that hit 52-week lows read like a "Who's Who of the Internet." Cautious comments about
Yahoo!
(YHOO)
over the last 24 hours dropped that stock $3.50 to $38.19. On-line players
Ameritrade
(AMTD) - Get TD Ameritrade Holding Corporation Report
,
eBay
and
E*Trade
(EGRP)
all dropped to new lows on analyst comments about the sector.
TheStreet.com Internet Sector
index lost 6.4%.
Scient
(SCNT)
, B2B company
VerticalNet
(VERT)
and Internet incubator
CMGI
(CMGI)
all hit new lows on the tech-heavy Nasdaq today.
The election uncertainty definitely inhibited buyers from coming into the market on a day when they're less inclined to buy to begin with. On days like this, with volume light and traders itchy to get out of the office, investors are more disposed to pull their bids from the market and avoid fighting the way the market is going, which was steadily lower.
Portal Software
(PRSF)
sustained a massive blow today after forecasting a slower earnings growth rate when it reported earnings last night. Analysts downgraded the company en masse, and the stock, one of the day's most-active, fell $11.88, or 64%, to $6.75.
"When people are uncertain, they drift on light volume," said Jim Volk, co-director of institutional trading at
D.A. Davidson
. Besides the election, "we have a long weekend coming up, we've still got
OPEC
to contend with. There's a still a lot of icebergs to sail around."
Financial stocks were hammered today. The
Amex Broker/Dealer Index
dropped 4.4% today due to ongoing concerns about weakening balance sheets and worries of diminished revenues in the financial sector.
Merrill Lynch
(MER)
was off 2.8% today while
Lehman Brothers
(LEH)
fell 6.1%. The banks weren't immune, either. The
Philadelphia Stock Exchange/KBW Bank Index
dipped 2.7% today.
Among the bright spots on the dreary tape was the 7.8% gain in
Coca-Cola
(KO) - Get Coca-Cola Company Report
, which benefited after the company announced it would not seek to merge with
Quaker Oats
(OAT)
. Investors responded kindly, lifting the stock in the knowledge that its earnings wouldn't be diluted with such a hefty acquisition. Quaker Oats dropped 7.9%.
Worries about the state of the economy continue to dominate the markets. Consumer demand is slowing, and cyclical companies dependent on steady demand from consumer purchases sank again today. Auto companies are idling plants;
General Motors
(GM) - Get General Motors Company (GM) Report
hit a 52-week low today, losing 1.2%. Other cyclicals were weak today, including auto parts maker
Dana
(DCN)
, which hit a 52-week low, and
Illinois Tool Works
(ITW) - Get Illinois Tool Works Inc. (ITW) Report
, which fell 2.4.
The
Morgan Stanley Cyclical Index
dropped 0.9% and the
S&P Retail Index
fell 0.8%.
Market Internals
Breadth was atrocious on better-than-expected volume.
New York Stock Exchange: 939 advancers, 1,831 decliners, 966 million shares. 65 new 52-week highs, 126 new lows.
Nasdaq Stock Market: 1,065 advancers, 2,882 decliners, 1.84 billion shares. 13 new highs, 626 new lows.
Back to top
Most Active Stocks
NYSE Most Actives
Nasdaq Most Actives
Back to top
Sector Watch
One sector that had a bit of positive action was surprisingly the semiconductor arena. Traders attributed the bounce to a feeling that investors started to find some value in these beaten-down stocks. But it didn't last. The
Philadelphia Stock Exchange Semiconductor Index
, up most of the day, finished down 1.7%, as the last holdouts, including
Applied Materials
(AMAT) - Get Applied Materials, Inc. Report
and
Xilinx
(XLNX) - Get Xilinx, Inc. (XLNX) Report
, fell into the red in the last half-hour of the session.
A number of utilities stocks hit 52-week highs today, despite a generally terrible performance out of those indices. The
Dow Jones Utility Average
dropped 0.3% today, but
Consolidated Edison
(CE) - Get Celanese Corporation Report
,
El Paso Energy
(EPG)
and
American Electric Power
(AEP) - Get American Electric Power Company, Inc. Report
touched 52-week highs during the day.
Back to top
Bonds/Economy
Treasuries rallied as stock prices sunk. Volume was light, however, as the abbreviated session ended at 2 p.m. ahead of Thanksgiving. No market-moving economic releases were out today.
The benchmark 10-year
Treasury note ended up 7/32 to 100 27/32, dropping its yield to 5.633%.
Treasuries have been rallying when stock prices fall and falling when stock prices rise because traders and investors see the stock market as an indicator of future economic activity. If stock prices are falling, they reason, then economic growth will slow, allowing interest rates to fall and bond prices to rise.
In addition, last night's court ruling in favor of Democratic candidate
Al Gore's
quest for the presidency also helps the Treasury market. Al Gore is seen as less likely than Republican candidate George W. Bush to pursue fiscal policies that would erode projected budget surpluses. The Clinton administration has used surplus funds to pay down the national debt by reducing the supply of Treasury securities, a policy that has increased the market value of Treasuries. However, the refusal of officials in Miami/Dade County to proceed with a recount hurt Treasuries late, as that makes it more likely that Bush will indeed win the election.
Back to top
International
European markets were terrible.
In London, weakness in tech stocks and financials dragged on the
FTSE 100
, which dropped 162.00 to 6220.10.
Over on the continent, the
CAC 40
in Paris fell 136.32 to 5944.70 and the
Xetra Dax
in Frankfurt was off 167.53 to 6510.54. The beleaguered euro was sinking, trading down at $0.8429.
Asian equity markets closed lower overnight on weakness in techs and telecoms.
In Tokyo, the
Nikkei 225
lost 107.15 to 14, 301.31. The greenback was lately trading lower to 109.66 yen. Hong Kong's
Hang Seng
index fell on losses in China's largest mobile-phone operator, down 415.79 to 14,772.51.
Back to top