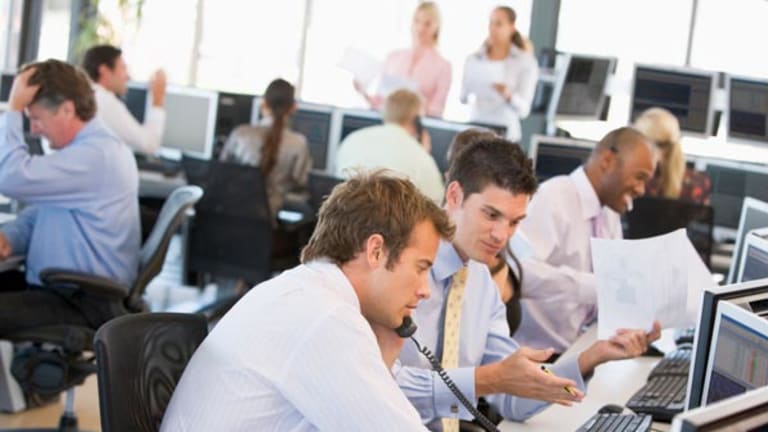 Today's Market: Eeeyuck! Tech Sells Off Again
<LI>Something old -- Nortel related tech woes continue.</LI> <LI>Something new -- 52-week lows for Cisco and Sun Microsystems.</LI> <LI>Something blue -- Wal-Mart, Home Depot bail out Dow.</LI>
Don't look forward to today's market close. Look forward to Britney Spears and Madonna at the Grammy's tomorrow evening. Look forward to the Oscars in March. Look back at the Golden Globes. Just don't look at the tape today -- the technology selloff is uglier than any hour-long acceptance speech ever could be.
The
Nasdaq Composite Index continued to slide in the wake of
Nortel's
(NT)
warning last week that its business was in trouble.
The
Dow Jones Industrial Average was fighting to stay on the plus side, despite goodwill toward retailers
Home Depot
(HD) - Get Home Depot Inc. (The) Report
and
Wal-Mart
(WMT) - Get Walmart Inc. Report
. Both retailers released earnings this morning.
Wal-Mart posted fourth-quarter
earnings that beat estimates, despite a lackluster holiday season. Going forward, it said that first-quarter earnings would come out in-line with expectations. Home Depot's release was bleaker, coming in with fourth-quarter earnings
that met lowered expectations and were less profitable than last year. That said, the Depot said it was comfortable with first-quarter estimates.
Wal-Mart gained 3% and Home Depot gained 3.7%, giving another big boost to the revival in retail since the beginning of the year. Today, the
S&P Retail Index
rose 2.7%. A bunch of retail names have snuck up on 52-week highs over the past seven weeks.
Federated Stores
undefined
,
Kohl's
(KSS) - Get Kohl's Corporation Report
,
TJX
(TJX) - Get TJX Companies Inc. (The) Report
and
Target
(TGT) - Get Target Corporation Report
were all at or near new highs today.
Outside of the retail rally, there weren't clear market leading stories. Early in the morning, the Dow got support from many defensive names, like
Philip Morris
(MO) - Get Altria Group Inc. Report
,
Johnson & Johnson
(JNJ) - Get Johnson & Johnson Report
and
Honeywell
(HON) - Get Honeywell International Inc. Report
, but a rush out of technology has easily offset those gains.
IBM
(IBM) - Get International Business Machines Corporation Report
,
Intel
(INTC) - Get Intel Corporation Report
and
Hewlett-Packard
undefined
pulled the Dow into the red. The trio dragged on the Dow and were a pretty good indicator of what was going on market-wide today. Tech was getting killed, while non-tech names were spared.
JDS Uniphase
(JDSU)
and other suppliers of fiber-optic components had their economic fortunes reduced yet again this morning, throwing yet another shrimp on the tech-based barbecue. The latest reduction comes courtesy of
Lehman Brothers
, which lowered earnings estimates on JDS Uniphase,
Broadcom
undefined
,
Applied Micro Circuits
(AMCC)
and
PMC-Sierra
(PMCS)
. Lehman said it made the revisions because of inventory problems and the companies' limited ability to forecast near-term business growth.
Credit Suisse First Boston
analyst
Charlie Glavin jumped into the fray, downgrading PMC-Sierra to hold from buy, citing "industry conditions that have actually gotten worse over the last few weeks." Glavin also cut Applied Micro Circuits to buy from strong buy due to soft business in the March and June quarters. Last week, CSFB and
Merrill Lynch
reduced JDS Uniphase's earnings estimates.
"Forward
visibility is extremely poor as order cancellations and push-outs make it extremely difficult to predict the final outcome of the March quarter, let alone the June quarter," Lehman analyst A. Chanda wrote to investors. "We are therefore reducing our estimates."
Applied Micro Circuits was the only one of the four not to hit a 52-week-low. Forget the gauze. Just break out the chalk and start outlining.
The rest of tech was as bad, if not worse than the fiber-equppers. Biotechs, boxmakers, chipmakers, dot coms and networkers were all lower. Everything is glued together, with weakness in one sector pulling others with it. The
Morgan Stanley High-Technology 35 Index
, which tracks the 35 tech companies that are most widely held by people, was off 3.2%.
Check this out:
They're not the only ones. A grand total of 76 companies on the Nasdaq have hit 52-week-lows.
You can blame visibility issues -- that is, trouble companies are having figuring out what future business will look like -- for the big drop in stock prices.
After a rip-roaring January, technology components suppliers have fallen lower and lower this month as companies continue to complain that the next few quarters will be weak. Or they admit they're not sure of the outlook for the first half of 2001. JDS Uniphase gained 31.5% in January only to stumble 34.7% in February as its competitors warned about slowdowns.
Joe Kalinowski, equity strategist with earnings tracker
First Call/Thomson Financial
, said that 289 companies have already pre-announced bad news about their earnings in the first quarter. Almost a third of those are technology-related businesses. In comparison, only 33 companies had said anything about the first quarter at this point last year.
As these pre-announcements flood the market, look for more analyst adjustments, market movements and sleepless nights -- because sometimes, the only problem with improving visibility is not enjoying the view.
Market Internals and Most Active Stocks
The Nasdaq should probably hide the sharp objects and rope. It was awash in losers, big losers. Note the number of new lows.
Nortel hit a 52-week low and topped the
Big Board's list of most actives. Corning, at the No. 3 slot, also hit a 52-week-low. Meanwhile, uptown at the Nasdaq, Cisco and JDS Uniphase topped trading and also hit 52-week-lows.
Anyone up for a chorus of "Swing Low, Sweet Chariot?"
Back to top
Sector Watch
Financials got destroyed today. The
American Stock Exchange Securities Broker/Dealer Index
fell 4.2%, while the
S&P Insurance Index
fell 1.9% and the
Philadelphia Stock Exchange/KBW Bank Index
fell 2.6%.
Merrill Lynch
(MER)
dropped 5%.
Bank One
undefined
fell 5.6%. And
Aetna
(AET)
fell 1.2%.
Back to top
Bonds/Economy
Treasury prices are down in very thin trading as the money market has little to respond to except equity movements. According to
IFRmarkets.com
, which does market flow analysis, current trading volume is about 50% lower than the average of last week.
Notes and bonds, after having sold higher in the previous session due to very weak -- and potentially inflationary -- reports on producer prices and consumer sentiment, seem to be sliding again in response to rising stocks. Analysts expect this trend to continue for most of this week.
The benchmark 10-year
Treasury note lately was down 5/32 to 98 31/32, raising its yield to 5.131%.
The
Standard & Poor's
speculative grade credit index, which measures the difference between the yields of government Treasuries and those of bonds rated below BBB+, was at 894.5 basis points, or 8.945%, on Friday. The difference has steadily decreased from a high of 10.74% on Jan. 2, just before the
Federal Reserve began cutting rates. Expectation that the economy will recover with help from the Fed has sent U.S. Treasury prices lower on weakening demand, preventing yields from falling further. Prices and yields move inversely. This has contributed to the narrowing of the index.
A recent survey by the
Federal Reserve Bank of Philadelphia
estimates that the U.S.
gross domestic product
(
definition |
chart |
) should grow by about 2.2% in 2001, down from the 3.3% annual growth that was forecast two months ago. However, that's not likely to jolt the market, as most economists and regional Fed presidents lately have been pegging the growth rate at 2% to 2.5%.
There is no economic news due out today.
Back to top
International
Over in Europe, markets took a swandive into their trading day swansong. London tried clinging to midday gains like a cat on a lampshade, before dropping into the deep abyss of a tech sell off. The
FTSE 100
fell 110.8 to 5983.2 -- that's a drop of 130 points in just under four hours. Germany's
Xetra Dax
, which trades until mid-afternoon here in the States, was off 19.8 to 6452.4, while Paris'
CAC
lost 53.1 to 5531.6.
On the currency front, the euro continued to slump, moving further and further away from the 94-cent level it traded at just weeks ago. It last traded at $0.9097, lower than the 91 cents or so it traded around during Friday's session. The yen traded at 115.54, relatively unchanged.
Tokyo's markets were up, something of a rarity lately. The beleaguered
Nikkei
knocked home a gain of 128.8 to 13,248.4 after traders shrugged off a not-so-good earnings forecast from
NEC
. Chipmakers, which have been destroyed in recent weeks, managed to actually make some gains, something that many said was a sign of a tech bottom. Then again, American markets took a day off yesterday and hopeful traders operated without the specter of another American sell off on the horizon. Hong Kong's
Hang Seng
gained 36.4 to 15,527.4.
Back to top