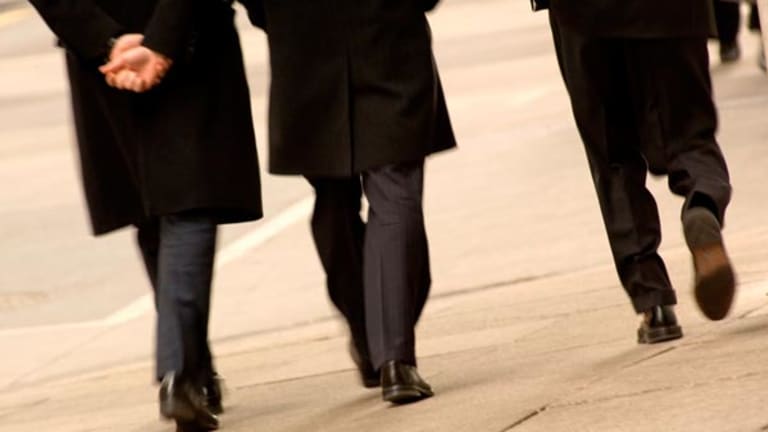 Today's Market: Dow's Wild Ride Puts it Back Near 10,000 Mark
<LI>Nasdaq lately on the positive side.</LI> <LI>Chase and J.P. Morgan off their lows.</LI> <LI>Intel drives chips into rally mode.</LI>
There are some things you just don't want to see in the morning. Like demanding co-workers, rambunctious children and the hair of the dog that bit you.
If you're an investor, few things could be harder to watch than the view of the
Dow Jones Industrial Average's
wild ride this morning.
Following a slew of
analyst downgrades this morning on
IBM
(IBM)
and an
earnings miss from
J.P. Morgan's
(JPM)
merger buddy
Chase Manhattan
undefined
, the Dow dropped more than 400 points to a session low of 9656.12 before 10 a.m. EST.
Trading collars, or "curbs" used to help calm volatile markets, went into effect on the Dow almost as soon as trading began. That happens when the index loses 210 points.
"Obviously, IBM and J.P. Morgan are the big drivers today," said Scott Curtis, a trader with
Kaufman Brothers
. "Unfortunately, they've dragged a lot of other stocks with it, but if you look at the rest of the Dow, it's relatively flat."
Combined, IBM and J.P. Morgan have thrown almost 130 points to the Dow's nasty side. And if you look at the other 28 blue-chip companies that make up the Dow, 13 were in the green. If you hypothetically discount IBM and J.P. Morgan, the Dow would only be off a bit more than 40 points. Still, despite the "looks worse than it really is" picture on the Dow, Curtis said that there's still a lot of fear in the market.
The
Nasdaq Composite Index was able to shake off much of its early woes, when it took a huge dive in sympathy with the Dow. It hit a session low of 3026. Makes the 5132.5 high of the year for the Nasdaq seem like a distant memory.
The Nasdaq was lately fighting for a perch it could keep in positive territory. It was led higher by a resurgent semiconductor sector.
Chipmakers in the
Philadelphia Stock Exchange Semiconductor Index
, which have been at or near 52-week-lows for the last few weeks because of fears about a slowdown in the sector, were last up 3.4%. Chip stocks were led higher by
Intel
(INTC)
. The embattled chip giant rose 8.1% to $39.06 on news that it was
upgraded by analysts after it beat its lowered earnings
last night.
"We're testing last Thursday's low," Curtis said of the day the tech heavy index dropped to near the 3000 mark. "I think there's a lot of fear out there. The
put
/call ratio is very high. A put is bet that a stock will drop, with the investor making money if the stock falls. Calls are the exact opposite -- a bet that a stock will go up. Calls are traditionally used by people who do not have the capital to buy shares, but think the price will go up nonetheless. If the puts end of the spectrum is far higher than the calls, it means that people think the market is pretty bad.
The
volatility indexis also very high and came close to last week's high, and when the volatility index gets above 30, then you know people are scared." The
Chicago Board Options Exchange Volatility Index
was lately up 0.7% to 32.9.
While many stocks are off there lows for the day, there's fear on the street. The volatility index is a measure of how much people think that the
S&P 100
index of large companies will fluctuate over the next year. It is based on call/put ratio on the S&P 100. So if there is a wide spread between puts and calls, it means investors believe the S&P 100 will be more valuable.
Taking a broader, more economics-driven picture of the market, Drew Matus, an economist at
Lehman Brothers
, said a cocktail of high growth in
gross domestic product (a measure of the value change of things in the economy), earnings misses and subsequent investor shell shock have helped shellac the market.
"It's not like we're seeing negative growth compared to what we had. I think people thought that 5% gross domestic product growth would continue forever. People are getting 4% growth. What you're seeing is a move to adjust to the new reality," he said. "What set this off was analyst expectations for earnings."
Lehman's picks for third- and fourth-quarter GDP growth are just south of 4%, which is certainly lower than what happened in the first and second quarters of 2000. GDP then grew in excess of 5%. Still, Matus said the second-half gross domestic product estimates are good numbers because they still show growth and are "real growth figures," which don't even take into account inflation, which could add in another 2 to 3% to GDP.
Matus said: "Higher growth equals more sales and more sale equals higher earnings."
And when growth slows, expectations are not met and people get disappointed. Matus said people got used to rapid growth of 5% or more. Now, they are making that correction in the stock market.
Market Internals
Some people say that what's on the inside is what really matters. Well, that's really bad news for the
Big Board and Nasdaq markets, because they've got terrible insides.
New York Stock Exchange: 767 advancers, 1,986 decliners, 838 million shares. 14 new 52-week highs, 244 new lows.
Nasdaq Stock Market: 1,211 advancers, 2,568 decliners, 1.5 billion shares. 16 new highs, 439 new lows.
Back to top
Most Active Stocks
NYSE Most Actives
America Online (AOL) : 29.6 million shares. Chase Manhattan

undefined

: 22.1 million shares. IBM (IBM) : 20.6 million shares.
Nasdaq Most Actives
Intel (INTC) : 88.8 million shares. Worldcom

undefined

: 44.2 million shares. Cisco (CSCO) : 42.9 million shares.
Back to top
Sector Watch
Intel may be helping chip stocks soar, but
IBM
(IBM)
, blue-chip brethren to Intel, did the exact opposite thing to the
Philadelphia Stock Exchange Computer Box Maker Index
. The index dropped -.8%, following the 14.4% plunge in Big Blue.
Financials were hurting, following the drop in both Chase and J.P. Morgan The
American Stock Exchange Broker/Dealer Index
fell 2.5%, while the
Philadelphia Stock Exchange/KBW Bank Index
fell 1.1%.
And people have found the forest and the trees. The
Philadelphia Stock Exchange Forest & Paper Products Index
rose 3.3%.
Back to top
Bonds/Economy
What's bad for stocks today is good for bonds. The bond market is rallying this morning as investors look for safer investments amid weakness in equity markets.
The benchmark 10-year
Treasury note was lately up 7/32 at 100 23/32, pushing its yield down to 5.652%. That puts the government security at its lowest yield of the year.
Bonds have pared back some of their gains from earlier in the morning as the
Dow Jones Industrial Average rebounded off its lows of the day and the
Nasdaq moved into positive territory.
The bond market is clearly much more concerned with the weak performance of the stock market and its implications for lower interest rates than it is with the growing signs of inflationary pressure in the economy.
The bond market was relatively unconcerned by September's
Consumer Price Index
(
definition |
chart |
), which was released before the stock market opened this morning and showed a 0.5% rise in the headline inflation number. It also showed a 0.3% increase in the core inflation rate that excludes food and energy prices.
Back to top
International
International
European markets were awash in red this morning following the bad news from IBM last night.
London's
FTSE 100
fell 0.9% to 6148.20.
The
CAC 40
in Paris dropped 2.1% to 5937.35, while the
Xetra Dax
in Frankfurt fell 1.1% to 6447.15.
The euro continued lower, lately trading down to 0.8391.
The major
Asian equity markets closed broadly lower Wednesday, as the region's technology shares got pounded after IBM reported weak revenues Tuesday.
In Tokyo, the
Nikkei 225
tanked 467.7, or 3.1%, to close at 14,872.5, ending under 15,000 for the first time in more than a year and a half.
In Tokyo trading, the dollar fell to 107.85 yen.
Elsewhere, Taiwan's
TWSE
index closed off 270.1, or 4.7%, at 5432.2, as chipmakers including
Taiwan Semiconductor
(TSM)
, which dropped nearly 7%, got mauled. Hong Kong's
Hang Seng
index fell 414.9, or 2.8%, to 14,458.5.
Back to top