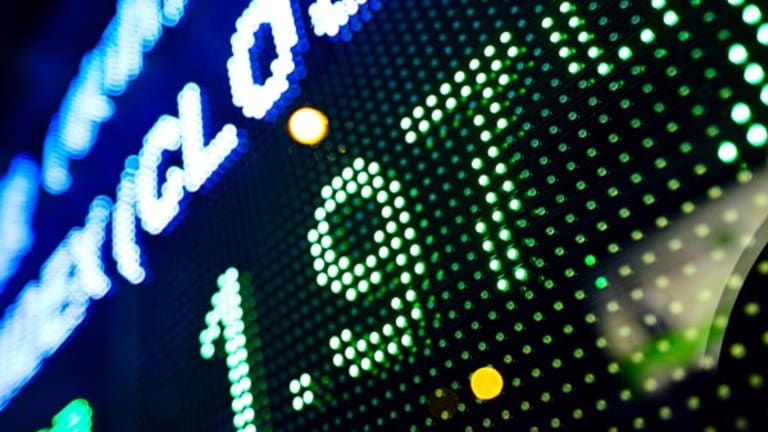 Publish date:
Today's Market: Dow Trading Higher in Early Action
<LI>Goldman Sachs' Cohen says concerns about oil, euro and earnings are 'overdone.'</LI><LI>Morgan Stanley Dean Witter disappoints on earnings.</LI>
<LI>Goldman Sachs' Cohen says concerns about oil, euro and earnings are 'overdone.'</LI><LI>Morgan Stanley Dean Witter disappoints on earnings.</LI>
(Updated from 9:41 a.m. EDT)
Tech investors aren't having a happy Thursday morning.
Equity markets, having lost all of its August gains in the first two and a half weeks of September, did get a boost this morning from one of its most long-term bullish names,
Goldman Sachs'
chief strategist Abby Joseph Cohen. The Goldman strategist today reiterated her current equity allocation and said the market's concerns about oil, the euro and earnings are "overdone." She said the intermediate and long-term view on the market remains "bright."
The
Dow Jones Industrial Average, which was initially lower in early action, was latley 56 higher to 10,741. The
Nasdaq Composite Index was off 7 to 3891. And the
S&P 500 lost 3 to 1449.
One of the big movers today should be
Morgan Stanley Dean Witter
(MWD)
, which reported earnings this morning. It posted third-quarter earnings of $1.09 a share, missing the 14-analyst estimate of $1.17, but up from year-ago earnings of 83 cents a share. The news was a surprise, since fellow brokerage firms
Goldman Sachs
(GS) - Get Report
and
Lehman Brothers
(LEH)
posted strong earnings results earlier this week. Morgan Stanley was down 7.7% in early action.
Meanwhile, the stream of economic data is a thin one.
Initial jobless claims came in at 308,000 for the week ending Sept. 16, less than the forecast of 318,000 and down from a revised 326,000 in the prior week. The
Philadelphia Fed Index is slated for release at 10 a.m. EDT. The Philly Fed Index is considered a good gauge of what to expect when the important
Purchasing Managers' Index
(
definition |
chart |
) is reported early next month.
Though most indicators have lately been backing up the notion that inflation is in check, investors appear unwilling to let down their guard as long as oil prices continue to bump up against decade highs on supply concerns. And the
euro, which has been steadily touching new lows, is not exactly inspiring confidence in multinational companies.
TheStreet.com
has been covering the oil crisis carefully. Our most
recent story appeared yesterday.
TheStreet.com
has also been tracking companies that have issued warnings about upcoming earnings, most of which have been affected by the weak euro or high oil prices -- or both. A chart of these warnings is
published separately. Volatility has been the name of the game in the past few trading sessions, as the market reacts quickly -- and not always rationally -- to the slew of earnings previews, both good and bad.
"Basically, the market is still struggling under the three 'E's': energy, earnings and the falling euro. They are contributing to a very high level in the fear index," said Peter Cardillo, chief strategist at
Westfalia Investments
.
Yesterday's trading action was a case in point. For a while there, things were looking pretty ugly, with the
Dow Jones Industrial Average off more than 200 at its low point.
If you weren't around to witness the dive and subsequent snapback in the Dow, you might have been under the impression that the 100-point loss at the close was a bad thing. However, some market watchers were undoubtedly breathing a sigh of relief as that loss was chopped in half.
The
Nasdaq Composite Index, unlike the
U.S. women's gymnastic team in Sydney, executed a graceful comeback, reversing a morning profit-taking slide to end the day up 31 points.
"From a technical standpoint, the market needs to bounce. The Dow has broken down and is approaching support levels -- we might get a relief rally," Cardillo said. "The Nasdaq, which did reach support levels earlier in the week, has bounced off them," he said, referring to the Comp's triple-digit-twist on Tuesday.
Cardillo expressed optimism about the third-quarter earnings outlook. "The elimination process of the above
three E's will begin with corporate earnings. From a contrarian viewpoint, when negative sentiment increases to its heights, a turnaround usually sets in. The more negative news, the greater the chance that an elimination process will take hold, and we could see a reversal process set in. Until then, it's going to be choppy," he said.
For now, at least, it doesn't look like a clear direction will emerge any time soon. Even as the tech-heavy Nasdaq screamed higher on Tuesday, traders were talking of a dead-cat bounce and wondering whether the move had any conviction. By yesterday morning, the answer would have been a resounding "no." But at the close, that answer had turned into a resounding "maybe."
On the earnings horizon, cruise operator
Carnival
(CCL) - Get Report
docked its third-quarter earnings today. It said net income was lower in the third quarter than a year ago, but it had earnings per share of 67 cents compared to the analyst expectation of 64 cents. The stock has been scraping the bottom of a trading range for most of the year and is down more than 50% year to date. Carnival was 3.1% higher in early action today.
Back to top
Bonds/Economy
Lately, the benchmark 10-year Treasury was up 3/32 to 98 30/32, yielding 5.892%.
Back to top
International
European markets were soaking in red at midday. In London, the
FTSE
was off 77.5 to 6202.4. The French
CAC-40
was down 134.54 to 6270.89 and the German
DAX
was sliding 124.46 to 6640.77.
Asian markets ended lower.
The
Nikkei 225
index shed 147.26 to close at 16,311.1.
The euro managed to hit another low against the dollar, hitting 0.8474 during Asian trading. It was lately trading at $0.8527. The greenback also slid against the yen recently to fetch 106.56.
Hong Kong's
Hang Seng
index slid 501.17, or 3.2%, to close at 15,164.45, largely due to shares of
Pacific Century Cyberworks
(PCW)
getting pummeled. PCW fell HK$1.60, or a whopping 14.9%, to 9.15 ($1.17) after shares were suspended midday Wednesday at HK$10.75. Korea's
Kospi
index shed 10.09, or 1.7%, to close at 595.99.
Back to top