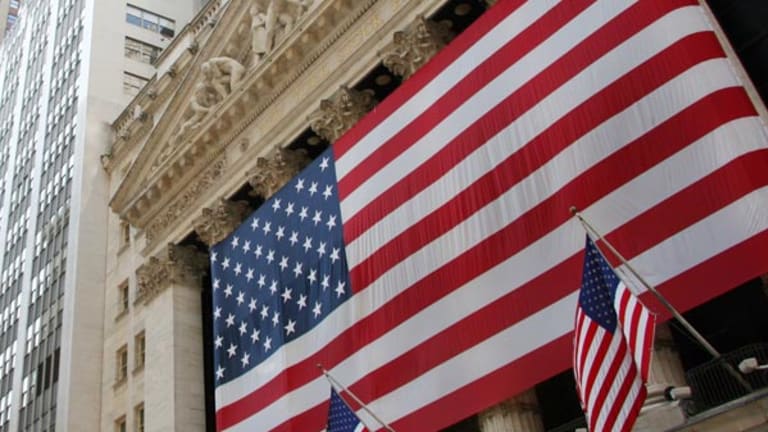 Publish date:
Today's Market: Dow Takes the High Road, Comp Takes the Low Road in Midday Action
J.P. Morgan, 3M and IBM driving the Dow.
J.P. Morgan, 3M and IBM driving the Dow.
Two markets diverged in a yellow wood today, and the
Nasdaq is the road with lots of potholes and signs that you just can't read. Fresh rumors of a
J.P. Morgan
(JPM) - Get Report
purchase has catapulted the
Dow Jones Industrial Average 100 points higher, while weakness related to semiconductors is causing pressure on the tech-heavy Nasdaq Composite.
The Dow was lately up 111 to 11,371, while the Nasdaq lost 60 to 4083. The
S&P 500, pulled in opposite directions by the tech stocks and the industrial blue-chips, was going nowhere, lately off 2 to 1505. The small-cap
Russell 2000 dropped 2 to 537.
Dow component J.P. Morgan was lately up 4.9%, adding 46 points of positive lift to the 30-stock average. This week's rumor du jour has J.P. Morgan in talks with
Deutsche Bank
, according to the German weekly
Wirtschaftswoche
, and after recent announced purchases of brokerages
PaineWebber
(PWJ)
and
Donaldson Lufkin & Jenrette
(DLJ)
, investors have been eagerly running up other financial stocks in anticipation of a possible purchase.
Lehman Brothers
(LEH)
was also soaring today, gaining 2.5%.
On the other end, however, were the semiconductors, and more broadly, the rest of the technology sector.
DLJ analyst Boris Petersik downgraded
Micron Technology
(MU) - Get Report
to underperform from buy, citing price
weakness in the market for DRAM (dynamic random access memory). Micron was lately down 9.4%.
Although Micron is one of the few American chip makers that concentrates on DRAM manufacture, analysts have been concerned about erosion in chip demand overall. The
Philadelphia Stock Exchange Semiconductor Index
was lately off 3.6%, thanks to significant losses in
Intel
(INTC) - Get Report
,
Xilinx
(XLNX) - Get Report
and
Texas Instruments
(TXN) - Get Report
.
"These are still obviously a very important part of the growth investment puzzle," said Brian Belski, chief investment strategist at
U.S. Bancorp Piper Jaffray
. "So they're near-term shaky, longer-term bullish."
However, the rest of the technology sector was getting tattooed with the chip stocks. The
Philadelphia Stock Exchange Computer Box Maker Index
was down 1.9%, and the
Nasdaq Telecommunications Index
dropped 0.9%.
The pullback in technology reflects worries over continued demand for chips from PC makers, as well as concern over third-quarter earnings growth. The preannouncement season, the time for companies to swallow hard and let the market know that everything is not ok, is quickly approaching, and that's gotten the market jittery after a solid August.
"Technology had a great last couple weeks in August and it helped boost the Nasdaq, and the market opens up this week, and now Intel, biotech and the higher growth stuff is not working," said Belski.
Back to Earth
Recent high-flying growth stocks like networking name
Juniper Networks
(JNPR) - Get Report
were losing ground, lately down 3%, while
Nortel Networks
(NT)
dropped 2%, and B2B stocks, such as
Ariba
(ARBA)
, were also hurt, losing 2.8%.
Internet stocks weren't spared, as
TheStreet.com Internet Sector
index, or the
DOT dropped 1.1%, despite a
Credit Suisse First Boston
upgrade of
Ameritrade
(AMTD) - Get Report
and
e*Trade
(EGRP)
. Those two stocks were both strong, up 12.1% and 6.2%, respectively.
Some felt the tech selling was a bit indiscriminate.
"They're throwing the bathwater out with the babies now," said Doug Myers, vice president of equity trading at
IJL Wachovia
. "You're seeing some realistic expectations coming back to those stocks, expectations for sustainability, for growth."
Market Internals
Breadth was positive on the Big Board, lousy on the Nasdaq, on strong volume.
New York Stock Exchange: 1,472 advancers, 1,215 decliners, 560 million shares. 126 new 52-week highs, 24 new lows.
Nasdaq Stock Market: 1,577 advancers, 2,150 decliners, 961 million shares. 72 new highs, 36 new lows.
Back to top
Most Active Stocks
NYSE Most Actives
Citigroup (C) - Get Report: 18.3 million shares. Associates First (AFS) : 17.5 million shares. Micron Technology: 10.9 million shares.
Nasdaq Most Actives
WorldCom (WCOM) : 46.4 million shares. Intel: 27.8 million shares. Cisco: 20.4 million shares.
Back to top
Sector Watch
A
Merrill Lynch
downgrade of the beverage bottlers is hurting those stocks today, especially
Pepsi Bottling Group
(PBG)
, lately off 8.1%.
Whitman
(WH) - Get Report
lost 2.3%, but
Coca-Cola Enterprises
(CCE)
was holding steady, lately up 1%.
The
Dow Jones Transportation Average
has displayed a measure of strength today, gaining 1.3%, and the
Dow Jones Utility Average
continued its recent gains, lately up 1.2% to a new high of 375.36.
The
Philadelphia Stock Exchange Oil Service Index
was up sharply, due to continued strength in the price of oil. That index gained 3.9% as the price of crude oil futures for October delivery reached $34.50 today. That's the highest price for crude futures since the beginning of the decade.
Back to top
Bonds/Economy
Treasuries are again marginally lower on little news, retreating further from the lowest-of-the-year yields they reached at the end of last week.
The benchmark 10-year Treasury note lately was down 6/32 at 100 8/32, lifting its yield to 5.71%.
With no major economic releases slated till the
retail sales report and the
Consumer and
Producer Price Indices nest week, Treasury traders are mostly watching the corporate bond calendar. This fall, it is expected to be loaded with European telecom issues, but as yet it isn't clear how much of the $40 billion of expected issuance will come in September.
Also of interest today,
Fed Governor Edward Kelley, in an interview with
Market News International
, said he continues to see the economy as running a higher risk of too-high inflation than of too-slow growth. A recent spate of weak economic reports has some economists thinking that the Fed, in its pronouncements after meetings of the
Federal Open Market Committee, might start describing those risks as balanced, indicating a lower likelihood of future rate increases.
Fed funds futures are discounting somewhat higher odds of a rate hike by the end of the year today than they were yesterday. The odds remain below 25% however.
Back to top
International
Despite strength in banks and pharmaceutical stocks, the major
European markets were down at the close.
The
FTSE 100
finished down 57.80 to 6694.70. Across the channel, the
CAC 40
in Paris ended off 59.97 to 6796.79 and the
Xetra Dax
in Frankfurt was off 61.06 to 7334.01.
The euro was lately trading lower at $0.8710.
Asian markets were mixed overnight.
After swinging between positive and negative territory all day, Tokyo shares were nudged lower as a series of earnings downgrades punched investor confidence. Some volatility remained ahead of the expiration of September futures and options contracts Friday, but the futures market gained composure after consecutive sessions of heavy selling. The
Nikkei 225
index shed 52.40 to close at 16,399.87.
In Tokyo trading, the greenback edged slightly lower against the yen to 105.98. The dollar was lately trading at 105.71 yen.
Hong Kong's
Hang Seng
index rose 10.01 to close at 17,605.23 in rather dull trading, with the market concentrating on buying index heavyweights.
Back to top