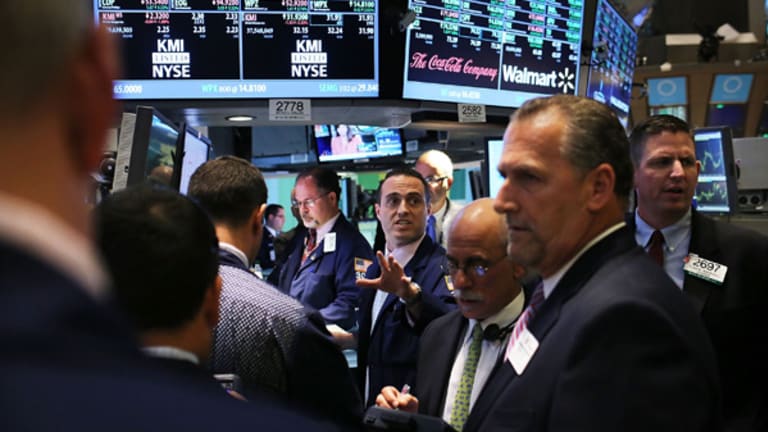 If you tuned out of
Big Al's
testimony to the
Senate Budge Committee
, turns out you
didn't miss much.
The
Federal Reserve chair stuck to his prepared speech, talking about upcoming fiscal challenges for the Bush administration, and then answered a stream of questions from more than one rambling senator.
At the beginning of Greenspan's speech, the
Nasdaq Composite Index took a fairly large drop, but that seems mainly due to the plethora of bad earnings news and negative research notes that has hit its components. Tech-heavy index started off on the downside and hasn't made any effort of late to tread closer to the flatline.
The
Dow Jones Industrial Average moved swiftly to the upside at the opening and hasn't abandoned its stance there. Lately the index was right near its session highs.
The Street was looking for (but didn't really get) some sign of what the Fed's going to do next week when the
Federal Open Market Committee meets. The closest he got to any kind of a hint was in the Q&A part when he answered a question from Sen. Paul Sarbanes (D-Maryland), saying we are "very close to zero growth at this particular moment," and that "we know the fourth quarter was a very small positive, but there is an inventory liquidation process going on..."
That could be taken as a sign that Greenspan and his crew are still worried enough about economic slowdown that they will cut interest rates another 50 basis points. In the two weeks after the Fed's first cut, it was all but a given that at the meeting, they would do the same. In the past week, though, more have been saying that they're expecting only a 25 basis-point cut.
Meanwhile, the biggest issue hitting the Comp today concerns telecom suppliers, particularly fiber-optic cable maker
Corning
(JDSU)
, telecom equipment-maker
JDS Uniphase
(JDSU)
, networking equipment company
Nortel Networks
(NT)
, and (who could forget) beleaguered communications equipment-maker
Lucent
(LU)
.
The sector's problems were magnified last night when Corning announced that it
beat estimates, but warned of softening sales in the first quarter. That warning -- coupled with Lucent's incredible string of
problems and announcement that it would manage its inventories lower as well as Nortel's corrected inventories -- pushed
Salomon Smith Barney
to downgrade JDS Uniphase to outperform from buy.
Lately, Corning and Lucent were the most actively traded stocks on the
New York Stock Exchange and were down 16.6% to $58.50 and 5.7% to $18.56. JDS Uniphase was falling 9.2% to $57.31 and Nortel was 5.2% lower to $37.94.
Also on the Nasdaq, a whole heck of a lot of declining was going on after a bunch of earnings reports were released.
SanDisk
(SNDK)
took a big dip, dropping 30.6% to $32.06, after it reported a sharp slowdown in fourth-quarter sales. Today,
Morgan Stanley Dean Witter
added injury to insult with a downgrade to neutral from outperform.
A couple of stocks were getting smacked around in spite of good news. One such stock was
VeriSign
(VRSN) - Get VeriSign, Inc. Report
, which was down 7.1% to $75.75 even though it reported earnings that beat estimates and then raised its views on 2001 earnings and revenue.
Also, drugmaker
Immunex
(IMNX)
was being pulled down 7.8% to $31.69. Last night, the company said its profits rose more than 200% and boasted that its anti-arthritis treatment Enbrel climbed 65%. Still, it was hit with a downgrade from
Robertson Stephens
to long-term attractive from buy.
And other drugmakers
Schering-Plough
(SGP)
and
Eli Lilly
(LLY) - Get Eli Lilly and Company (LLY) Report
, which both announced earnings in line with estimates, were both higher in recent trading.
In fact, the Dow was cruising higher thanks to pharmaceutical
Merck
(MRK) - Get Merck & Co., Inc. (MRK) Report
and health care products giant
Johnson & Johnson
(JNJ) - Get Johnson & Johnson (JNJ) Report
. Together, the blue-chips were adding close to 30 points to the Dow's positive side.
Market Internals
Breadth was positive on the Big Board and negative on the Nasdaq on active volume.
New York Stock Exchange: 1,539 advancers, 1,133 decliners, 697 million shares. 75 new 52-week highs, 3 new lows.
Nasdaq Stock Market: 1,505 advancers, 2,024 decliners, 1.267 billion shares. 46 new highs, 12 new lows.
Back to top
Most Active Stocks
NYSE Most Actives
Corning: 28.9 million shares. Lucent (LU) : 14.4 million shares. America Online (AOL) : 10.5 million shares.
Nasdaq Most Actives
Back to top
Sector Watch
Utilities and energy stocks were bouncing after the
White House
extended two federal emergency orders through Feb. 6, requiring out-of-state energy firms to sell surplus electricity and natural gas to California utilities to help avoid blackouts.
Also, giving the sector a pop was a move by
Merrill Lynch
, upgrading
Edison International
(EIX) - Get Edison International Report
and
PG&E
(PCG) - Get PG&E Corporation Report
to accumulate from neutral. Edison's Southern California unit announced Wednesday that it would not voluntarily file for bankruptcy and has enough cash to last until Feb. 2. Edison lately was climbing 28% to $12, while PG&E was 20.1% higher to $11.94.
The
American Stock Exchange Oil & Gas Index
was up 1.9%, the
American Stock Exchange Natural Gas Index
was moving up 2.2% and the
Dow Jones Utility Average
was jumping 2.3%.
Back to top
Bonds/Economy
Treasury prices slid precipitously for a while as
Federal Reserve chairman
Alan Greenspan gave little clue about monetary policy and chose instead to elaborate on the benefits of a possible tax cut. He was addressing the
Senate Budget Committee
this morning and had been expected to hint broadly about the corrective fiscal steps to be taken at the
FOMC meeting next week. The absence of such mention brought about an abrupt reversal in the money market, striking an especially jarring note since employment cost data released earlier had shown inflation to be firmly under control.
Bonds however began to pull back as analysts absorbed the correct context of the speech and kept their optimism alive about looser money supply in the very near future. The mix of distressing economic data released recently has had market watchers hoping for the central bank to swiftly turn the slump around, particularly with the help of interest rates. While Greenspan may have preferred to concentrate on the tax proposal today, he did not rule out another major reduction in lending rates.
The benchmark 10-year
Treasury notelately was up 4/32 to 103 13/32, lowering its yield to 5.291%.
In economic news, the
Employment Cost Index
(
definition |
chart |
), which measures what workers pay in wages, salaries and benefits, rose less than expected, by 0.8% in the fourth quarter of 2000. It is also lower than the 0.9% growth in the third quarter. Economists polled by
Reuters
had forecast a growth rate of 1.1%.
The
initial jobless claims
(
definition |
chart |
source
) rose to 316,000 for the week ending Jan.20, up from 304,000 in the previous week. The rise was lower than the forecast of 339,000. The four-week average dropped for the second straight week to 336,000.
Existing home sales
(
definition |
chart |
) dropped sharply by 7.4% to 4.87 million in December, down from 5.26 million the previous month. The reading is now at its lowest level since last July, and indicates that declining consumer confidence has begun to hurt the housing market.
Finally, the
Consumer Comfort Index
(
definition |
chart ), which measures the consumer's confidence in the economy's future, rose to 17% last week. It is still thirteen points its 12-month high of 35%.
Back to top
International
European markets were mixed at the close.
London's
FTSE
was off 9 to 6256. Across the channel, markets were faring better, with the Paris
CAC-40
up 34 to 5935. Frankfurt's, still-rallying,
Xetra Dax
was 28 higher to 6735.
The dollar was trading at $0.9227 euro this morning, a one-month high. The euro has been slowly gaining as the U.S. dollar weakens in the face of a slowing domestic economy.
Asian markets were mixed this morning following another lackluster performance on the U.S. markets Wednesday.
Tokyo's
Nikkei 225
slipped again, dropping 90.20, or 0.65%, to 13,803.38. The index had been rebounding from a 27-month low it hit on Jan. 11 but lost momentum earlier this week.
Hong Kong markets are closed until Jan. 28 as people busily celebrate the Chinese New Year.
Singapore's
Straits Times
rose 3.22, to 0.17%, to 1914.20.
The greenback was lately trading higher at 116.66 yen.
For more on world stock markets, check out
TheStreet.com's
global indices information.
Back to top
Listen to JDS Uniphase's (JDSU)
RealMoney
columnists in real time in an exclusive chat at 4:00 p.m. EST. In a special event at
RealMoney.com
, you can listen to a Web cast of the earnings call while simultaneously chatting with James J. Cramer, Adam Lashinsky and Jim Seymour in a Columnist Conversation as they comment on the call.