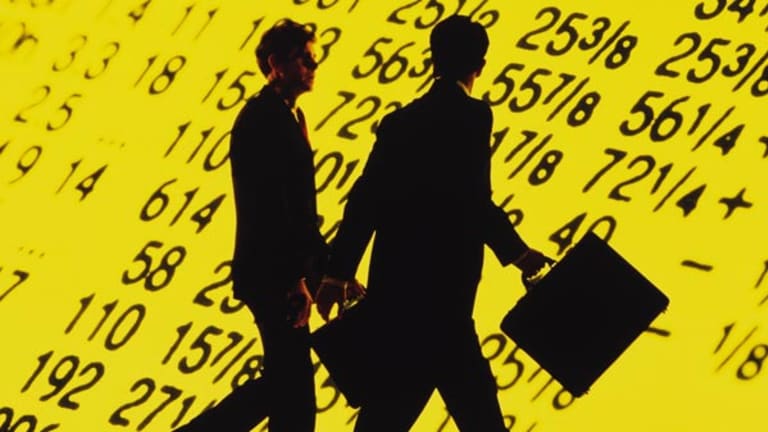 Today's Market: Dow Shrugs Off More Bad Earnings News; Nasdaq Stays Flat
Emerson, Comverse, Compaq and others come out of the woodwork to 'fess up.
(Updated from 9:57 a.m.)
Though some bullish sentiment on Wall Street is being chipped away, earnings warning by earnings warning, the blue-chips are lately into the green by double digits.
A slew of companies -- from
Compaq
(CPQ)
to
Comverse Technology
(CMVT)
to
iron horse
Emerson
(EMR) - Get Emerson Electric Co. Report
-- have 'fessed up on expected earnings shortfalls, and the markets are absorbing the bad news.
The
Dow Jones Industrial Average was lately up about 48 points to 10,223; the
Nasdaq Composite Index was flat at 1963; and the broader market
S&P 500 was down 0.6 points to 1181.
"I expect stocks to move lower, but not dramatically," said John O'Donoghue, co-head of listed trading at
Credit Suisse First Boston
. "They should drip, drip, drip lower," he said.
At the start of second-quarter earnings season, Wall Street is seeking clarity on the earnings outlook. After the closing bell today, the picture should get a little clearer, as mobile-phone giant
Motorola
(MOT)
and Internet
blue-chip
Yahoo!
(YHOO)
report their results. Yahoo was off 7.6% to $16.47 in early trading; Motorola was down 3.8% to $14.91.
On Tuesday, stocks fell across the board, bringing the major indices to their
lowest levels since mid-April, as investors grew increasingly worried about the earnings outlook. In another low-volume session, the Dow fell 123.76 points, or 1.2%, to 10,175.64, while the Nasdaq shed 64 points, or 3.2%, to 1962.79. The S&P 500 lost 17.26 points, or 1.4%, to 1181.52.
"I expect to see some follow-through from yesterday," said Ray Hawkins, vice president of block trading at
J.P. Morgan
, who thinks volume will remain thin. Hawkins said everything is hanging on what companies say about the earnings recovery scenario -- if it starts to look like first quarter next year is the turning point, as opposed to the fourth quarter of this year, investors might begin to do some buying. "The good thing is the fact that a lot of the disappointment may be priced in already, so any positives will be felt greater than disappointments," he said.
A couple of less-prominent companies joined the warnings parade this morning: electrical-products maker Emerson and telecommunications-software maker Comverse among them. Comverse was tanking this morning, off 37.6% to $24.38. Rival
Openwave Systems
(OPWV)
was shedding 9.5% to $21.79 this morning.
Safeco
(SAFC)
also warned this morning, saying it expects to fall short of second-quarter expectations. The company forecasts it will report a per-share loss of 25 cents to 35 cents, compared with analyst estimates of an 18 cent loss. Safeco was off 1.1% to $28.72 so far this morning.
Earnings news released after the close of trading Tuesday was mixed. Compaq
warned that it would miss revenue targets and its stock rose, and
Rational Software
(RATL)
topped analysts' lowered expectations, though earnings fell from the year-ago period, and its shares got a lift, too. This morning, Compaq's shares were up 3.3% to $14.21, while Rational was down 1.2% to $18.53.
Compaq cut its revenue forecast for the second quarter and announced further job cuts after the close Tuesday, blaming its shortfall on deteriorating conditions in the European market, price competition and a slowdown in the PC industry.
Also Tuesday,
DoubleClick
(DCLK)
reported earnings and revenue that met analysts' expectations but lowered its third-quarter outlook; its stock fell after hours. The company said that third-quarter revenue would be $96 million to $102 million, compared with $135.2 million last year, and well below the $108.1 million called for by analysts polled by
Thomson Financial/First Call
.
Back to top
Bonds/Economy
Bond prices were mixed so far today. The benchmark 10-year
Treasury note was rising 1/32 to 97 31/32, putting its yield at 5.270%.
The 30-year bond was down 5/32 to 95 23/32, leaving its yield at 5.675%.
Back to top
International
European stocks were falling for a seventh-straight day, led down by banks and telecom stocks after analysts cut their forecasts for bank profits and mobile-phone sales. London's
FTSE 100
was lately down 56.1 points, or 1.03%, to 5411.8. The Paris
CAC-40
was falling 52.6, or 1.1%, to 4920.8. Frankfurt's
Xetra Dax
was losing 71.0 points, or 1.2%, to 5745.3.
Asian markets were down and out overnight. Compaq's profit warning and continued weakness in the domestic economy gave Japanese investors little reason to buy stocks, and Tokyo's
Nikkei 225
slid 295.3 points, or 2.4%, to 12,005.1. Hong Kong's
Hang Seng
fell 186.0, or 1.5%, to 12,527.9.
Back to top