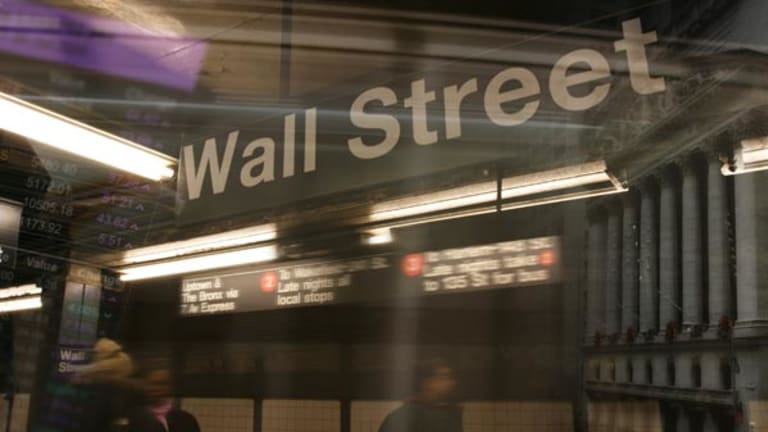 Today's Market: Dow Pops as Nasdaq Sags
<LI>Lehman Brothers slashes Cisco's price target.</LI> <LI>Personal income jumps in September.</LI>
(Updated from 9:42 a.m.)
Still reeling after two weeks of erratic swings and with the bulk of a very mixed earnings season behind it, tech stocks kicked off on the downside this morning. The
Dow Jones Industrial Average, however, was lately gaining 131 to 10,720.
Tech stocks are feeling some pressure after
Lehman Brothers
slashed its 12-month price target on
Cisco
(CSCO) - Get Cisco Systems, Inc. Report
to $60 to $65 this morning from $90. Cisco reported in early August that its fiscal fourth-quarter profits topped analyst expectations, strengthened by strong sales to Internet service providers, cable and telephone companies. Tech stocks have been under fire lately, however, as earnings disappointments have investors worried that stock valuations remain too high. Cisco was lately off 2.7% to $49.38.
The tech heavy
Nasdaq Composite Index was off 5 to 3273.
And the
S&P 500 moved up 12 to 1391.
Some economic data out this morning shows that both consumer income and consumption remain strong, which could be a sign that the threat of inflation hasn't disappeared.
September
personal income came in at a 1.1% rise, compared with expectations of a 0.4% rise. It's the biggest gain since income rose 1.3% in October 1999. Spending in September went up 0.8% compared to expectations of a 0.6% rise. That's the fastest rate of spending in six months.
"Both numbers had inflationary overtones to them. But today is going to be a fairly quiet one. Other numbers later in the week are more important, including payroll and jobless claims," said Pat Dwyer, head of institutional sales at
Cantor Fitzgerald
.
Prospects are looking up, even if just a bit, for oil prices and the euro. Crude oil futures were falling after OPEC, the organization of oil exporting countries, announced it would increase output by some 500,000 barrels. And the euro rose to a one-week high following recent signs of a slowdown in U.S. economic growth. That's good news for company earnings -- if these trends continue. Several high-profile companies blamed high oil prices or a weak euro for earnings weakness this quarter.
"One thing that people are looking closely at is the dollar today. Last Friday's weak GDP data brought some selling on the dollar. In general, a strong dollar can be a good sign for the multinationals," said Dwyer.
"Other companies that traditionally are seen to do better when the dollar is strong are drug stocks. And with people taking a more defensive stance towards the market, we could see some upside in drug stocks," he added.
Meanwhile, investors today will likely lend their attention to Lehman Brothers' decision to change the weightings in its global portfolio. Lehman cut investments in the financial sector to underweight, cut defensives to neutral and raised its weighting for cyclicals.
But it's hard to say what kind of news -- other than next week's elections results -- will be able to move this market higher in a way that sticks. Investors had hoped that earnings season would be its balm -- that positive earnings surprises would catapult the market out of its September doldrums. But too many earnings disappointments last week from large-cap tech companies, including
Nortel Networks
(NT)
, sunk those hopes.
At least November -- historically far friendlier to stocks than September or October -- is just around the corner. And the end of October brings an end to tax-loss selling by mutual funds, which has put considerable pressure on the market of late and has been responsible for much of the market's recent volatility. Tax-loss selling -- selling the weakest stocks at a loss to offset taxable gains on winners -- should continue through tomorrow, when the fiscal year ends for many funds.
And the Nasdaq is looking healthier following last week's action. Despite losing 5.9% on the week, the Nasdaq was able to remain above key support levels -- levels set by tech analysts to define an index's trajectory. Most think the index hit a bottom at 3074 on Oct. 12 and won't go any lower. The fact that the last remaining speculative tech stocks -- the fiber-optics, networking and software storage companies -- were sold off last week may be an indication that lofty price to earnings valuations for stocks have finally been wrung out of the market.
For the broader market, horizons are also brighter after the
gross domestic product figures that came out Friday morning boosted optimism for the view the U.S. economy is making a soft landing from its spectacular growth rate. A soft landing allows the pace of economic growth to slow without bringing about a recession.
The Dow rose a whopping 210 points on Friday to close up 3.6% on the week.
Elsewhere on the market, some of today's big movers will include
Terra Networks
(TRRA)
, which completed its merger with
Lycos
(LCOS)
and
Microsoft
(MSFT) - Get Microsoft Corporation (MSFT) Report
, which is in talks with
News Corp.
(NWS) - Get News Corporation Class B Report
to invest $1 billion in News Corp's Sky Global satellite-TV unit. Terra is up 13.7% in early action. Microsoft is gaining 2.6%.
Back to top
Bonds/Economy
Bond market prices were rising again after falling back on Friday. The benchmark 10-year
Treasury note was up 3/32 to 100 8/32, yielding 5.715%.
Back to top
International
European markets were mixed near midsession.
The
FTSE 100
in London was down 19.90 to 6346.60 in very quiet volume.
The
CAC 40
in Paris was 22.72 lower to 6246.21, while the
Xetra Dax
in Frankfurt was down 35.67 to 6889.01.
After economic data on Friday showed a slowing U.S. economy, the
battered euro was climbing. It was lately at 0.8453.
Big Asian technology and telecommunications shares started the week with a limp, taking the region's
equity markets to a lower close Monday.
In Tokyo, the
Nikkei 225
closed down 117.6 points, or 0.8%, at 14,464.6.
In Tokyo trading, the dollar traded up 0.33 yen to 108.70 yen. The greenback was lately at 108.78.
Hong Kong's
Hang Seng
index fell 102.6, or 0.7%, to 14,799.9, as
China Mobile
(CHL) - Get China Mobile Limited Sponsored ADR Report
fell HK$1.75, or 3.3%, to 51.00 ($6.54) and
HSBC
(HBC)
fell HK$0.50, or 0.5%, to 107.00.
Back to top