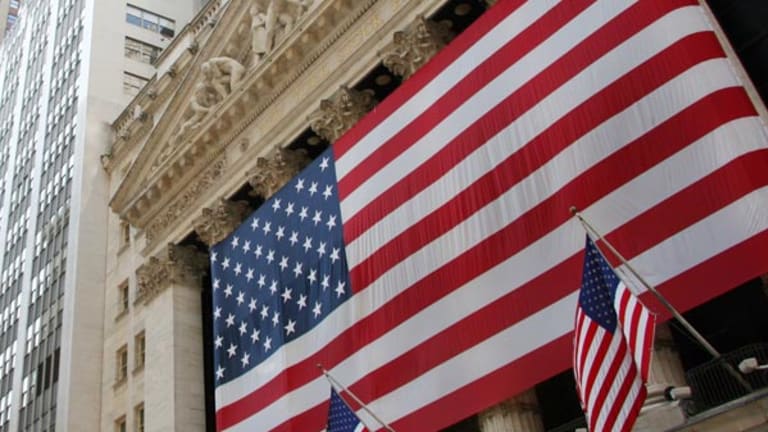 Today's Market: Dow Off Lows, But Still Lousy on Bad Day for Stocks
<LI>Fitch puts 19 Japanese banks on credit watch.</LI> <LI>European markets dropping.</LI>
<LI>Fitch puts 19 Japanese banks on credit watch.</LI> <LI>European markets dropping.</LI>
(Updated from 9:58 a.m.)
Fears of a global economic meltdown -- fueled by rumors that the
Bank of Japan
is in emergency talks with at least one big financial insitution and news that 19 Japanese banks were put under negative review at credit rating agency
Fitch
-- had investors taking their money and running at this morning's open.
However, lately the
Dow was steadily rising, and after being down as much as 300 points, was now down about 200. The
Nasdaq was only double digits away from the flatline, down about 21 points.
A cautious note this morning from
Goldman Sachs
on European banks was having an impact, helping to push down markets in Europe and stocks in the U.S.
The
S&P 500, which tracks the broad market, was lately still a substantial 22.2 points lower to 1174.99, after slamming down as much as 25 points at the open. Bonds are benefitting from all the chaos. The 10-year Treasury was up 21/32 to 101 5/32, driving its yield lower to 4.85%.
Traders this morning were speaking of a search for low risk investments. "We're seeing a classic global stock market rout, and a flight to quality," said Mike McGlone, options trader at
Aubrey G. Lanston
.
Today might see that capitulative selloff -- the v-shaped bottom -- that everyone has been chattering about and waiting for. No one seemed all that convinced by Tuesday's comeback from Monday's stock market massacre because both were marked by such paltry volume. Volume will be important to watch today because hectic activity is a signal that investors have conviction one way or another.
Yesterday, the Nasdaq closed up 91 to 2015, catapulting the index back above the key 2000 mark, while the Dow added 83 to 10291. The Nasdaq is still at a two-year low, and the Dow is at levels not seen since last October. One trader said that if the Dow breaks below 10,000 today, it could go as low as 9,600.
The latest round of economic data shows that
business inventories in January rose 0.4%, while December was revised to unchanged from an initial estimates of a 0.1% rise. At a time when inventory buildup is a major problem for most technology and manufacturing companies, this is not the kind of number the market wanted to see. Certainly, it suggests the Federal Reserve may be more aggressive about cutting interest rates when it meets next Tuesday.
The majority of economists, despite the stock market weakness in recent weeks, had been expecting the Fed to drop short-term interest rates by 50 basis points to 5% when it meets on March 20. Now, fed fund futures -- a good proxy of where the bond market thinks the Fed will go -- are pricing in a 75-basis point interest rate cut. That would drop rates to 4.75%.
Some traders are now even expecting a cut of as much as 100 basis points. Tony Crescenzi, chief bond market strategist at
Miller Tabak
, said he can see why the Fed might be even more aggressive than 75 points next week since the global pain signals potential systemic weakness.
Indeed, European markets were getting whacked this morning, with large cap stocks faring worst. Europe was in part being pressured by rumors the world's largest mobile phone maker, Finland's
Nokia
(NOK) - Get Report
, will warn it's going to miss earnings targets for the first quarter. Its principal rivals, Sweden's
Ericsson
(ERICY)
and
Motorola
(MOT)
of the U.S., have recently come out with negative outlooks.
TheStreet.com's
Carolyn Koo recently wrote about the possibility that Nokia
won't warn, however. Nokia was 2% lower.
Earnings warnings have become the rule rather than the exception as company after company says it won't meet its first-quarter performance targets. Most CEO's now find themselves bemoaning a total lack of
visibility about their financial future. The latest:
McDonald's
(MCD) - Get Report
this morning said its earnings would be
four to five cents lower than expected in 2001. And insurer
MetLife
(MET) - Get Report
yesterday said after the close of regular trading that its first-quarter and full-year earnings would fall 5 cents a share below expectations, blaming bad weather in the Northeast and Southeast.
And there's more bad news this morning for
Lucent
(LU)
, or good news depending on how you look at it. The troubled telecommunications equipment maker this morning said it is getting out of its fiber solutions business, called Optical Fiber Solutions. The company is essentially putting this
business on the block. Lucent is off 1.7%.
The losses were piling up across the board. The roster of big names on the downside include Ericsson, off 9%,
JDS Uniphase
(JDSU)
, off 5.6%, and
Cisco
(CSCO) - Get Report
4.3% lower.