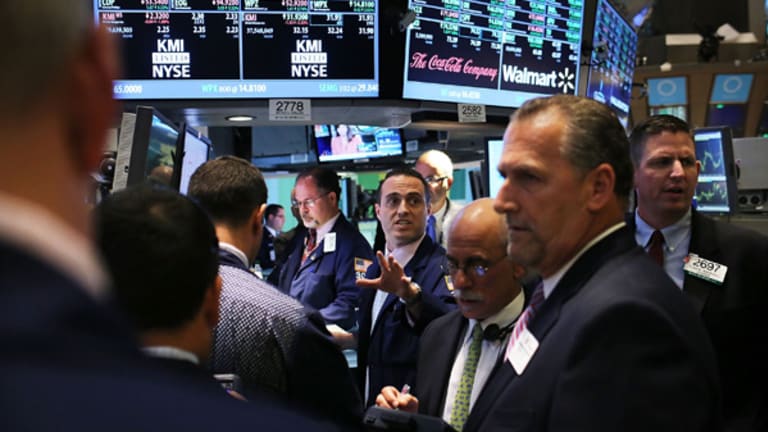 Today's Market: Dow Off and Running Higher After Retail Sales Data
<LI>Retail sales fell 0.4% in November.</LI><LI>Surpreme Court decision brings Bush victory near.</LI><LI>Whirlpool joins the warning parade.</LI>
(Updated from 9:36 a.m. EST)
It's a disaster or a miracle -- depending on which camp you're in. But the market, at least, looked happy. In an apparent victory (and that would be final) for George Bush, the U.S. Supreme Court late last night ruled against further vote recounts.
Now news reports are saying that Gore will address the nation tonight and has already instructed the team heading up his recount battle to cease its efforts.
For the markets, the slowing economy now remains a principal concern. And with hopes of an interest-rate cut growing, investors are looking for numbers soft enough to warrant one. This morning, economic data showed
retail sales slowed sharply in November, dragged down by weak auto sales. The market reacted optimistically to the numbers.
The major stock market indices were off earlier highs. The
Dow Jones Industrial Average was recently up 86 to 10,855, the
Nasdaq Composite was slipping 8 to 2924 and the
S&P 500 was up 5 to 1376.
Market reactions to earnings warnings had already
improved, as tech and financial shares battered by earnings concerns could seemingly be battered no more. But optimism over the elections and about interest rates was certainly helping. Investors were brushing off disappointing earnings announcements from computer-maker
Compaq
undefined
last night and appliance-maker
Whirlpool
(WHR)
this morning. Companies issue earnings warnings when they expect to miss their earnings targets for the quarter.
Investors were also ignoring some negative analyst calls, such as
Salomon Smith Barney's
downgrade on semiconductor stocks
Applied Materials
(AMAT)
and
KLA-Tencor
(KLAC)
.
The U.S. Supreme Court ruled 5-to-4 late Tuesday night to reverse last Friday's ruling by the Florida Supreme Court that had said vote recounts could continue. The nation's highest court cited constitutional problems with a new vote recount and said the problems could not be fixed before the electoral-college deadline. The Electoral College meets on Monday.
Elections uncertainty has hung over the market like a thick sea fog the past few weeks. If this ruling does indeed provide a resolution, it should fuel a short-term rally.
Some market-watchers think Wall Street couldn't care less about who becomes president at this point -- it simply wants one to be named. As they say over and over and over, markets don't like uncertainty.
But investors see a Bush administration as less invasive to the economy and markets. Considered lighter on reform and easier on antitrust matters, Bush is seen as
particularly favorable to the drug and tobacco companies and to Microsoft
(MSFT)
. He is also seen as favorable to the energy, oil and defense stocks. But he is also seen as a negative for environmental stocks and for bonds. If Bush does emerge as the winner, the biggest question is whether he could push through his whopping tax-cut plan. Many think that with Congress in gridlock, the tax cuts are unlikely.
Still, resolution on the elections front doesn't mean it's straight up from here. The market has plenty of other worries to grapple with -- signs of sluggish
capital spending, a thriftier consumer and burgeoning credit risk. All this has some Wall Streeters fearing the economy is headed toward a recession.
Investors are looking for economic data to show the economy is soft enough for the
Fed to cut interest rates in coming months, but not so soft that a recession is on the horizon. An interest-rate cut helps spur economic growth by reducing the cost of borrowing money, which encourages corporate and consumer spending.
Retail sales, out this morning, dropped 0.4% for the month compared to expectations of a 0.1% rise and a 0.1% rise the previous month. This is the first time since April that retail sales have dropped. The core number, which excludes automobile sales, rose 0.2%, just below expectations of a 0.3% rise.
Meanwhile, fourth quarter earnings confession season -- expected to be the busiest in years -- began in earnest this week.
Last night, we heard from Compaq, consultant
Razorfish
undefined
and online marketing company
Engage
(ENGA)
. Compaq became the latest computer-maker to
disappoint and say its earnings wouldn't be on track. It was off 7.3%. And this morning, Whirlpool said it
would miss fourth-quarter 2000 and first-quarter 2001 earnings targets. It was falling 6.9%.
Back to top
Bonds/Economy
Treasury prices were rallying again this morning despite the prospects of a Bush elections win. Gore was seen as more favorable for the bond market. The benchmark 10-year
Treasury note was lately up /32 at 103 8/32, yielding 5.313%.
Back to top
International
European markets were mixed as they neared midsession.
London's FTSE was up 24.30 to 6414.70. Across the channel, Paris' CAC-40 was falling 48.80 to 5998.86, while Germany's Xetra Dax was off 54.66 to 6678.93.
The euro was falling again this morning again after coming off last week's 11-week high on Monday. It was lately trading down at $0.8779. It had been gaining in the past few weeks as the U.S. dollar weakens in the face of a slowing domestic economy.
Asian markets were higher overnight. In Japan, the Nikkei 225 closed 54.04 higher to 15,168.68. Hong Kong's Hang Seng closed a whopping 292.13 higher to 15,621.73.
The greenback was trading higher against the yen to 111.295 yen.
Back to top