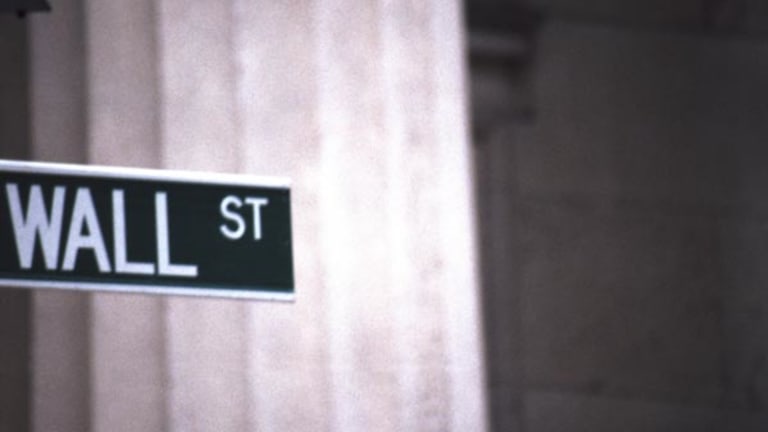 Today's Market: Dow Nears 10,000 as Middle East Conflict Leaves Investors Scrambling -- and Selling
Both the Dow and the Nasdaq looked good out of the gate, but both are near their session lows as worries intensify.
Escalated violence happening half a world away from Wall Street was having a tangible affect on stock today as the
Dow Jones Industrial Average was threatening to plunge below 10,000.
Oil stocks reacted to the news of bombings in Israel by rallying, while financial stocks reacted adversely, and were recently tanking.
Financials and
Home Depot
(HD) - Get Home Depot, Inc. (HD) Report
sent the Dow plummeting more than 300 points. In the past couple days, the focus has been on tech stocks, but with one eye on
CNN
and another on Washington's reaction to the renewed violence in one of the world's most incendiary regions, the market has little impetus to reverse course and move higher.
For its part, Home Depot was taking away about 80 points from the index after warning this morning that slower sales -- from lower retail prices -- had forced it to revise its earnings outlook downward. The stock lately was off 27.6% to $35.38. The news has rocked the rest of the retail sector and sent fellow blue-chip
Wal-Mart
(WMT) - Get Walmart Inc. Report
and other retailers downward. The
S&P Retail Index
was lately down 8.7%.
Brad Zipper, a trader at
Herzog Heine Geduld
, said investors are just chasing their tails, so every time the market gets hit, the sellers come out and every time the market is doing better, the buyers come out. He said it's not complete chaos, but investors aren't responding well to market conditions.
Richard Schmidt, editor and publisher of the
Stellar Stock Report
, said, "there are all these things you can write about that are excuses, but this is a supply-and-demand market. There's a lot of supply in the hands of people who want to sell stock and not a lot of demand from people who want to buy stocks."
That was evident with financial stocks in the Dow. It was getting kicked by
J.P. Morgan
(JPM) - Get JPMorgan Chase & Co. (JPM) Report
, off 6.9% to $136.88;
Citigroup
(C) - Get Citigroup Inc. Report
, off 7.1% to $46; and
American Express
(AXP) - Get American Express Company Report
, off 3.1% to $52.69. J.P. Morgan was taking off more than 50 points from the index, while Citigroup and American Express, were taking away a total of almost 30 points.
"The bottom line is financials do well when everything else is good," Zipper said. And since, not many stocks are looking very appealing to investors, "they are just going to have to suffer with all the rest."
Meanwhile, tech stocks had a little pressure taken off them on news of better-than-expected earnings from
Advanced Micro Devices
(AMD) - Get Advanced Micro Devices, Inc. Report
and
Applied Micro Circuits
(AMCC)
last night -- and, more importantly, the absence of any nasty guidance on coming quarters. Even the shares of semiconductor bellwether and AMD's primary competitor,
Intel
(INTC) - Get Intel Corporation (INTC) Report
were getting a lift, up 4.4% to $36.88.
AMD, which was lately off 4.3%, also soothed fears of a slowdown in European demand during its conference call, saying it hadn't seen the kind of sales weakness that Intel partially blamed for its revised earnings forecast.
Market Internals
Breadth was terrible on heavy volume.
New York Stock Exchange: 758 advancers, 1,993 decliners, 808 million shares. 27 new 52-week highs, 178 new lows.
Nasdaq Stock Market: 1,086 advancers, 2,387 decliners, 1.187 billion shares. 15 new highs, 355 new lows.
Back to top
Most Active Stocks
NYSE Most Actives
Home Depot: 45.3 million shares. Lucent (LU) : 27.6 million shares. Motorola (MOT) : 19.7 million shares.
Nasdaq Most Actives
Back to top
Sector Watch
The aforementioned oil stocks were about the only sectors seeing green today. The
American Stock Exchange Oil & Gas Index
rose 2.6%, while the
Philadelphia Stock Exchange Oil Service Index
jumped 2.9%.
You can tell investors are freaking out by looking at gold. The
Philadelphia Stock Exchange Gold and Silver Index
bounced 4.1%.
Trouble in the financial sector pushed down the
American Stock Exchange Broker/Dealer Index
4.8%, and the
Philadelphia Stock Exchange/KBW Bank Index
5.8%. That trouble spread into the
TheStreet.com E-Finance Index
, which was 4.8% lower.
NextCard
(NXCD)
, down 13.5%,
DLJDirect
(DIR)
, 7.5% lower and
Wit Capital
(WITC)
, off 11.6%, were a couple of its badly hit components.
Back to top
Bonds/Economy
Treasuries recouped early losses and moved into positive territory following reports of escalating violence in the Middle East.
Bond and note prices starting moving sharply off their lows shortly after 9 a.m., when news services started reporting that Israeli helicopter gunships were firing on the West Bank and that Palestinian President Yasser Arafat's headquarters in Gaza had been attacked. Arafat was reportedly unhurt.
As the world's safest and most liquid asset,
Treasury securities typically rally in response to reports of international strife. Short-maturity Treasuries, which are the most liquid, have benefited the most in today's action.
The bond rally is occurring in spite of the fact that oil prices spiked in response to the news. Because they are potentially inflationary, rising oil prices normally cause alarm in the bond market. Today, demand for safety and liquidity is trumping oil in the setting of bond prices.
The benchmark 10-year
Treasury note, down as much as 9/32 earlier, lately was up 24/32 at 100 5/32, dropping its yield to 5.73%.
Back to top
International
Tech and telecom stocks were leading European stocks were mixed at the end of the day, after expectations of a rebound in the U.S. this morning.
London's
FTSE 100
was up 14.30 to 6131.90.
The
CAC 40
in Paris was 34.58 higher to 5990.70, while the
Xetra Dax
in Frankfurt fell 105.09 to 6456.54.
The euro was falling again after seeing some mild strength in recent days, lately lower to 0.8641.
The major
Asian equity markets ended mixed Thursday, as investors in Japan stepped in to buy some oversold technology stocks, but in South Korea and Taiwan tech shares continued tumbling lower.
In Tokyo, the
Nikkei 225
closed up 37.1, or 0.2%, to 15,550.7.
In Tokyo trading, the dollar traded fractionally down to 107.63 yen. The greenback was lately trading at 107.40 yen.
Elsewhere, South Korea's stock market looked like it might recoup part of its 5.3% loss from Wednesday in early trade, but after all was said and done the
Kospi
index ended down 22.5, or a further 4%, to 534.7.
Taiwan's
TWSE
index fell 235.5, or 3.9%, to 5805.0, as big chipmakers continued to feel the pain and the government reinstated the market's normal limit for a maximum 7% fall per day. Hong Kong's
Hang Seng
index fell 52.2, or 0.4%, to 15,074.8.
Back to top