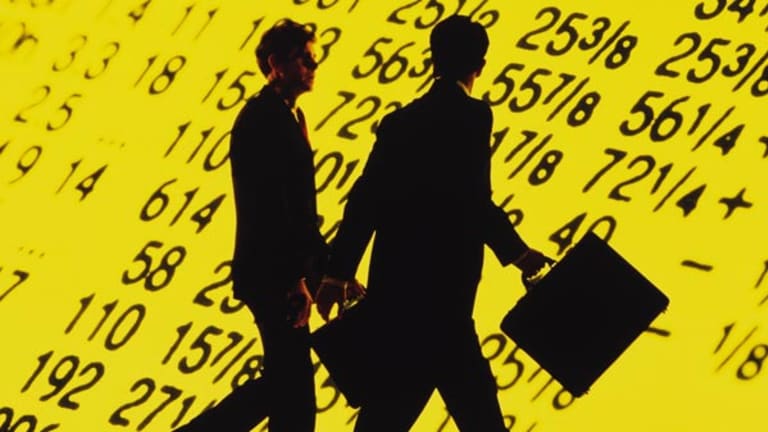 Publish date:
Today's Market: Dow, Nasdaq Tumble at Open
<LI>Intel downgraded by Piper Jaffray's Kumar.</LI><LI>FTC may block AOL-Time Warner merger.</LI> <LI>Drugs will have hard day.</LI>
<LI>Intel downgraded by Piper Jaffray's Kumar.</LI><LI>FTC may block AOL-Time Warner merger.</LI> <LI>Drugs will have hard day.</LI>
(Updated from 9:25 a.m.)
A downgrade on chip-maker
Intel
(INTC) - Get Report
by
Piper Jaffray
and on the entire drug sector by
Banc of America Securities
this morning is putting a dent in early trading. But stocks could swing higher later in the day.
The
Dow Jones Industrial Average movd down 33 to 11,206. The
Nasdaq Composite Index lost 32 to 4203. And the
S&P 500 fell 7 to 1514.
Many market watchers were expecting last week's quiet optimism to trickle over into this week, particularly following Friday's friendly jobs and manufacturing activity data. But think quiet. With no big economic data or earnings releases scheduled for this week and some Wall Street stragglers still at the beach, major trading activity will probably be concentrated in individual newsworthy stocks.
"We're looking at a slightly bearish open this morning, but it's not decidedly bearish," said Jim Benning, trader at
BT Brokerage
. "There might be a short drop, but it shouldn't be really deep. We had a great August, and the market is making it way back up to record levels very slowly and very carefully, which is a good thing," he said.
"The Intel downgrade might hit it today, but I really don't think it's going to be so horrible. It will take a hit and then turn around. It wasn't a deep downgrade," Benning said. "The sector hasn't been running up so hot; it's had a slow, cautious build-up," he said.
And August's trading action looks pretty encouraging. After two months of unconvincing up and down swings in June and July, the major indices finally got their summer rally. Both the
Dow Jones Industrial Average and the
Nasdaq Composite Index marched steadily higher during August, encouraged by a spate of economic data showing that the economy continues to slow and a
Federal Reserve meeting that left interest rates unchanged. Then again, investors will probably continue to fret over whether a slowing economy has to mean slowing profits.
After hitting new all-time highs last month, Intel was downgraded by
Piper Jaffray
to buy from strong buy. In early action, it was trading down 4%.
Health care stocks such as
Merck
(MRK) - Get Report
were also set to pull back after
Banc of America
downgraded the entire group to market perform from overweight on concerns of slowing growth.
Watch out for action with
America Online
(AOL)
today. Over the weekend, news came out that the
Federal Trade Commission
likely will block AOL's $129 billion acquisition of
Time Warner
(TWX)
unless the companies agree to let competitors use their cable lines.
TheStreet.com
wrote about the
FTC's concerns in a separate story.
Meanwhile,
Worldcom
(WCOM)
is the big noise in telecom. The company confirmed this morning that it will buy telecom provider
Intermedia Communications
(ICIX)
for close to $3 billion in cash as well as payment of more than $3 billion in Intermedia's debt.
Elsewhere in the news,
The Wall Street Journal
reported that computer-network software maker
Novell
(NOVL)
is expected to lay off up to 25% of its work force. And
Ariba
(ARBA)
,
IBM
(IBM) - Get Report
and
Microsoft
(MSFT) - Get Report
plan to introduce a new electronic publication standard to simplify business-to-business e-commerce transactions.
Back to top
Bonds/Economy
Treasuries were trailing lower this morning, with the benchmark 10-year note down 6/32 at 100 9/32, and yielding 5.712%.
Back to top
International
The recent run-up in technology and telecom stocks came to an abrupt halt in
European markets today. Gains won in earlier trading were shed as investors engaged in some profit-taking.
The
FTSE 100
was lately down 22.20 to 6775.90. Across the channel, the
CAC 40
in Paris was off 43.99 to 6878.34, and the
Xetra Dax
in Frankfurt was 37.67 lower to 7407.89.
The euro was lately trading lower at $0.8851.
Asian markets tumbled overnight.
The
Nikkei 225
index shed 235.94, or 1.4%, to close at 16,452.27.
In lethargic Tokyo trading, the greenback gained against the yen to 106.23 yen. The dollar was recently trading at 106.06 yen.
After rising nearly 600 points over the last two sessions, Hong Kong's
Hang Seng
took a break and fell 130.95 to close at 17,595.22.
Back to top