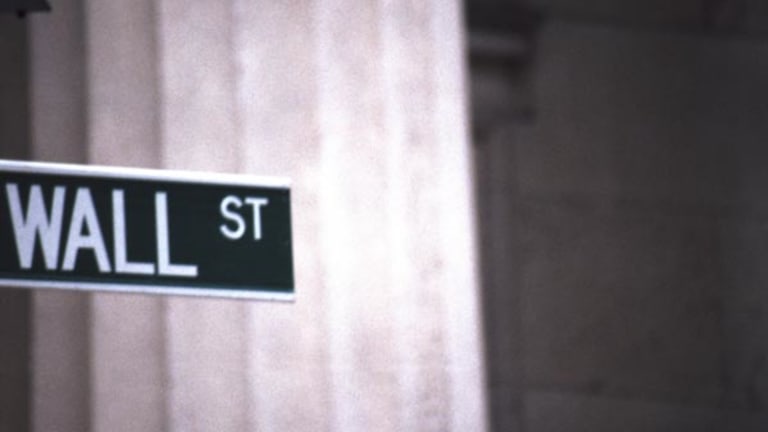 Today's Market: Dow, Nasdaq Sprint Higher
Better economic news keeps investors in buying mood. Dollar General off more than 25%. Computer Associates loses more than 10%.
(Updated from 9:48 a.m. EDT)
Ongoing positive sentiment about the economy is helping stocks swing higher.
Following Friday's better-than-expected
gross domestic product report for the first quarter, figures this morning show that personal income grew more quickly than consumption in March.
The major stock market averages are trading solidly higher. The
Dow Jones Industrial Average, now in positive territory for the year, was gaining more than 80 points in morning trading. Thetech-heavy
Nasdaq Composite Index was adding more than 60 and
S&P 500 was also strongly ahead. The major indices have been moving up most of April, boosted by improving sentiment, some encouraging corporate earnings reports and another interest rate cut.
"It's probably going to be volatile," Brian Finnerty, head of trading at
C.E. Unterberg Towbin
said if trading action today, noting that the market could pull back as investors "get a little bit ahead of themselves" in an extension of Friday's gains. Still, Finnerty said he expects the market to end in the green today.
"People are definitely back into equities today, probably because a lot of the bad new s is already out, and we're seeing a little bit of upturn in the economy," said Doug Myers, a trader at
Wachovia Financial
.
Figures released this morning show that
personal income increased $40.8 billion, or 0.5% in March, according to the
Bureau of Economic Analysis
. Personal income had also increased 0.5% in February. Personal consumption expenditures increased $18.6 billion, or 0.3%, higher than the 0.2% rise in February. The market has been watching consumer sentiment and economic activity closely since consumers have been key in helping the economy continue to grow during this economic slowdown.
The
Chicago Purchasing Managers' Index
, a measure of manufacturing sentiment in the Midwest region of the country, rose to 38.9 in April from 35.0 in March, an indication that economic conditions have improved slightly. March's figures were the lowest since 1982. And despite the improvement this month, the figures show manufacturing is still in a recession. A reading of the index above 50 shows manufacturing is in expansion mode, while a reading below 50 indicates the sector is contracting. The Chicago PMI, which polls purchasing managers at various corporations around the Midwest, is considered a decent forecaster of the trend of the national version of this report, which is due tomorrow.
There is no major corporate news driving the market today, but there are interesting individual stories.
Dollar General
(DG)
was falling 27.6% to $17.29 after the operator of discount stores said it would restate earnings because of accounting irregularities. The changes will take 7 cents off the $1.81 the company has been earning in the past three years. "In the investigative process, the company and the audit committee are reviewing allegations of fraudulent behavior in connection with certain of the accounting irregularities and are reviewing the company's internal accounting controls and financial reporting processes," Dollar General said in a press release this morning. The company reiterated its full-year 2001 earnings of 71 cents to 73 cents a share, as well as same-store sales growth in April of 8% to 9%.
Computer Associates
(CA)
tumbled 12.1% to $31 after an article in
The New York Times
alleged a corporate misrepresentation of revenue and earnings. In a prepared statement responding the to article, the software firm defended its business and accounting practices, saying its new business model, which allows the company to account for revenues by short-term subscriptions instead of one-time license fees, "provides greater predictability and transparency of financial results."
A slew of big-name tech companies were moving higher.
Cisco
(CSCO)
, the most active stock on the tech-heavy Nasdaq, recently gained 10.1% to $17.18, while software titan
Oracle
(ORCL)
, the second most heavily traded Nasdaq stock, rose 3.2% to $17.66. Other tech stars like
Juniper Networks
(JNPR)
,
Microsoft
(MSFT)
and
Intel
(INTC)
were also in the green.
Back to top