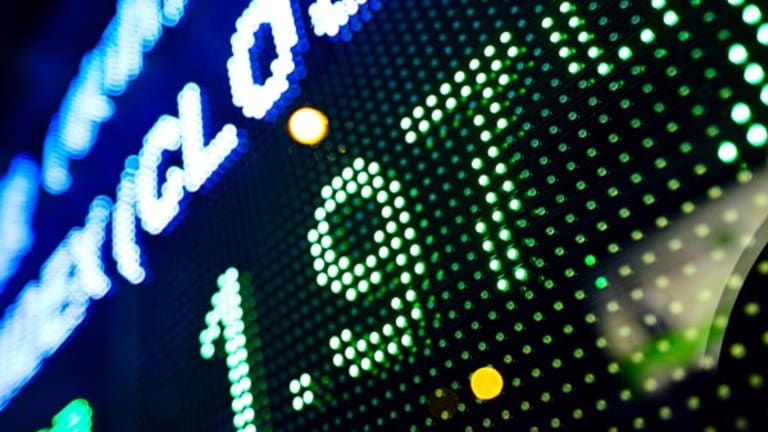 Today's Market: Dow, Nasdaq Slip in Early Action
<LI>JDSU squeaks higher despite warning of shortfall.</LI> <LI>Applied Materials gains after topping forecasts.</LI>
(Updated from 9:27 a.m.)
Got a map?
Stocks were lately mixed, but where they will go today is uncertain. Early action in recent trading sessions hasn't been a good indication of where the market will close.
The
Dow Jones Industrial Average was recently off 21 to 10,882. The
Nasdaq Composite Index was moving 4 lower to 2424. And the
S&P 500, which tracks the broader market, slipped 2 to 1317.
It's the end of the most recent fourth-quarter earnings season -- one of the bleakest in a long time -- and the bit of earnings news released since yesterday's market close was mixed. So investors are going to be sorting through the details to decide which direction to take the market today.
"I think we are going to trade relatively sideways," said Jay Meagrow, vice president of trading at
McDonald
. "We've had some disparity trading between the Dow and the Nasdaq throughout the session in recent trading, and that should continue."
Wall Street sure didn't get much direction from
Federal Reserve Chairman
Alan Greenspan yesterday. In his speech before the
Senate Banking Committee
, Big Al gave no conclusive signs that another aggressive move to lower interest rates was in the bag. The Fed dropped the benchmark lending target twice in January by a half-point each time, lowering it to 5.5%. Stocks moved higher during Greenspan's speech, but the gains faded to red as he left the Hill.
"After the
Fed testimony, bonds didn't take it so well. If we had held early gains all day, we would have had a good day," Meagrow said. "Earnings season is over. First-quarter and second-quarter forecasts are already out. There are no catalysts. Each sector is probably going to trade on its own laurels for the better part of the next month."
At least
business inventories looked better. Data out this morning showed that December's business inventories slowed more than economists were expecting. Inventories rose 0.1%, a pace not seen since January 1999. November growth in inventories was revised to 0.3% from 0.5% -- that's a good sign for tech companies. The chip and PC businesses have been suffering from high inventory levels for months -- a signal of slow demand.
Economists had expected the December number to show that inventories grew 0.2% for the month. Business inventories measure the sum of inventories at each of the three stages of production: manufacturing, wholesaling and retailing. The report also includes business sales at each of the three stages of production
After the market closed yesterday, networker
JDS Uniphase
(JDSU)
warned about fiscal third- and fourth-quarter earnings. It's outlooks like this that have spooked market participants. JDSU was lately inching fractionally higher to $38.50. Semiconductor-equipment maker
Kulicke & Soffa
(KLIC) - Get Kulicke and Soffa Industries Inc. Report
announced plans to lay off 7% of its workforce and warned about weakness in upcoming quarters. It was off 3.2%.
But there was also some good news. Media giant
Viacom
(VIA) - Get Via Renewables Inc. Report
announced this morning that it missed estimates by a penny, but that its
revenue rose strongly. It forecast that business will be stronger in the second half of this year. Chip-equipment maker
Applied Materials
(AMAT) - Get Applied Materials Inc. Report
last night said it
beat first-quarter earnings and revenue estimates. And biotech
Protein Design Labs
(PDLI) - Get PDL BioPharma, Inc. Report
also beat analyst estimates. Viacom was 1.3% lower. Applied Materials was moving up 4.2%. And Protein Design was off 6.3%.
Lehman Brothers
and
Prudential
both cut their earnings targets on Applied Materials this morning.
Stocks have seen some gyrations to the upside during the trading day over the past few weeks, but overall the trend is simply down -- at least on the Nasdaq, which houses the majority of the market's tech stocks. Each attempt at a rally has wheezed into the close, and stocks have ultimately found themselves in the red. The Nasdaq managed an up close only two days this month; investors have wiped away all and more of the Nasdaq's rally in January. Lasting gains for tech stocks may not happen until there is a clear turnaround in the economy and earnings.
The market's
blue-chip proxy, the Dow, has taken a different tack -- jockeying back and forth and making failed runs at 11,000, a key watermark above which it hasn't closed since mid-September. Investors aren't sure whether the smokestack winners of last year, many of which populate the 30 stock Dow, have any more room to rise.
It's hard to say at this point exactly when inventory levels, capital spending and year-over-year earnings comparisons will improve. These factors depend on improvements in the economy -- consumer and business confidence, as well as liquidity (or capital flows). Consumer confidence depends largely on stock market performance and unemployment levels, while liquidity depends in large part on interest rates.
As yesterday's stronger-than-expected retail sales numbers for January showed, the economy began to show some
signs of life last month.
Back to top
Bonds/Economy
The benchmark 10-year
Treasury note was pretty flat this morning, down 3/32 to 99 12/32, yielding 5.081%. Treasury prices slipped yesterday when the Fed did nothing to confirm expectations for some more aggressive interest-rate cuts.
Back to top
Europe's major market indices were settling deeper into the red near midday as investors dropped telecommunications and oil stocks. Telecoms were hurt by a second day of weak performance from French telecom
Orange
, the mobile-phone unit of France Telecom that recently went public. Like France Telecom, other European phone companies want to raise money by spinning off their mobile-phone businesses.
London's
FTSE 100
sank 61.00 to 6167.5, the Frankfurt
Xetra Dax
was dropping to the tune of 72.65, or 1.11%, to 6485.28, and the Paris
CAC-40
was dipping 76.8 to 6481.3.
The euro was lately trading at $0.9197.
Asian markets made some reluctant gains overnight. Japan's
Nikkei
managed a 9.36 point increase to 13284.06. Hong Kong's
Hang Seng
inched up 17.70, or 0.11%, to 15,860.4
The dollar was trading at 116.42 yen.
Back to top