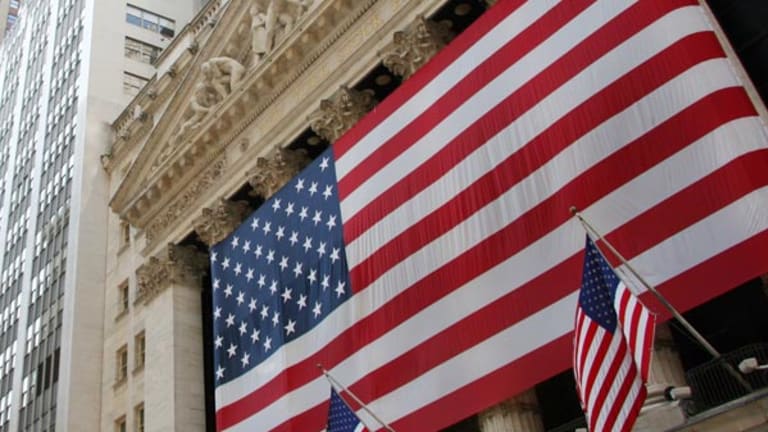 Publish date:
Today's Market: Dow, Nasdaq Sharply Lower Following Mixed Employment Data
<LI>Unemployment remained at 4% in December, but wages grew more than expected.</LI> <LI>A new slew of companies issue earnings warnings.</LI>
<LI>Unemployment remained at 4% in December, but wages grew more than expected.</LI> <LI>A new slew of companies issue earnings warnings.</LI>
(Updated from 9:17 a.m.)
Today's
employment report was friendlier than some doomsayers had been predicting.
Alan Greenspan & Company's unexpected interest-rate cut Wednesday inspired a rip-roaring rally, but had some worried that he knew something the rest of the market didn't -- that the economy was slowing a lot faster than expected. And many were waiting for confirmation of from this morning's jobs report.
Still, stocks were slumping lower in early action. The
Dow Jones Industrial Average was off 163 to 10,751. The
Nasdaq was losing 96 to 2471. And the S&P was also lower by 24 to 1309.
Unemployment remained even with the previous month at 4%, despite forecasts it would rise to 4.1%. New nonfarm payrolls rose to 105,000, just above forecasts of 102,000 and a bit of a rebound from November's surprisingly low 94,000. But growth in average hourly earnings came out just above forecasts at 0.4%, indicating that wage inflation continues to grow. Economists were expecting 0.3%.
The jobs data is considered the best measure of the overall health of the economy and sets the tone for other indicators that will be released this month.
Meanwhile, many bulls see yesterday's
churning action as a healthy move for the market. After flip-flopping throughout the session yesterday, both the Nasdaq and blue-chip-indicator Dow closed moderately lower. The
NYSE hit a record 2 billion shares traded in volume, though.
Fears of a recession has had investors selling stocks like mad in recent weeks. A recession is marked by two consecutive quarters of negative economic growth. And while this week's rate cut may not be felt for another three to six months, it is at least a first step toward recovery. Rate cuts take time to trickle through the economy as they slowly give consumers and companies cheaper ways to borrow and spend money.
The only problem is, the fourth-quarter earnings season begins next week. And it's going to be ugly. The number of companies that have recently lowered their earnings targets for this quarter is astronomical. And even the biggest of bellwethers have disappointed. Last night, a few more companies warned that earnings would be disappointing, including
Sapient
(SAPE)
, an e-business consulting firm, and
Next Level Communications
( NXTV), a communications-equipment maker. And upscale retailer
Nordstrom
(JWN) - Get Nordstrom, Inc. (JWN) Report
also warned that earnings would disappoint.
TheStreet.com
wrote separate stories about the
Wal-Mart downgrade and Goldman Sachs'
reduced forecasts for IBM and Hewlett-Packard.
Doing what analysts like to do when bad news comes out,
W.R. Hambrecht
this morning downgraded Next Level to neutral, citing the "significant earnings shortfall." It also lowered its rating on Sapient to buy, due to "near-term market issues".
And following the release of
same-store sales from a slew of retailers yesterday,
Robertson Stephens
cut its earnings estimates on
Wal-Mart
(WMT) - Get Walmart Inc. Report
this morning. It dropped earnings per share forecasts for 2000 to $1.40 from $1.42 and lowered estimates for 2001 to $1.60 from $1.68. Wal-Mart yesterday reported that same-store sales came in up 0.3%, well below the 3% to 5% forecast. The "buy anything from toilet paper to furniture" retailer also cut its sales forecast for fourth-quarter same-store sales, but said it expects to see higher profits for the period. Wal-Mart's stock fell sharply along with many other retailers yesterday. Retail sales were hurt in December by slower holiday shopping.
TheStreet.com's
Tim Arango yesterday took a look at how the
disappointing holiday season affected retailers.
New housing sales, due out at 10 a.m., will have less of an impact on today's market. Even so, changes in consumer spending patterns historically occur first in autos and housing. A dramatic slowing here could indicate more to come for an already slowing economy. Earlier this week, we already found out that consumers dramatically slowed their car purchasing last month.
Back to top
Bonds/Economy
An early rally in treasury prices ahead of the jobs report flattened following the release. Prices rallied sharply yesterday after the sold off on Wednesday after the Fed's interest-rate cut. The benchmark 10-year
Treasury note was lately up 2/32 at 105 12/32, yielding 5.038%.
Back to top
International
European markets were moderately higher following the release of this morning's jobs data, with London and Paris markets eking out gains and Frankfurt soaring. Asian markets rose overnight ahead of the jobs report. Hong Kong stocks are still getting an extra boost from an interest-rate cut by the
Hong Kong Monetary Authority
Wednesday. The Hong Kong fed cut its base rate by 50 basis points overnight to 7.5%.
London's
FTSE
was 33.10 higher, or 0.54%, to 6218.70. Across the channel, Paris'
CAC-40
was up 17.08, or 0.29%, to 5833.07. Germany's
Xetra Dax
was rising 87.20, or 1.37%, to 6463.74.
The euro was trading up to $0.9509 this morning. It has been gaining slowly in the past few weeks as the U.S. dollar weakens in the face of a slowing domestic economy.
Following a whopping rally Wednesday night, Hong Kong's key
Hang Seng
index closed up 1.4% Thursday, or 212.58, to 15,447.61.
Japanese closed higher for the first time in five sessions overnight. The
Nikkei 225
was on holiday through Tuesday night but slipped Wednesday night after the Fed interest-rate cut. The Nikkei 225 closed up 176.12 points, or 1.29%, to 13,867.61.
The greenback was lately falling against the yen, trading at 116.23 yen.
Back to top