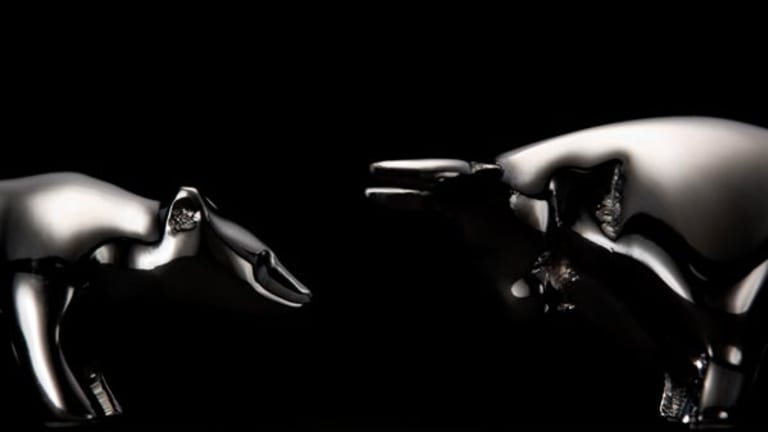 Today's Market: Dow, Nasdaq Shake Off the Blues and Surge Into the Green
After a downright lousy day yesterday, stocks are moving higher today.
The major indices were taking a much-needed breather from the downside today.
The
Dow Jones Industrial Average lately was at its highs after hitting a couple bumps earlier in the session. The
Nasdaq Composite Index was also treading higher.
Yesterday, the Dow and Nasdaq suffered triple-digit losses. The oversold market was ready for a relief rally despite new warnings.
Last night, long-distance phone company
AT&T
(T)
warned its fourth-quarter earnings would miss estimates and that it would cut its dividend by 83%. In October, the phone giant announced that it would split itself into four companies. The stock, which was one of the most actively traded stocks on the
Big Board, lately fell 10.2% to $17.
And the apple doesn't fall far from the tree. This morning, AT&T spinoff, telecom equipment maker
Lucent
(LU)
announced that it will have significant losses in its current quarter because of such issues as weakness in local phone carriers, a slowdown in capital spending by service providers and decreased software sales.
Merrill Lynch
cut the stock's earnings estimate on the news. Lucent was also in one of the top slots for most actively traded and was lately off 9.3% to $14.
Peter Coolidge, managing director of trading at
Brean Murray Foster Securities
, said even though we're having an up day today, it doesn't mean it's going to last since he sees no clear conviction.
Coolidge said it takes more than one day to establish a trend and it's too soon to tell if the market has hit bottom. "We only know that in retrospect. I mean, how many bottoms have we had in the past month?"
"The Nasdaq's overdone on the downside, so it's not surprising we're getting a bounce. I don't expect much tomorrow. It'll be a rather light trading day because of Christmas," he said.
Among the day's big losers, energy company
Edison International
(EIX)
was falling 18.2% to $14.63. Edison is one of the utilities in California that's drained its cash reserves to buy power at hefty prices.
The Dow was getting some help from interest-rate sensitive
J.P. Morgan
(JPM)
, which was adding close to 50 points to the index. Also,
Coca-Cola
(KO)
and the world's largest retailer
Wal-Mart
(WMT)
were also making gains.
Meanwhile, the Nasdaq was getting support from such big-cap tech stocks as
Cisco
(CSCO)
,
Dell
(DELL)
,
Intel
(INTC)
and
Qualcomm
(QCOM)
.
Microsoft
(MSFT)
, which has been pulled down this week, was coming back. In recent trading the stock was 5% higher to $43.50. Earlier today, the company announced that it was buying
Great Plains Software
(GPSI)
for about $1.1 billion in stock. The news gave Great Plains a nice pop. It lately was up 33% to $47.
Software company
Veritas
(VRTS)
was tacking on 9.1% to $87.69 on news that its products were chosen as
USinternetworking's
undefined
data protection standard. USinternetworking, an application services provider, was off 1.6% to $3.94.
Still, there were some detractors.
Palm
(PALM)
was one of the biggest drags. It lately was dropping 25.9% after its post-close announcement that it beat second-quarter earnings estimates, but warned that its third-quarter earnings would be lower than its second quarter.
TheStreet.com
covered reaction to the
announcement in an earlier story.
Prudential Securities'
reiteration of its strong buy rating on
Yahoo!
(YHOO)
couldn't keep the stock on the upside. The firm said Yahoo!'s online advertising market share continues to increase despite slides in ad sales industry-wide. The stock was recently falling 4.5% to $26.63.
Market Internals
Breadth was barely negative on the NYSE, but terrible on the Nasdaq on heavy volume.
New York Stock Exchange: 1,546 advancers, 1,219 decliners, 760 million shares. 120 new 52-week highs, 1461 new lows.
Nasdaq Stock Market: 1,784 advancers, 1,972 decliners, 1.507 billion shares. 41 new highs, 526 new lows.
Back to top
Most Active Stocks
NYSE Most Actives
Lucent: 43.5 million shares. AT&T: 37.1 million shares. America Online: 16.3 million shares.
Nasdaq Most Actives
Cisco: 74.8 million shares. Palm: 52.3 million shares. Microsoft: 44.9 million shares.
Back to top
Sector Watch
Financials were getting back some of what they lost yesterday. The
American Stock Exchange Broker/Dealer Index
was up 3.8%, while the
Philadelphia Stock Exchange/KBW Bank Index
was moving up 2.5%.
Retailers were cashing in, with the
S&P Retail Index
up 3.9%.
The defensive drug sector, the
American Stock Exchange Pharmaceutical Index
was losing 1.8%.
Back to top
Bonds/Economy
Treasury note and bonds are trading lower despite a slate of weaker-than-expected economic data. The probable cause: A rearguard action by equities, which are fighting to take back some ground after suffering heavy losses yesterday.
The benchmark 10-year
Treasury notelately was down 7/32 to 105 3/32, raising its yield to 5.073%.
In economic news, the
Philadelphia Fed Index
(
definition |
chart |
source
), a regional manufacturing-sector indicator, dropped to 6.1 in December, its lowest level since September 1998, from 5.2 in November.
Initial jobless claims
(
definition |
chart |
source
) rose, indicating slackening demand for workers. First-time claims for unemployment insurance rose to 345,000 from 320,000 the previous week. The four-week average rose to 347,250, a new 29-month high, from 343,250.
Finally, third-quarter
gross domestic product
(
definition |
chart |
) was finalized at 2.2%, down from 2.4%. The third-quarter price deflator, a measure of inflation, was finalized at 1.6%, down from 1.9%. Economists polled by
Reuters
had forecast no revisions. The change in the GDP was due principally to slower rates of inventory-accumulation by businesses, federal government spending, and capital spending by businesses.
Back to top
International
European markets were down at the close thanks in part to techs and telecoms.
London's
FTSE
was down 61 to 6116. Across the channel, Paris'
CAC-40
was off 7 to 5759 while Germany's
Xetra Dax
was 44 lower to 6205.
The flip-flopping euro was rising again, trading up to $0.9133. It has been gaining slowly in the past few weeks as the U.S. dollar weakens in the face of a slowing domestic economy.
Asian markets were bamboozled -- again -- overnight. Japan's
Nikkei 225
fell 491.22, or 3.53%, to 13,423.31. Yesterday, it closed below the key 14,000 mark for the first time in almost 22 months. Hong Kong stocks fell on weakness in techs and telecoms. The
Hang Seng
closed down 271.40, or 1.82%, to 14,659.32.
The greenback was falling against the yen to 112.06.
Back to top