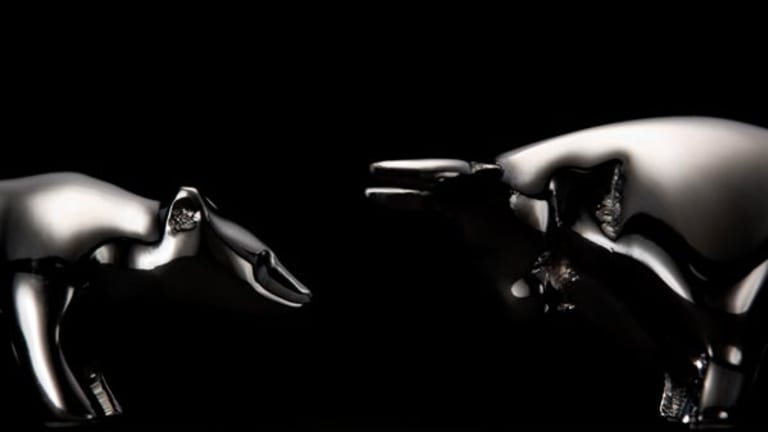 Today's Market: Dow, Nasdaq Rally on Rumors of Rate Cuts
All major indices are higher on buzz about possible intermeeting Fed move; Motorola's earnings report much anticipated.
(Updated from 9:43 a.m.)
Wall Street's newsreel was unusually quiet Tuesday morning, but the rumor mill was deafening -- and positive. Stocks jumped out of the opening gate and headed higher.
The buzz about interest-rate cuts and optimism about
Motorola's
(MOT)
post-close earnings report seemed incentive enough for a morning rally. After closing with modest gains yesterday, all major U.S. indices were higher shortly after the opening.
The
S&P 500 was lately up 29.81 points to 1167.40, the
Nasdaq Composite was climbing 102.32 points to 1848.03, and the
Dow Jones Industrial Average was rising about 228.89 points to 10,074.04.
Rumors that the
Federal Reserve could
cut interest rates as soon as this week have escalated since Friday's weak employment report. Some seasoned market pros were even trying to read behind Monday's closed-door meeting of Fed governors, even though such meetings are regularly scheduled events.
The absence of an expected earnings warning from the U.K.'s largest phone-equipment maker,
Marconi
(MONI)
, could be generating some good vibes about Motorola's earnings. Marconi's "non-news" was helping to lift European telecom stocks, which were, in turn, driving a rally on the major European indices. Marconi was lately up 4.2% to $9.67.
Nearly all things tech and telecom were trading higher this morning -- among them, Motorola and its rival
Nokia
(NOK)
, communications giant
Worldcom
undefined
, networker
Cisco
(CSCO)
, PC titan
Microsoft
(MSFT)
and chip goliath
Intel
(INTC)
.
Motorola, which kicks off the tech earnings season today, has market-watchers concerned about its liquidity. The company is the first of the three major mobile-phone makers to report -- it's already twice lowered its estimates for the quarter. And Friday, concerns over a possible
liquidity crisis surfaced, forcing the company to issue a denial. Some say it could be the company's worst quarter in 16 years. Analysts are expecting a first-quarter loss of between 1 cent and 14 cents, compared with a profit of 20 cents last year, according to
Thompson Financial/First Call
.
The bulls are hoping Motorola will say liquidity is OK -- and that it's not at risk of becoming another
Xerox
(XRX)
. Even better would be some sign that Motorola is beginning to see a light at the end of the earnings tunnel. After PC maker
Dell
(DELL)
confirmed its first-quarter earnings targets last week, and Internet retailer
Amazon.com
(AMZN)
raised its first-quarter performance targets yesterday, some think the earnings disaster of recent months could be bottoming out. And that's the only thing that will allow the market to sustain gains, market-watchers say.
In recent trading, Motorola was up 7.6% to $12.37; Xerox was up 1.7% to $5.36; Dell was rising 5.4% to $26.25; and Amazon.com was up 13.8% to $12.75.
What little news was floating over the airwaves this morning wasn't too hot, but investors seemed to be cheerfully shrugging it off. Several telecoms announced new layoffs, and chipmaker
Cypress Semiconductor
(CY)
warned it would be missing its first-quarter targets. Cypress was lately trading up, though, 5.5% to $16.24.
Marconi was among those announcing layoffs -- the company said it would let go 3,000 workers in the next 12 months. And it wasn't alone.
Siemens
(SI)
, the No. 2 mobile-phone maker in Europe, said it plans to ditch 2,000 workers, and
Swisscom
(SCM)
said it would cut additional jobs after its 2000 earnings fell. Siemens was lately up 1.8% to $105.2; Swisscom was down 1.6% to $24.
Meanwhile, Cypress's warning wasn't its first this quarter. The company said this morning that its first-quarter revenues and profits before goodwill would be below analysts' targets.
Lehman Brothers
analyst
Dan Niles delivered a dour note on the chip sector yesterday and cut his second-quarter earnings estimates on Cypress, among others. In the report, Niles said he expects 2001 to be the worst year ever for chip stocks, with revenues set to fall 18% to 20%. But lately, the
Philadelphia Stock Exchange Semiconductor Sector
was up 6.7%.
And wireless-communications maker
Sawtek
undefined
could get the saw this morning. The stock was the subject of selling in after-hours trading last night despite
reporting earnings that met analyst estimates. Sawtek supplies firms like Motorola and Nokia with electronic components that enhance the quality of wireless phone transmissions. The firm reported that its second-quarter earnings fell 26% from the year-ago period to $9.3 million, or 22 cents per share, in the quarter -- in line with Wall Street's consensus estimates. Back in February, the company had said it expected to earn between 22 cents and 24 cents per share, lower than its previous projection of 29 cents per share. Sawtek was lately up 11.4% to $15.88.
Back to top
Bonds/Economy
The treasury market was tickling lower this morning as the U.S. stock market prepped for a rally. The benchmark 10-year
Treasury note was down 4/32 to 100 7/32, yielding 4.975%.
Back to top
International
The major European indices turned higher as they approached midsession, lifted by the telecoms. The
FTSE 100
was lately up 113.1 to 5776.4. Across the channel, the Paris
CAC-40
was gaining 110.5 to 5293.8. Frankfurt's
Xetra Dax
was gaining a robust 95.0 points, putting the index at 5876.0.
The euro was lately trading at $0.8954.
Asian markets were mixed overnight. Japanese investors sold stocks for a second day amid continuing disappointment over a government economic aid package. Tokyo's
Nikkei 225
fell 221.5, or 1.7%, to close at 12,620.3. Hong Kong's stock market managed to scratch out an unimpressive gain, however, closing up 11.6 to 12213.7.
The dollar was trading at 124.6 yen.
Back to top