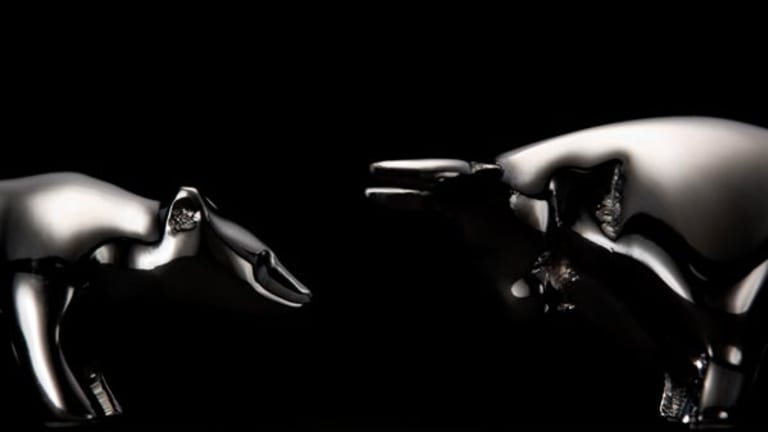 Today's Market: Dow, Nasdaq Have Another Down Day; but Some Positive Signs Emerge
Lucent loses 1/3 of its value, Motorola creamed and volume stunk. Other than that Mrs. Lincoln, how was the play?
What looked like a rout ended as merely a mess, as the
Nasdaq Composite Index and
Dow Jones Industrial Average both recovered from significant morning losses to, well, finish down anyway.
Equity indices plunged at the open on worries of more of the same -- earnings, the economy, etc. -- and managed to rebound sharply but still came under selling pressure and finished significantly lower.
It's hard to pick a leader of the pack when there's nothing but damage all over the place. Breadth was horrific; the Nasdaq's losers outpaced winners by a count of 29 to 11, and 20 stocks finished down for every 9 stocks that finished up on the
New York Stock Exchange. In short, there was a lot of selling in what was the seventh-highest volume session in the Nasdaq history.
The Nasdaq ultimately lost 72 to finish at 3169, the lowest close for the index since May 23, when it closed at 3164.55. The Dow fared worse, as investors sold the index's tech components and the cyclical stocks, and it finished off 111, a decent recovery from its intraday 173.51-point decline.
However, the Nasdaq was down 137 points at 11:15 a.m. EDT, and bounced sharply, as negative sentiment finally hit a critical point. Money managers and other investors scooped up big-cap technology stocks and semiconductor makers at levels they'd not seen since 1998, as people finally judged stocks worth buying. The late decline suggests that ongoing concerns about profit erosion and a slowing economy hasn't been washed away, even with the indices this low.
"I really find it hard to believe it can go a whole lot lower," said Brian Gilmartin, portfolio manager at
Trinity Asset Management
. "What's going to do it? Just about everywhere you turn, it's negative, and I can't believe it's going to get a whole lot worse."
The market has been plagued, during the last month, with earnings warnings from prominent blue-chip companies such as
Intel
(INTC) - Get Intel Corporation Report
and
Apple
(AAPL) - Get Apple Inc. Report
. Yesterday,
Lucent
(LU)
joined the fray, warning of decreased revenue in its optical unit and its traditional phone switching technology.
Motorola
(MOT)
, after meeting earnings expectations last night, surprised the market this morning by
warning of lower-than-expected sales for mobile phones for 2000 and fourth-quarter earnings.
Lucent was hammered today, losing $10.13 to $21.25, a yucky 32% slide. Motorola lost 17.6% to $21.62.
Yahoo!
(YHOO)
didn't do the market any favors in its conference call after reporting third-quarter earnings yesterday. The company earned 13 cents per share, beating estimates by a penny, but
warned of a difficult environment in coming quarters.
The Internet stocks, not surprisingly, were hurt, as these stocks are seeing erosion of revenues if advertising revenues are diminished. Yahoo! closed down $17.31 to $65.38, a 21% decline.
TheStreet.com Internet Sector
index lost 7.2%, as Yahoo!,
Lycos
(LCOS)
, down 22%, and
Excite@Home
(ATHM) - Get Autohome Inc. Report
, off 8.7%, swooned.
Telecom Gets It
Other advertising-dependent names, like
Infinity Broadcasting
(INF) - Get Brookfield Global Listed Infrastructure Income Fund Inc. Report
, were hurt as well. Infinity finished down 3.2%.
Telecommunications equipment companies, squeezed between the warning out of Lucent (a rival, though certainly not as dominant in cutting-edge technology as, say,
Juniper
(JNPR) - Get Juniper Networks, Inc. Report
), and Yahoo! (an end-user of the Internet buildout), lost a lot of ground today.
Sycamore Networks
(SCMR)
fell 7.3% and
Tellabs
(TLAB)
dropped 7%.
Some networking stocks finished higher, however, as investors found value in
Nortel Networks
(NT)
, finishing up 94 cents to $60.94, and Cisco, which gained 6 cents to end at $51.19, after falling as far as $48.22.
Bottom-Feeding
And now we come to that all-elusive question: is this a bottom?
Investors are forever declaring a bad day in a bad month a "bottom," because they're hoping the market can somehow find a way to claw higher. However, some of the evidence, and some of the signals investors look at, are quite convincing today.
To start, volume was enormous today, and it grew as the day progressed, an indication that money managers began finding bargains as stocks tumbled to lows not seen in months or years.
To wit: Intel, on an intra-day basis, hit $35.25 today, a level it had not reached since last October. Cisco dropped to levels not seen since December 1999 before investors jumped in.
"This is the best buying opportunity for large-cap technology stocks since June 1998," said Eugene Profit, chief investment officer of
Profit Investment Management
in Silver Spring, Maryland. "The companies are still pretty good for this position. Do you really believe that Intel is not going to be in demand from a microprocessor standpoint? I don't."
Also, 501 stocks hit new lows on the Nasdaq Stock Market today, the most since April 17, when the Comp was trading near current levels. In an environment where the economic picture is generally strong and growth is expected to continue, investors deemed this excessive.
That allowed investors rediscovered stocks outside of the fiber optics sector and other high-growth names.
Microsoft
(MSFT) - Get Microsoft Corporation Report
finished up 2.2% to $55.75 today;
Micron Technology
(MU) - Get Micron Technology, Inc. Report
gained 2.4% to $37.75, and the
Philadelphia Stock Exchange Semiconductor Index
finished unchanged today.
"Things are beginning to finally approach the right price level," said Mike Vogelzang, chief investment officer at
Boston Advisors
, a unit of
Advest
. "
Texas Instruments
(TXN) - Get Texas Instruments Incorporated Report
is trading at a forward multiple that's actually measurable now. The prices are getting close to where you want to buy them, and we're nibbling here and there."
Market Internals
Breadth was disgusting on immense volume.
New York Stock Exchange: 895 advancers, 1,984 decliners, 1.4 billion shares. 40 new 52-week highs, 194 new lows.
Nasdaq Stock Market: 1,237 advancers, 2,793 decliners, 2.15 billion shares. 19 new highs, 501 new lows.
Back to top
Most Active Stocks
NYSE Most Actives
Lucent: 100.6 million shares. Motorola: 72.1 million shares. Texas Instruments: 27.4 million shares.
Nasdaq Most Actives
Intel: 119.9 million shares. Cisco: 91.7 million shares. Microsoft: 48.8 million shares.
Back to top
Sector Watch
J.W. Nordstrom
(JWN) - Get Nordstrom, Inc. Report
sunk the department store retailers after the company warned of weaker sales and said it was taking a charge for its failed investment in an on-line grocery business,
Streamline.com
(SLNE)
. Nordstrom's lost 6.7% today and
Federated
undefined
dropped 3%. The
S&P Retail Index
fell 2.3% today.
Cyclical stocks were depressed today also. The
Morgan Stanley Cyclical Index
fell 2.3%.
Strength could be found in the brokerages, where
Morgan Stanley Dean Witter
(MWD)
recovered sharply after the company issued a statement outlining the impact of its junk bond losses on
earnings. Rumors of huge losses in that unit had caused a 19% decline in the stock over the last week. The
Amex Broker/Dealer Index
rose 0.5% today.
The
Dow Jones Utility Average
rose 1.61 to 388.48, continuing its strong performance this year.
Back to top
Bonds/Economy
The Treasury market ended mixed on little news.
Intermediate-maturity issues benefited from the decline in stock prices, which are perceived as an indicator of future economic activity. But the 30-year bond fell on concerns about the potential for higher energy prices to push the overall inflation rate higher. Though oil finished down on the day, it has retracted more than 40% of the 18% decline it experienced between Sept. 21 and Sept. 28.
The benchmark 10-year
Treasury note lately was up 5/32 at 99 25/32, dropping its yield to 5.776%.
Back to top
International
The Nasdaq's morning slide killed
European stocks , which racked up triple-digit losses.
London's
FTSE 100
fell 130.10 to 6117.60.
The
CAC 40
in Paris dropped 187.18 to 5956.12, while the
Xetra Dax
in Frankfurt tumbled 171.20 to 6501.95.
The euro was lately at 0.8684. In the past week, the euro has been eking out some meager gains, but it remains in the dumps.
The major
Asian equity markets got slammed Wednesday as investors fled technology shares after semiconductor stocks plummeted in the U.S. on Tuesday.
In Japan, the
Nikkei 225
closed down 314.2, or 2%, at 15,513.6.
In Tokyo trading, the dollar traded down to 107.86 yen from 108.51. The greenback was lately trading at 107.65.
Elsewhere, Taiwan's
TWSE
index fell 168.9, or 2.7%, to 6040.6, after investors returned from a holiday Tuesday. Hong Kong's
Hang Seng
index fell 427.1, or 2.8%, to 15,127.0. Index leviathan
China Mobile
(CHL) - Get China Mobile Ltd. Report
continued a massive three-day losing streak, falling HK$2.00, or 3.6%, to 53.50 ($6.86).
Back to top
As originally posted, this story contained an error. Please see
Corrections and Clarifications.