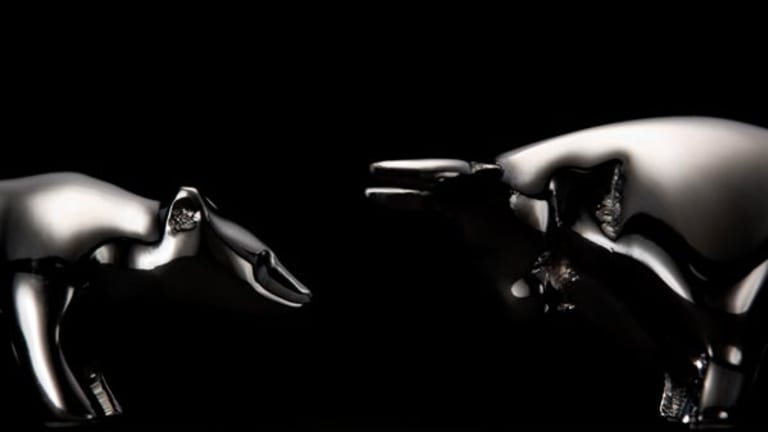 Publish date:
Today's Market: Dow, Nasdaq Fight the Good Fight -- and Win
Well, the Dow won, anyway. The Nasdaq came about 200 points off its lows to finish slightly south of break even.
Well, the Dow won, anyway. The Nasdaq came about 200 points off its lows to finish slightly south of break even.
Even if a general falls, the troops continue to fight.
Shrugging off triple-digit losses posted this morning on the heels of
Intel's
(INTC) - Get Report
revenue warning yesterday, both the
Dow Jones Industrial Average and
Nasdaq Composite Index staged huge recoveries in late-day trading.
Rallying ahead of the bell, the Dow closed higher, for the second day in a row, 82 to 10,847. Meantime, the technology-laden Nasdaq, which plummeted more than 200 points in early trading, managed to close behind only 25 to 3804.
Last night, the world's leading semiconductor maker warned that its third-quarter revenue would fall short of forecasts, primarily because of weak demand in Europe. The forecast stunned Wall Street and sent Intel's shares down $13.55, or 22%, to $47.91 today.
The Santa Clara, Calif.-based company said it now expects revenue that is 3% to 5% higher than the $8.3 billion that it reported in the second quarter. Intel said third-quarter gross margin would also fall below estimates, at 62%, compared to the previous 63% to 64% guidance.
Investors rear-ended by Intel's news have good reason to still feel whiplash. After all, the chipmaker lost over $90 billion of its market capitalization -- or $20 billion more than
Bill Gates'
net worth -- and accounted for 14% of Nasdaq trading today. A record 302.3 million shares of Intel's stock changed hands during the session (see table below).
Adding insult to injury, a slew of brokerage firms cut Intel's ratings and earnings estimates this morning, including
Merrill Lynch
,
Lehman Brothers
,
Deutsche Banc Alex. Brown
,
Credit Suisse First Boston
and
Salomon Smith Barney
.
Today's late-day rally, however, suggests that Intel's announcement is...well...
its
problem, or at least confined to the technology arena. Several blue-chip components posted solid gains today.
Coca-Cola
(KO) - Get Report
popped 6.7%;
United Technologies
improved 5.2%.
Merck
(MRK) - Get Report
gained 4.6%.
Boeing
(BA) - Get Report
, which hit a 52-week high today this afternoon, closed ahead $3.50, or 5.8%, to $63.50. Similarly,
J.P. Morgan
(JPM) - Get Report
lifted 4.5%.
Nonetheless, Intel's news sent shockwaves through semiconductor stocks.
Applied Materials
(AMAT) - Get Report
was down 4.8%,
KLA-Tencor
(KLAC) - Get Report
was off 12%,
Linear Technology
(LLTC)
was down 4.1% and
Novellus
(NVLS)
lost 9.9%.
Boxmakers, whose businesses depend on semiconductors, had a mixed performance today. The
Philadelphia Stock Exchange Computer Boxmaker Index
closed down 2.8%. Both
Apple
(AAPL) - Get Report
and
Dell
(DELL) - Get Report
took it on the chin today, dropping 7.9% and 5.3%, respectively.
Compaq
(CPQ)
, however, gained 6.3%. Today,
Chase H&Q
analyst Walter Winnitzki listed the company among its "strongest picks" giving it a strong buy rating.
Traders offer different perspectives on today's wild session. Jim Volk, co-director of institutional trading at
D.A. Davidson
, expects "negative surprises and other shoes to drop" in the days ahead. Still, some think the news is really Intel-specific. "If Intel's problem proves to be temporary," says Jim Benning, a trader at
BT Brokerage
, "the market will continue to come back."
For the week, the Dow lost 0.7%. The S&P dropped 1.1%; the Nasdaq actually gained 0.8%; the Russell 2000 lost 2.2%, and TheStreet.com Internet Sector index sank 2.9%.
Market Internals
Breadth was negative on heavy volume.
New York Stock Exchange: 1,336 advancers, 1,518 decliners, 1.17 billion shares. 58 new 52-week highs, 118 new lows.
Nasdaq Stock Market: 1,788 advancers, 2,238 decliners, 2.1 billion shares. 67 new highs, 249 new lows.
Back to top
Most Active Stocks
NYSE Most Actives
Lucent (LU) : 15.75 million shares. AT&T (T) - Get Report: 22.13 million shares. Advanced Micro Devices (AMD) - Get Report: 5.29 million shares.
Nasdaq Most Actives
Back to top
Sector Watch
On the heels of President Clinton's approved release of 30 million barrels of oil over the next 30 days from the
Strategic Petroleum Reserve
, oil stocks took a breather. The
Philadelphia Stock Exchange Oil Index
ended behind 1.2%, while the
Philadelphia Stock Exchange Oil Service Index
finished off 1.9%.
As investors rotated out of technology and into Old Economy stocks, drug stocks got a dose of good medicine. The
American Stock Exchange Pharmaceutical Index
lifted 3.53%. Components
Bristol-Myers Squibb
(BMY) - Get Report
ended ahead and
American Home Products
(AHP)
rose 6.74%.
Back to top
Bonds/Economy
The bond market benefited from the weakness in stocks, which added to its conviction that the economy will continue to slow, keeping the
Fed from hiking interest rates any further. It is also benefiting from the continued slide in oil prices from the 10-year highs reached earlier this week.
This morning's coordinated intervention by Europe, the U.S. and Japan to halt the euro's slide has mixed implications for Treasuries. On the one hand it has given a lift to European government bond prices, making Treasuries look cheap in comparison. On the other hand the countries that participated in the intervention are expected to sell short-term Treasuries to finance their purchases of euros when the transaction settles.
Based on how much stocks are down, short-term Treasuries should be benefiting more from flight-to-quality, and they would be were it not for the intervention, said Tony Crescenzi, CEO of
Bondtalk.com
.
The 10-year Treasury note lately was unchanged at 99 9/32, its yield at 5.848%.
Back to top
International
Intel's surprise whacked
Asian markets overnight and was dragging heavily on
Europe.
TheStreet.com
wrote a separate story about how Wall Street got
soaked by Intel's announcement.
Intel's news had all European markets deep in the red in early action, though stocks got a lift from news that the
European Central Bank
, the U.S. and Japan had joined in an effort to stop the euro's slide.
The
FTSE 100
ended slightly in the green up 6.7 to 6205.9.
Across the channel, the
CAC 40
in Paris edged up 3.81 to 6258.58, and the
Xetra Dax
in Frankfurt was up 15.86 to 6698.78.
The euro was getting a boost from intervention, lately trading at 0.8785.
The Intel news hit Asian markets, particularly tech stocks, severely, fanning fears that growth in the chip market, and perhaps in telecom as well, would slow down in Asia.
Closing figures were ugly in Tokyo, but there were glimmers of hope that the market will rebound next week. The
Nikkei 225
index shed 492.80, or 3%, to close at 15,818.25.
Thanks to the stock slump in Tokyo, the greenback edged higher recently to fetch 106.88 yen in Tokyo trading. The dollar was lately trading at 107.82 yen.
Korean stocks were all shook up by Intel's news, with the key
Kospi
index declining 42.74, or 7.2%, to close at 553.25. Besides ongoing woes at
Daewoo Motor
, many foreign investors today fled the tech sector as well.
Samsung Electronics
fell KW30,000 ($168.74), or 13.6%, to 190,000, while rival
Hyundai Electronics Industries
lost 1550, or 9.8%, to 14,350.
Hong Kong's
Hang Seng
index also slumped 551.57, or 3.1%, to close at 14,612.88 as telecom shares fell hard.
China Mobile
(CHL) - Get Report
shed HK$4.10, or 8.0%, to 46.90, while
China Unicom
(CHU) - Get Report
lost 1.05, or 6.3%, to 15.50.
Back to top