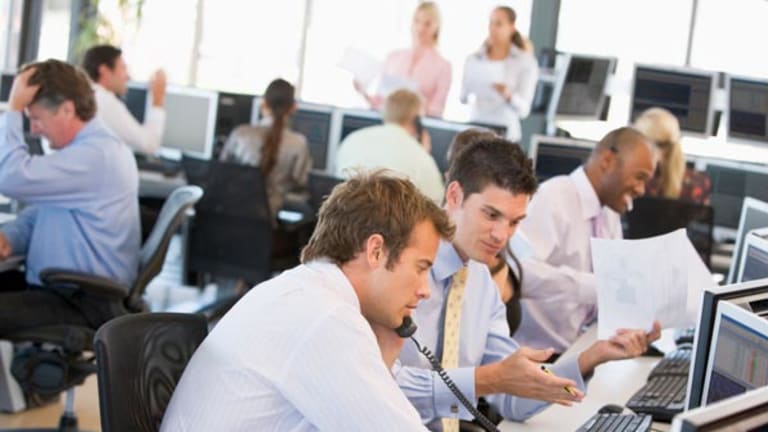 Today's Market: Dow, Nasdaq Bounce Sharply Higher on Strong Earnings Reports, Tech Strength
<I>CNBC</I> reports a possible Dow merger -- Honeywell and United Technologies. Want to win a bar bet this weekend? When did two Dow stocks last merge?
Thud.
Hoorah!
The stock market acted like it had found a Robert Downey Jr.-worthy bottom today. Well,
maybe
.
The
Dow Jones Industrial Average
posted a solid 167-point gain, narrowing week-long losses to just 50 points. But today's real big tell was the
Nasdaq Composite Index
, which had a monster day, gaining 247, or 7.8%, to 3419. That puts the Comp 695 above its record low but 1,714 off its record high, hit just seven months ago.
Today's biggest news may be the most recent news. According to a late-breaking report from the
CNBC
folks,
United Technologies
(UTX)
has set its sights on
Honeywell
(HON)
, and is looking to acquire the blue-chipper in a deal worth more than $40 billion. Official news has been scarce, with Honeywell's homepage listing the latest news as "Honeywell To Supply Europe's First Aqualizer Rewet System To Lohjan Paperi in Finland," which isn't really about a $40 billion merger between blue-chip stocks, now is it?
When was the last time two Dow components merged? According to John Prestbo, editor of the
Dow Jones Indices
, it was when
Tennessee Coal & Iron
was absorbed into
U.S. Steel
(X)
in 1907. The merger of the two came during the Panic of 1907 when buyer J.P. Morgan was perceived to have been bailing out the entire economy. Morgan purchased the company for $45 million and it was worth about $700 million.
Pretty cool.
Today's Dow bounce was brought to you by
Hewlett-Packard
undefined
,
Intel
(INTC)
,
J.P. Morgan
(JPM)
and
Microsoft
(MSFT)
. The four horsemen threw a weighted 161 towards the Dow's plus side.
Today's Comp bounce was brought to you by the much-battered semiconductor sector. The
Philadelphia Stock Exchange Semiconductor Index
rose 17.2%, leading the way for a myriad of technology sectors, from computer peripherals to the computers they plug in to. Dot com stocks, wireless and telecommunications were also much higher, shaking off six weeks of encroaching weakness.
And, broadly speaking, this could very well be a bottom. At least on paper. Money poured out of the drugmakers, healthcare and chemical industries and found new homes in technology and financial stocks. Sure, the 27.9% drop in
Sepracor
(SEPR)
(it fell after news hit that its "Prozac Jr." drug
won't be hitting the drug store shelves anytime soon) hurt the pharmaceuticals, but money is clearly leaving safe havens and finding a place elsewhere, in riskier tech companies.
Still, what's a bottom anyway?
Rich Zanghetti, senior portfolio manager with
Colonial Asset Management
, has a deceptively simple definition of a bottom. "It's when the market lifts up, despite negative news."
And he feels today could be a bottom, given the fact that
Texas Instruments
(TXN)
managed to gain 24.1%, despite the fact that the company was cut by a
bunch of analysts after coming in line with estimates. Recently, failing to exceed expectations has been deadly for companies. Just look at recent
earnings disaster from
IBM
(IBM)
, which missed revenue estimates and subsequently dropped 16%.
But Zanghetti, watching the market from his post in Jacksonville, Fla., wasn't convinced that this bottom is the ground floor. He cites continuing euro woes, a possible heating oil cost increase this winter and the looming election as things that the market will need to deal with before the bottom will hold.
"We're not out of the woods yet," he said, warning that the bottom might not hold if volatility continues to plague the market.
"There are a lot of speculators out there. People keep coming into the market and trying to pick the bottom. That's got me a little perturbed," Zanghetti said. "Like last week, Wednesday (when the Dow fell close to 400 points) could have been something, but the next day we've got this upswing. All these huge downdrafts and large upticks. We need to move sideways and build a base. I'd be happy if the market didn't do anything for a while."
Market Internals
Scope. Toothbrushes. Flossing. All these things lead to good breath.
Rallies. Buying. Winners beating losers. All these things lead to good breadth, which was apparent on both markets today. Volume was brisk, baby.
New York Stock Exchange: 1,956 advancers, 917 decliners, 1.3 billion shares. 27 new 52-week highs, 87 new lows.
Nasdaq Stock Market: 2,846 advancers, 1,158 decliners, 2.147 billion shares. 42 new highs, 169 new lows.
Back to top
Most Active Stocks
NYSE Most Actives
Nokia (NOK) : 40.2 million shares. America Online (AOL) : 33 million shares. Texas Instruments (TXN) : 25.2 million shares.
Nasdaq Most Actives
Microsoft (MSFT) : 124.4 million shares. Cisco (CSCO) : 71 million shares. Intel (INTC) : 62.6 million shares.
Back to top
Sector Watch
You'll need a steel stomach and a cold heart to play around in the semiconductor sector. Today, chipmakers in the
Philadelphia Stock Exchange Semiconductor Index
were unruly, popping up 17.2% to 759. That's quite a big move, one of the largest percentage moves in the SOX, as the chipmaker index is more commonly known.
Still, today's closing level is nothing more than a mild recovery for the SOX, which closed on last Friday at 758. Simply put, the chipmakers have been a major story of the fall, both in the seasonal and directional sense. As August came to a close, the SOX sat at 1142.57, not too far (about 200 points) from 52-week-highs. Yesterday, the SOX came within a point of 600. Massive swings like that over a seven-week span are true tests of a trader's mettle.
Elsewhere in tech, things were all quite higher. Computer peripherals and personal computers were both up. Telecommunications, wireless and dot-coms stocks were up, too. In fact, the only tech-related losers out there have been the contrarian biotechnology stocks. Usually winning while everything else loses, the
American Stock Exchange Biotechnology Index
slipped a bit today. Looks like the shoe is on the other foot now, huh?
Broadly speaking, today was a great day for large cap stocks in a variety of sectors. Retailers, airlines, transports and financials were all much higher at the expense of drugmakers, another contrary "safe haven" play along with the biotechs. Investors have begun pulling money out of these stocks in order to put them into new arenas, like tech and other downtrodden businesses. Of course, the
Sepracor
(SEPR)
blowup (
a potentially lucrative drug won't make it to the market, upsetting investors ) and a slate of drugmaker earnings releases also helped take the money from the pharmaceuticals.
Back to top
Bonds/Economy
Following yesterday's erratic trading, the bond market was rallying today. The bond market has been taking its tone from the equity market, as investors, sensing fear in stocks, move to the relative safety of bonds. Greater confidence in riskier assets, such as stocks, pushes people away from bonds.
The benchmark 10-year
Treasury note was lately at 100 22/32, up 2/32, and yielding 5.657%.
However, the market has reacted favorably to today's economic data and a speech by
Fed Chairman
Alan Greenspan, who took a constructive tone in his speech about the
new economy.
The
Philadelphia Fed Index
(
definition |
chart |
source
) for October fell to -3.8 after a rise of 8.2 in September. The index was much weaker than expected and clearly suggests slowing economic performance.
Back to top
International
Major European markets got a lift from strength in telecom stocks following Nokia's earnings.
London's
FTSE 100
was up 70.70 to 6218.90.
The
CAC 40
in Paris was up 129.13 to 6066.48, while the
Xetra Dax
in Frankfurt was 124.14 higher to 6607.14.
The beleaguered euro steadied after the ECB decided to leave interest rates unchanged. The euro was lately trading at 0.8434.
The major
Asian equity markets closed lower Thursday, as technology shares in Taiwan experienced a particularly nasty drop.
Amid political uncertainty at home and lacking support from Wall Street, Taipei's
TWSE
index plummeted 351.0, or 6.5%, to 5081.3. Many stocks dropped the market's daily maximum of 7%.
Tokyo's
Nikkei 225
erased early gains to drop 61.4, or 0.4%, to close at 14,811.1.
In Tokyo trading, the dollar traded down to 107.90 yen. The greenback was lately trading higher to 108.23.
Elsewhere, Hong Kong's
Hang Seng
index fell 36.0, or 0.3%, to 14,422.5, as banking heavyweight
HSBC
(HBC)
fell HK$2.00, or 1.9%, to 105.00 ($13.47) and
China Mobile
(CHL)
rose HK$0.70, or 1.4%, to 49.70.
Back to top