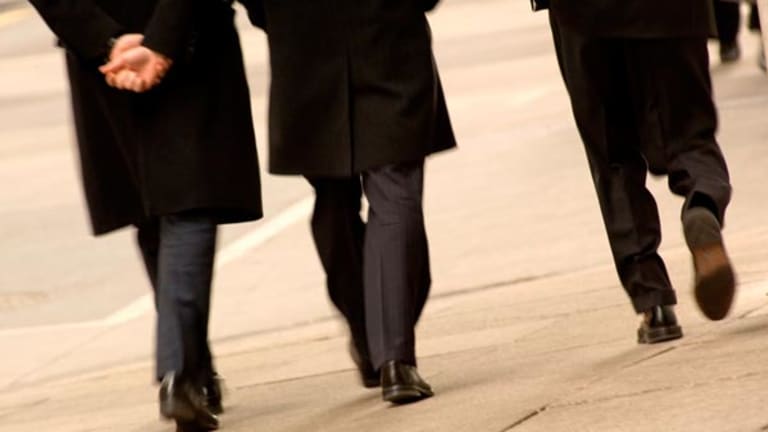 Today's Market: Dow, Nasdaq Both Have a Green Day -- but Will Apple Turn Tomorrow Sour?
Things all went really well for the stock market during the day. Then, after the bell, Apple warns.
Buyers came back with a bang today, as a combination of good earnings news, window dressing and flat-out frustration with all the capitulation sent stocks flying.
The
Dow Jones Industrial Average and the
Nasdaq Composite Index ended the day sporting triple digit gains as both attempted to recoup some of what they've lost in the past few sessions. The Dow was up 196 to 10,824, after losing 2% in the past three trading session. The Comp was up 122 to 3778, though it has a higher bar to pass considering it shed 6.2% since last Wednesday.
"I think it might be a precursor of things to come. People want to step in and buy stock, they just need a leader. Everybody wants to buy, they just don't want to be the first," said Adam Wagner, president of
Wagner Hermann & Herbst
in Houston.
Others are not convinced today's action was anything more than a bounce after the market took beating in the past week.
Tomorrow, this all may be tested, of course. After the closing bell tonight, boxmaker
Apple
(AAPL) - Get Apple Inc. (AAPL) Report
warned that its fiscal fourth-quarter results will be sharply lower-than-expected. Analysts had been expecting the company to report earnings of 45 cents a share, according to
First Call/Thomson Financial
. Instead, the company said, its quarterly results will most likely come in between 30 and 33 cents a share.
"I'm really hard-pressed to say the worst is over. It's hard to garner direction after one day," said Bryan Piskorowski, market analyst at
Prudential Securities
. There is "some value hunting. A lot of money is sitting on the sidelines and some is being put to work today." Still, he was not exactly disappointed with today's upside action. "You take a win when you can get it, and for now, we've got a win," he said.
The day started off with some crosscurrents in the networking sector, as analysts engaged in a little sandbox game of
Am-not/Are-too
over tech heavyweights
Nortel
(NT)
and
Cisco
(CSCO) - Get Cisco Systems, Inc. Report
.
Sanford Bernstein
penned a negative note on the networking bellwethers and cut both stocks to market perform from outperform.
Merrill Lynch
countered the note by reiterating its buy ratings on both stocks. For the
blow-by-blow of the different firms' impressions about the stocks, take a look at our earlier story. In the end, both stocks came out looking the better for the wear, with Cisco climbing $2 to $59.31 and Nortel racking up $3.50, or 5.9%, to $63.13.
The same could not be said for some fiber-optic stocks, which wound up getting squeezed.
Corning
(GLW) - Get Corning Inc Report
lost $4 to $306.
Reaping the Benefits
Procter & Gamble
(PG) - Get Procter & Gamble Company Report
was lapping up a lot of the credit for the good vibes pervading the market, and the Dow in particular.
The consumer product giant accounted for just under 30 points of the Dow's gains, after new CEO A.J. Lafley told securities analysts in New York he sees EPS growth of 7% to 10%, with double-digit earnings possible year over year. The stock popped $5.25, or 8.5%, to $67. Investors welcomed the news with open arms after the company's
turbulent year.
Meanwhile, another recently battered Dow component,
Eastman Kodak
(EK)
, was still suffering under the weight of an earnings
warning earlier this week.
The Internet sector also made a comeback today after
J.P. Morgan
made positive comments on it. The firm said yesterday's selloff was unwarranted. Internet stocks had a lousy session yesterday after
priceline.com
(PCLN)
warned of an earnings miss. priceline shares came back today, rising $1.13, or 10.5%, to $11.88.
Morgan was bullish on
America Online
(AOL)
,
eBay
and
Yahoo!
(YHOO)
. Yahoo! was yucking it up $5.31, or 5.9%, to $95.69 after taking it on the chin yesterday.
Despite caution about the sustainability of today's action, Piskorowski did point out that he likes the action in the
S&P 500 as it has tried to back and fill over the last couple of weeks. Summing up the volatile moves in the past month, he said "The one trend this September is that there hasn't been one. There was a lot of restless rotation."
As for the earnings season ahead, Wagner said he "doesn't expect an overwhelmingly bad earnings season. I'm still just watching individual issues. I don't like to give a blanket pass to any stock."
Wagner says his firm recommends a hedging strategy to clients, given the market's tendency to clip millions of dollars off a stock's market capitalization on the slightest hint of bad news or even failure to exceed expectations.
"You still have some of the psychology left over from this time last year," when companies were posting significantly higher earnings, he said. For some investors, solid growth when compared with last year's stellar growth may seem disappointing.
Market Internals
Breadth was positive on the Big Board and the Comp.
New York Stock Exchange: 1,878 advancers, 958 decliners, 1.2 billion shares. 141 new 52-week highs, 70 new lows.
Nasdaq Stock Market: 2,598 advancers, 1,391 decliners, 1.95 billion shares. 117 new highs, 232 new lows.
Back to top
Most Active Stocks
NYSE Most Actives
Nasdaq Most Actives
Sector Watch
Green was all over the screen today. Financials, tobacco, biotech and boxmakers all bounced higher.
Financials were strong, with the
American Stock Exchange Broker/Dealer Index
up 3.5% and the
Philadelphia Stock Exchange/KBW Bank Index
2.7% higher.
Goldman Sachs
(GS) - Get Goldman Sachs Group, Inc. (GS) Report
and
Morgan Stanley Dean Witter
(MWD)
were two of the biggest boosters in the broker sector, while
Bank of New York
(BK) - Get Bank of New York Mellon Corporation Report
and
State Street Bank
(STT) - Get State Street Corporation Report
buoying banks.
A mixed bag of winners in tobacco shares lifted the
American Stock Exchange Tobacco Index
4.2%. The
Nasdaq Biotechnology Index
was up 3.2% and the
Philadelphia Stock Exchange Computer Box Maker Index
rose 4.2%.
Energy stocks gave up some gains. The
American Stock Exchange Oil & Gas Index
lost 1.1% and the
Philadelphia Stock Exchange Oil Service Index
slipped 0.2%.
Back to top
Bonds/Economy
Treasuries were narrowly mixed despite upward revisions to the
Consumer Price Index
(
definition |
chart |
), which were forecast
yesterday.
The
Bureau of Labor Statistics
this morning announced that in each month from January to August, the CPI was 0.1 higher than originally reported, except in May and July, when it was higher by 0.2. From January to August, prices rose 3.5%, revised from 3.4%, and the core prices, which exclude food and energy prices, rose 2.7%, revised from 2.6%, the BLS said.
The BLS revised the CPI after discovering that a software error had resulted in miscalculations.
The benchmark 10-year Treasury note rose 2/32 to 99 18/32 to 5.81%.
Back to top
International
Most major European markets sunk at the end of the day, slipping under the weight of weakness in tech and telecom. Defensives and financials were getting some play, however, as investors looked for a refuge for their cash.
In London, the
FTSE 100
ended the day off its lows, but still on the downside. It was off 5.20 to 6264.10.
Across the channel, the
CAC 40
in Paris was off 8.76 to 6311.03, and the
Xetra Dax
in Frankfurt rose 18.7 to 6832.76.
The euro traded at 0.8778.
Asian markets finished modestly lower overnight.
Local fund managers scooped up selected technology shares early in the day, but the market slumped anyway.
The
Nikkei 225
index shed 12.99, to 15,626.96, marking a fresh 18-month low.
With every currency dealer waiting to see if Denmark accepts the euro or not, not much happened in the foreign exchange market. The dollar edged slightly lower against the yen to fetch 107.51 in Tokyo trading. The greenback was traded at 107.63 yen.
Hong Kong's
Hang Seng
index nudged 28.38 lower to 15,415.75, as traders seemed reluctant to make large trades before several large property and telecom firms announced their fiscal first-half results, which was due after the market closed.
Back to top