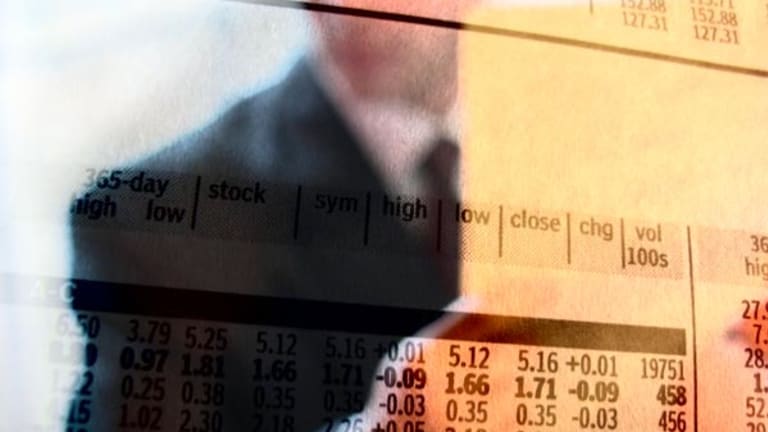 Today's Market: Dow, Nasdaq Both End Sharply Lower; Lucent Loses 32%
<LI>Microsoft and Cisco end in positive territory.</LI> <LI>Financials ailing.</LI>
Maybe the market was warming up to the idea of actually celebrating its 10th anniversary as a bull market.
And while,
tin and aluminum are the designated gifts to mark a decade together (ick -- tin?), it looked like semiconductors were the presents to put the
Nasdaq Composite Index in a much better mood. However, by the end of the day, the Comp ended well lower, just a few ticks away from its year low of 3164.55.
The
Dow Jones Industrial Average briefly managed to cross over the break-even line, but succumbed to the downward pull that's sucked down the market today.
Peter Cardillo, chief strategist at
Westfalia Investments
said, "it looks like the markets are in rallying mode after touching around the 3100 level, and, as a result of that, buyers are coming in and bargain hunting."
The
Philadelphia Stock Exchange Semiconductor Index
bounced early, but ended unchanged. The sector had the albatross of
Altera
(ALTR)
and
Xilinx
(XLNX)
yesterday. Both were downgraded on fears of lower demand in the chip sector and were the most actively traded stocks on the Nasdaq. Today, investors were showing interest once again. Both Altera and Xilinx ended in positive territory, but the rest of the components just weren't doing enough.
Applied Materials
(AMAT)
,
Linear Technology
(LLTC)
and
Teradyne
(TER)
all ended higher today.
He said that
Lucent
(LU)
and
Motorola
(MOT)
-- both trading near $22 -- are now at an attractive price to many buyers.
Still, Cardillo said that although we might be near a bottom, nothing's really changed.
For days, investors and traders were holding out hope for positive earnings news from
Yahoo!
(YHOO)
and Motorola. And even though the companies delivered, Yahoo! indicated that its
sales were slowing and Motorola lowered its
earnings expectations through 2001, which spooked investors. What helped tip the scales was
Lucent's
(LU)
third earnings warning this year. TheStreet.com wrote about
Lucent's bad news in an earlier story. Yahoo! fell 20.9%. Motorola was 18.1% lower. And Lucent lost almost one third of its value.
Big-cap tech stocks fell in sympathy. But
Intel
(INTC)
struggled (and failed) to get over the break-even line, while
Cisco
(CSCO)
ended 0.1% higher.
And the Dow failed to shrug off weakness in tech stocks.
Microsoft
(MSFT)
was managing to stay on the positive side and was up 2.2%.
"If Microsoft takes the lead here, it will be very encouraging," Cardillo said.
Morgan Stanley Dean Witter
undefined
, rumored to have seen losses in its
junk-bond trading unit last week, bounced back today, up 4.4% to $77.75. The
American Stock Exchange Broker/Dealer Index
was up 0.5%.
Lehman Brothers
undefined
was also slightly higher.
Back to top
Market Internals
Breadth was terrible on heavy volume.
New York Stock Exchange: 895 advancers, 1,984 decliners, 1.387 billion shares. 40 new 52-week highs, 194 new lows.
Nasdaq Stock Market: 1,236 advancers, 2,793 decliners, 2.147 billion shares. 20 new highs, 501 new lows.
Back to top
Most Active Stocks
NYSE Most Actives
Lucent: 100.6 million shares. Motorola: 72 million shares. Texas Instruments (TXN) : 27.4 million shares.
Nasdaq Most Actives
Intel: 118.8 million shares. Cisco: 91.6 million shares. Microsoft: 48.7 million shares.
Back to top
Sector Watch
Money was going into drugs and paper -- hmmm. Energy stocks also were getting some lift, but retailers were tanking.
The
American Stock Exchange Pharmaceutical Index
rose 0.5%, with
Amgen
(AMGN)
leading the way.
The
Philadelphia Stock Exchange Forest & Paper Products Index
hopped 1.9%.
Energy stocks continued their recent rally on the back of soaring oil prices. Oil has now retraced nearly half of the 18% decline it had from Sept. 21 to Sept. 28. The
American Stock Exchange Oil & Gas Index
was up 0.3%, the
American Stock Exchange Natural Gas Index
was 1.5% higher and the
Philadelphia Stock Exchange Oil Service Index
was up 0.8%.
Retail stocks weren't having any fun after
Nordstrom
(JWN)
warned this morning that its earnings would not make estimates due to softer-than-expected sales and bigger-than-planned markdowns. Investors were concerned that a slowdown in consumer demand and (warning -- here comes another "blame the weather" excuse) a mild summer would have hurt retail sales. But retail stocks have been in the dumps pretty much all year. The
S&P Retail Index
was off 1.8%. Components
Federated
undefined
,
Sears
(S)
and
J.C. Penney
(JCP)
were down in sympathy.
Back to top
Bonds/Economy
The Treasury market is mixed today on little news.
Intermediate-maturity issues are benefiting from declining stock prices. But the 30-year bond is lower in reaction to the latest rise in oil prices because of the potential for higher energy prices to push the overall inflation rate higher.
The benchmark 10-year
Treasury note lately was up 5/32 at 99 25/32, dropping its yield to 5.778%.
Back to top
International
The Nasdaq's morning slide killed
European stocks , which racked up triple-digit losses.
London's
FTSE 100
fell 130.10 to 6117.60.
The
CAC 40
in Paris dropped 187.18 to 5956.12, while the
Xetra Dax
in Frankfurt tumbled 171.20 to 6501.95.
The euro was lately trading at 0.8690. In the past week, the euro has been eking out some meager gains, but it basically remains in the dumps.
The major
Asian equity markets got slammed Wednesday as investors fled technology shares after semiconductor stocks plummeted in the U.S. on Tuesday.
In Japan, the
Nikkei 225
closed down 314.2, or 2%, at 15,513.6.
In Tokyo trading, the dollar traded down to 107.86 yen from 108.51. The greenback was lately trading at 107.59.
Elsewhere, Taiwan's
TWSE
index fell 168.9, or 2.7%, to 6040.6, after investors returned from a holiday Tuesday. Hong Kong's
Hang Seng
index fell 427.1, or 2.8%, to 15,127.0. Index leviathan
China Mobile
(CHL)
continued a massive three-day losing streak, falling HK$2.00, or 3.6%, to 53.50 ($6.86).
Back to top