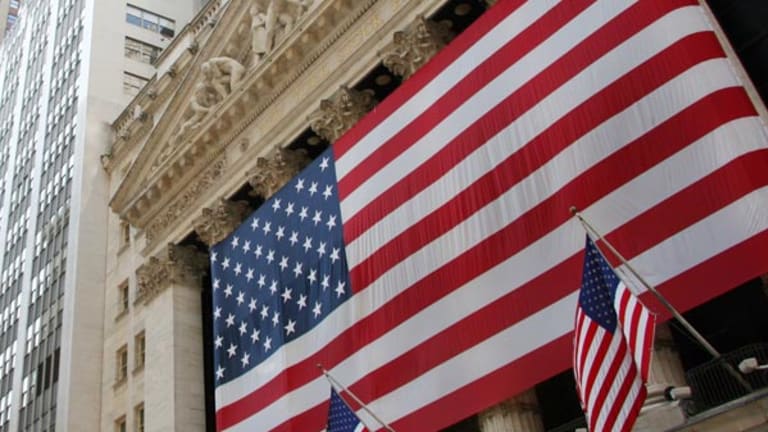 Today's Market: Dow Moving Higher Thanks to Honeywell, Merck, 3M
The Nasdaq was little changed, though, as volume has been light all day.
It's Monday, so where the heck is everyone?
Lately, the
Dow Jones Industrial Average was firmly on the upside, while the
Nasdaq Composite Index pushed around by light volume was in the red. The Comp has been up and down all morning.
Dow components were hogging all the attention today. Over the weekend,
General Electric
(GE) - Get General Electric Company (GE) Report
confirmed that it had reached an agreement to buy blue-chip brethren
Honeywell
(HON) - Get Honeywell International Inc. (HON) Report
for $45 billion in stock. As is typically the case, the news put pressure on the buyer, while lifting the object of acquisition. GE lately was down 5.4%, or $2.81, to $49.44 and was taking away about 16 points from the Dow. Honeywell -- up 8%, or $3.69, to $49.69 -- added about 23 points to the index.
Other blue-chippers in the news were
3M
,
Merck
(MRK) - Get Merck & Co., Inc. (MRK) Report
and
SBC Communications
(SBC)
.
3M barely
beat estimates, but gave the nod that it would meet earnings expectations during the fourth quarter and next year, which was good enough for investors. The stock recently was up 5%, or $4.38, to $91.63. It was the Dow's biggest support, adding about 27 positive points.
Merck rocketed up $2.88 to $84.75 on positive comments from
Salomon Smith Barney
and
PaineWebber
. Solly sweetened its rating on the stock to an outperform from neutral after the company posted better-than-expected earnings Friday. PaineWebber jacked up the company's 12-month price target to $90 from $81. Merck was offering up 17 points to the Dow's positive side.
And SBC, $2.31 higher to $53.06, said it would miss fourth-quarter estimates, but would still make full-year estimates. It lately contributed about 14 points to the blue-chip index.
Jay Meagrow, vice president of trading at
McDonald & Co.
, said the market's been relatively quiet ahead of a big earnings day
tomorrow.
"There's not enough volume to get excited," Meagrow said.
Meanwhile, on the Nasdaq,
Cisco
(CSCO) - Get Cisco Systems, Inc. Report
was off $1.25 to $56.06 following a report in
Barron's
that the tech giant has been skewing its earnings reports over the last two fiscal years ended July. The journal said the company has avoided $18.2 billion in costs through a sneaky accounting technique.
Barron's
has written several articles this year that are critical of Cisco's accounting practices.
Lucent
(LU)
announced it was replacing CEO Richard McGinn (wasn't he the bassist in
The Byrds
?) with former chairman Henry Schacht and warned that first-quarter earnings would come in at break-even levels, marking its fifth-straight earnings shortfall. Lucent shares were trading at barely a quarter of their high for the year after the company's failure to execute its business plan despite red-hot demand for telecom equipment. The stock was off 1% to $22.94.
Gail Dudack, equity market strategist at Warburg Dillon Read, said that "a rally from Wednesday's intraday low is certainly a pretty typical thing."
She said she's watching for the rally to move above some key resistance levels. She those levels as 10,750 for the Dow and roughly 4000 for the Comp. She's also looking for the aforementioned Cisco to push above $63.25.
"To have any sustainability, first we have to break through those resistance levels," Dudack said.
Market Internals
Breadth was negative on lousy volume.
New York Stock Exchange: 1,203 advancers, 1,467 decliners, 580 million shares. 42 new 52-week highs, 53 new lows.
Nasdaq Stock Market: 1,895 advancers, 1,797 decliners, 983 million shares. 61 new highs, 58 new lows.
Back to top
Most Active Stocks
NYSE Most Actives
General Electric: 49.3 million shares. Honeywell: 31.1 million shares. Lucent: 26 million shares.
Nasdaq Most Actives
Back to top
Sector Watch
Semiconductors continued their rally from late last week, with the
Philadelphia Stock Exchange Semiconductor Index
up 3.3%.
Intel
(INTC) - Get Intel Corporation (INTC) Report
rose 1.7%,
Micron Technology
(MU) - Get Micron Technology, Inc. (MU) Report
was up 6.1% and
Applied Materials
(AMAT) - Get Applied Materials, Inc. Report
jumped 6%. Micron was up despite a 2001 estimate cut by
Goldman Sachs
.
Merck got the troops rallying this morning, after it reported earnings that beat expectations Friday and got some positive notes from PaineWebber and
Salomon Smith Barney
this morning. The
American Stock Exchange Pharmaceutical Index
hopped about 3%.
Pfizer
(PFE) - Get Pfizer Inc. Report
and
Schering-Plough
(SGP)
, which are both scheduled to report tomorrow, were rallying ahead of their announcements.
Continuing problems in the Mideast put more pressure on oil stocks. The
American Stock Exchange Natural Gas Index
fell 1.4%, while the
Philadelphia Stock Exchange Oil Service Index
dropped 3.3%.
Back to top
Bonds/Economy
The bond market continues to improve as funds move to safe investments in the face of international unrest.
The benchmark 10-year
Treasury note was up 6/32 to 101 and yielding 5.615%.
The 30-year
Treasury bondis at 107 22/32, 9/32 higher, to yield 5.709%.
With no economic releases today, there will probably be little news to cause any change in the market's view. Mixed performance in equities and ongoing Mideast tensions are likely to continue to dominate the market's interest.
Back to top
International
European markets were all up at the close.
The decision by
British Telecom
(BTY)
and its partners in the mobile-phone consortium
Blu
to pull out of Italy's auction for third-generation mobile-phone licenses helped lift London's stocks.
The
FTSE 100
was up 39.60 to 6315.90.
The
CAC-40
in Paris was up 32.90 to 6182.34, while the still-rallying
Xetra Dax
in Frankfurt was barely up, 0.35 higher to 6618.78.
The euro was lately trading down to at 0.8360.
The major
Asian equity markets closed mixed Monday, as investors in Japan and South Korea booked some profits. Their counterparts in Hong Kong and Taiwan were able to build on gains made Friday.
In Tokyo, the
Nikkei 225
closed down 100.8, or 0.7%, at 15,097.9.
In Tokyo trading, the dollar rose 0.75 to 108.95 yen. The greenback was lately trading lower to 108.25.
Elsewhere, Hong Kong's
Hang Seng
index rose to close 57.8 higher, or 0.4%, at 15,102.4, as heavyweights
HSBC
(HBC)
and
China Mobile
(CHL) - Get China Mobile Limited Sponsored ADR Report
put in mixed results. HSBC rose HK$3.00, or 2.8%, to 110.50 ($14.17) and China Mobile fell HK$1.50, or 2.8%, to 52.25.
Back to top