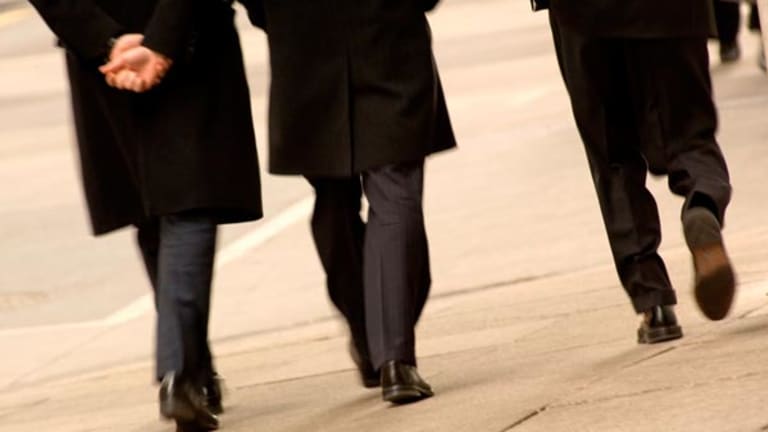 Today's Market: Dow Moves Higher With Its Morning Coffee
<LI>Cisco, Nortel hit with Sanford Bernstein downgrade.</LI> <LI>Denmark's decision on euro due today.</LI> <LI>Exodus acquiring Global Crossing's Web-hosting unit.</LI>
(Updated from 9:28 a.m. EDT)
In this fickle, volatile and confused market, an early bounce doesn't promise anything. And little morsels of news, good or bad, can swing entire indices.
Today, that morsel could be a downgrade on optical stocks.
Sanford Bernstein
this morning downgraded optical plays
Cisco
(CSCO) - Get Cisco Systems, Inc. Report
and
Nortel Networks
(NT)
on concerns of a slowdown in spending on telecommunications equipment. Optical stocks have had quite a run-up in recent months, but Nortel and Cisco have recently been under pressure. Separately, Nortel announced this morning that it has won contracts for $525 million to build a wireless network in China and Taiwan. Cisco was off 1.5%, while Nortel was near unchanged in early action.
The
Dow Jones Industrial Average was higher in early action, adding 16 to 10,644. The
Nasdaq Composite Index moved in the opposite direction, losing 9 to 3648. And the
S&P 500 was up 2 to 1429.
"I'd wait until 10 or 10:30," said Sam Ginzburg, senior managing director of equity trading at
Gruntal.
"The open is just a poker game. By 10:30, we ought to know what the market is," he said.
"It's obviously been a very frustrating, discouraging market, because you just want something to happen," he said. "The rallies aren't really holding, and the selling pressure isn't really knocking things down to any kind of capitulation. Every day, it's a new sector. But money isn't leaving the market, it's going to other stocks."
In recent action, stocks have been popping at the open only to slug lower into the close as investors
continue
to worry about how earnings will be affected by decreased business investing, markedly higher energy prices and a weak euro -- and what all of this means for valuations. (
TheStreet.com
has been tracking
early warnings from companies about what impact these factors will have on earnings.) The Nasdaq is moving close to a 3500 psychological support level, while it and the Dow have both erased their August rallies.
"We're not going for any big or long-term trades. There aren't a whole lot of trends to play," said Ginzburg. "It's a day-trader's market."
Some traders think stocks will be set to rally once warnings season is through and third-quarter earnings reports start to trickle in. By then, all of the bad news should be priced into the market, they say. But it can't help that the "window dressers" are out in full force this week. Following September's dismal performance, a lot of fund managers are busy dumping a lot of losers in order to tidy up their books for investor scrutiny, because the third quarter ends this week.
"The interesting thing is quarter-end," Ginzburg said. "If you have a stock that's really down, are the portfolio managers are going to beat it down more? Any stocks that haven't been beaten down in the last couple of months that are kind of putting a base in here
could get a lift today and Friday at the close," he said.
Meanwhile, the euro might get some relief today from the Danes. Denmark is currently voting on whether to drop its krone in favor of the pan-European currency. A verdict should be in near midday EDT time. Currency analysts say a decision in favor of the euro could give the ailing currency a pop. Of course, if the Danes vote no, it won't help. The weak currency has already cut into many a
multinational's earnings this quarter.
In the merger arena,
Exodus Communications
(EXDS)
this morning said it has agreed to acquire
Global Crossing's
GlobalCenter web-hosting unit for about $6.5 billion in stock. A deal was initially aborted two months ago. Exodus was down 11.7% in early trading this morning. Global Crossing was up 2.7%.
On the earnings front,
Burlington Coat Factory
undefined
posted a first-quarter loss of 30 cents a share, a penny wider than the four-analyst expected loss and wider than the year-ago loss of 19 cents. Burlington was 3% lower early on.
Software developer
Corel
(CORL)
posted a third-quarter loss of 15 cents a share, narrower than the two-analyst expected loss of 28 cents. The year-ago profit was 26 cents a share. It jumped 3.5% after the open.
And speech-technologies company
Lernout & Hauspie
(LHSP)
said it expects to post an unexpected loss and lower-than-expected revenue for the third quarter,
The Wall Street Journal
reported that Lernout & Hauspie's shares have been
tumbling since the beginning of this month. The embattled stock gained 6.4% early on.
In a new blow to
Bridgestone/Firestone
,
Ford
(F) - Get Ford Motor Company Report
decided to outfit the next generation of its Explorer sport-utility vehicles with Michelin tires, abandoning its decade-long reliance on tires made by Firestone. Ford also is negotiating with other tire makers to supply tires for the 2002 Explorer. Ford was down fractionally this morning.
Back to top
Bonds/Economy
The benchmark 10-year Treasury note was lately up 2/32 at 99 16/32, yielding 5.816%.
The 10-year note lost some ground yesterday after the
Labor Department
revised the
Consumer Price Index
(
definition |
chart |
).
After discovering a software error, the Labor Department revised the consumer price for the first eight months of this year to a 2.7% rise instead of 2.6%. Separately, new orders for durable goods rose 2.9% in August.
Overall inflation was running at a rate of 3.4% in August, while core inflation -- which excludes food and energy -- was running at 2.5%, nearly a two-year high.
TheStreet.com
wrote about the
revision yesterday.
A higher inflation rate devalues bonds because it erodes the value of the fixed interest payments they make.
Back to top
International
European markets continued to sink near midsession, slipping under the weight of weakness in tech and telecom. Defensives and financials were getting some play, however, as investors looked for a refuge for their cash.
In London, the
FTSE 100
was down 48.90 to 6220.40.
Across the channel, the
CAC 40
in Paris was off 31.21 to 6288.58, and the
Xetra Dax
in Frankfurt lost 54.82 to 6759.24.
The euro was lately trading higher at 0.8861.
Asian markets finished modestly lower overnight.
Local fund managers scooped up selected technology shares early in the day, but the market slumped anyway.
The
Nikkei 225
index shed 12.99, to 15,626.96, marking a fresh 18-month low.
With every currency dealer waiting to see if Denmark accepts the euro or not, not much happened in the foreign exchange market. The dollar edged slightly lower against the yen to fetch 107.51 in Tokyo trading. The greenback was lately trading at 107.53 yen.
Hong Kong's
Hang Seng
index nudged 28.38 lower to 15,415.75, as traders seemed reluctant to make large trades before several large property and telecom firms announced their fiscal first-half results, which was due after the market closed.
Back to top