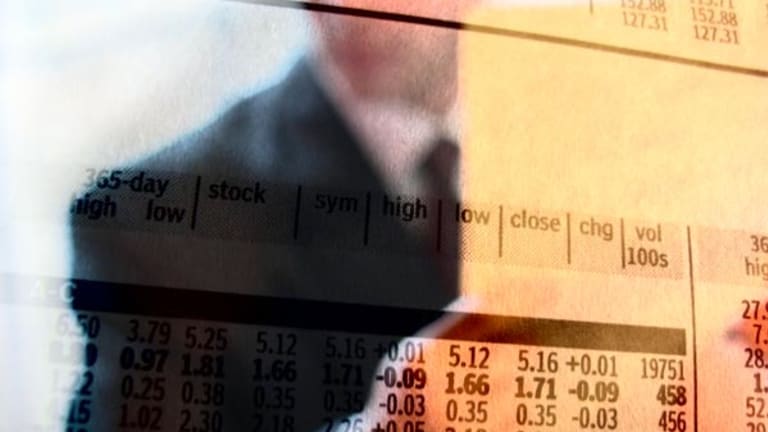 Today's Market: Dow Is Day's Shooting Star; Intel, IBM Boosting Index
The Nasdaq was little changed at midday as volume was light ahead of Humphrey-Hawkins.
Bargain hunters unite!
The
Dow Jones Industrial Average was lately making amends for last week's poor finish. Though it was off its highs in recent action, it was still in the 100-point-gain range, helped higher by recently beaten-down tech components
IBM
(IBM)
and
Intel
(INTC)
.
The tech-heavy
Nasdaq Composite Index spent part of the day on the downside, but was lately inching higher in spite of a stream of warnings and/or negative research notes.
Remember that
crazy day last August when
Emulex
undefined
dropped
57% before it was discovered that a press release issued saying the company would restate its fourth-quarter results as a loss from a profit was bogus?
Well, today, the networking equipment maker was plummeting 47.2% to $40.75 and not because of a hoax. This time, the company said in a Webcast late Friday that if order deferrals for its fiber-channel products continue it could hurt third-quarter earnings.
The news sparked a downgrade by
U.S. Bancorp Piper Jaffray
analyst Ashok Kumar to neutral, citing flat quarter-to-quarter revenue growth and customer "pushouts," or order delays. In his report this morning, Kumar said Emulex's third-quarter earnings could be negatively impacted by three cents to five cents "if current trends continue."
Kumar also said he believes Emulex's stock faces "both valuation and earnings compression," and that the company, along with
QLogic
(QLGC)
, could be affected by the "ailing" storage industry. QLogic was spun off of Emulex in 1992 and is now independent. Its shares were off 24.8% to $52.81.
Competitors
EMC
(EMC)
,
Juniper Networks
(JNPR)
and
Brocade
(BRCD)
were dropping in sympathy. EMC was sliding 6.1% to $52.97, Juniper was falling 3.4% to $81.06 and Brocade was tumbling 17.7% to $61.
But all was not lost in tech land, especially not in biotechnology, where
Celera Genomics
(CRA)
was benefiting from a story in
The Wall Street Journal
that said the company's map of the human genetic code appears to be superior to that of the publicly funded
Human Genome Project's
version. The stock was up 17.5% to $48.85. It was helping to lift the
Nasdaq Biotechnology Index
2.3%.
Elsewhere on the
Big Board, oil giant
Schlumberger
(SLB)
was down 9.6% to $70.69 after announcing that it would buy information technology firm
Sema
undefined
for about $5.2 billion. Sema was rising 14.7% to $16.06.
And don't forget those pesky PC-makers... U.S. computer hardware and software giant
Compaq
undefined
warned of slowing sales growth in the first half of 2001, dropping its target to a little under 5% from 10% in 2000. In an interview published today, Compaq told German magazine
Der Spiegel
that its sales would be slow to flat during the first quarter and then pick up through the rest of the year. The stock was off 3.2% to $21.77.
Meanwhile, the Dow had 23 cheerleaders, with healthcare behemoth
Johnson & Johnson
(JNJ)
and discount retailer
Wal-Mart
(WMT)
leading the pack.
Market Internals
Back to top
Most Active Stocks
Back to top
Sector Watch
The
Philadelphia Stock Exchange Semiconductor Index
was coming back after being a part of last week's fall. It lately was 2.5% higher. Chip equipment maker
KLA-Tencor
(KLAC)
was one of the biggest bouncers, up 8.4% to $38.88.
And even though tech was looking a little better to investors, defensives were strong today, with the
American Stock Exchange Pharmaceutical Index
up 0.9%.
Back to top
Bonds/Economy
Treasury prices are mixed, with the long bond dipping and the notes just about positive. With no economic news due today, the money market is likely to respond mostly to equity movements. Traders are also awaiting
Federal Reserve chairman
Alan Greenspan's address before the
Senate Banking Committee
tomorrow. They hope that the central bank chief will reiterate the need for more interest rate cuts to boost the economy.
The benchmark 10-year
Treasury note lately was unchanged at 99 23/32, yielding 5.034%.
Cathy Minehan, president of the
Boston Federal Reserve Bank
and a voting member of the Fed's monetary policy committee, said today that the Fed's 100 basis-point lowering of interest rates in January is already producing encouraging results. She predicted that
gross domestic product
(
definition |
chart |
) growth this year should be around 2%. Echoing recent statements by Greenspan, Minehan asserted that inflation was "well behaved." This was good news to Fed watchers, since figures released last week showed unit labor costs on the rise, usually perceived as inflationary.
Back to top
International
Stocks in Europe had a strong finish. Strength in telecom and software stocks gave a lift to London's
FTSE 100
. After three days of losses, the index was up 77 to 6241. In Paris, the
CAC-40
was 47 higher to 5760 and the German
DAX
rose 57 to 6554.
The euro was lately falling against the dollar, trading at $0.9294.
Tokyo markets were closed overnight for National Foundation Day, a national holiday, while Hong Kong's
Hang Seng
had a pretty rough time of it. The benchmark index fell 180.17, or 1.14%, to 15,693.11.
The dollar was trading at 117.62 yen.
Back to top