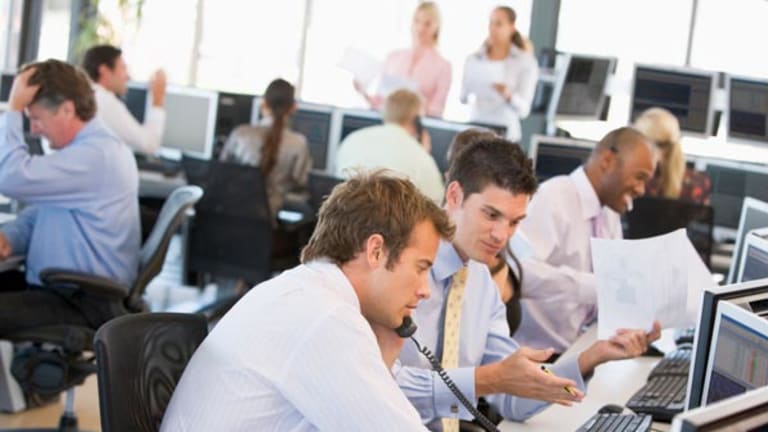 Today's Market: Dow Higher, While Nasdaq Dips Following Friday's Sky-High Rally
<LI>Chevron finalizes deal for Texaco.</LI> <LI>Oil prices ease a bit.</LI> <LI>It's earnings, earnings and more earnings.</LI>
(Updated from 9:35 a.m.)
Investors were feeling a little insecure about whether Friday's spectacular market rally could pull through this morning.
Friday's rally was a welcome respite after six weeks of relentless selling. The
Nasdaq Composite Index soared 241.82, or 7.8%, to 3316.50 -- the index's second-biggest gain ever in percentage terms and its third-largest point gain. The
Dow Jones Industrial Average rose 157.60, or 1.5%, to 10192.18.
But the war between bears and bulls is far from over.
The Dow moved between positive and negative territory in early trading. It was lately affirmatively positive, up 43 to 10,234. The Nasdaq, however, was 29 lower to 3287. And the
S&P 500 lost 2 to 1372.
Most market pros say they need another strong up close today before they can believe the market has changed its tune. Some say they'll be watching the brokerage stocks and semiconductors, as well as the biotechs, to gauge market sentiment. And as the busiest week of earnings season kicks off, investors better keep a close watch on what companies have to say about earnings going forward.
Market pundits remain concerned about
price to earnings, or p/e, valuations, soaring oil prices (tensions in the Middle East aren't helping), a troubled euro and upcoming elections (that's right, November is just around the corner).
The rest of today's reporting companies, many of which will issue earnings after the close, include consumer-products giant
Coca-Cola Enterprises
(CCE)
, brokerage bigwig
Merrill Lynch
( MER) and semiconductor equipment maker
Novellus Systems
undefined
.
Banc of America
(BAC)
this morning reported earnings that were stronger than expected (excluding some big charges).
Bank of America was 2.6% lower this morning.
A solid earnings report from PC-maker
Gateway
( GTW) Thursday after the close assuaged some fears that computer demand is slowing as the pace of economic growth decelerates. And
Gateway's report helped spur Friday's buying in tech companies across the board. Investors will have to wait and see if that confidence remains. Gateway lost a bit of steam in early action, lately down 2%.
Oil prices were easing lower this morning after an emergency summit began today in Egypt to stop the spiraling violence in the Middle East. And Venezuelan oil unions put an end to their strike there. Brent crude oil futures for December expiration were lately trading down 3 cents to $32.55, according to
Bloomberg
.
Leaders participating in the Middle Eastern peace summit include President Bill Clinton, Palestinian leader Yasser Arafat, Israeli Prime Minister Ehud Barak, Jordan's King Abdullah and Egyptian President Hosni Mubarak. The leaders are looking, at the very least, for a cease-fire to end several weeks of violence that has left more than 100 people dead. But expectations are not high.
An announcement from the companies today, made official a
deal between oil companies
Chevron
( CHV) and
Texaco
(TX)
. Chevron plans to buy Texaco in a $35 billion stock deal.
Some market watchers think the deal could spur more merger mania in an already consolidating sector. The merger should fall under the scrutiny of antitrust investigators, but is likely to be approved, sources told Christopher Edmunds, a writer for
RealMoney.com
, sister site of
TheStreet.com
Texaco was trading higher before the open, while Chevron was trading lower.
Texaco was 2.5% higher in early action. Chevron was losing 4.6%.
Back to top
Bonds/Economy
The benchmark 10-year Treasury was down 8/32 at 99 28/32, yielding 5.766%.
Back to top
International
Tech and telecom stocks were mixed in Europe near midsession as investors waited for signs from the Nasdaq market.
London's
FTSE 100
had broken away from the flatline into the green. It was lately up 58.40 to 6268.00.
The
CAC 40
in Paris had paired back its gains, now up only 18.04 to 6082.25, while the
Xetra Dax
in Frankfurt had plunged into the red, off 30.22 to 6631.08.
The euro continued lower, lately trading down to 0.8500.
The major
Asian equity markets ended solidly higher Monday, as technology shares were buoyed by the Nasdaq's strong action on Friday.
Tokyo's
Nikkei 225
closed up 182.0, or 1.2%, at 15,512.3.
In Tokyo trading, the dollar traded fractionally down to 107.85 yen. The greenback was lately trading at 107.82 yen.
Elsewhere, South Korea's stock market surged more than 7% early on, before trimming those gains by the close. The
Kospi
index ended up 25.5, or 4.9%, at 550.1. Hong Kong's
Hang Seng
index rose 292.9, or 2%, to finish the day at 14,973.4, reversing a similar percentage drop from Friday.
Back to top