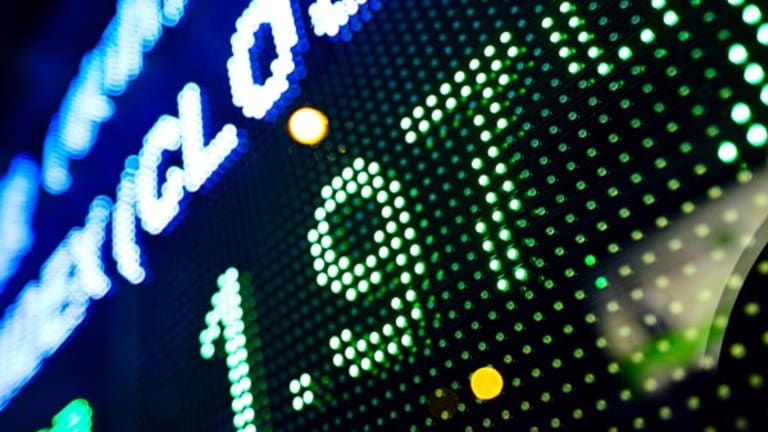 Today's Market: Dow Gives Back Late-Day Gains, but Nasdaq Ends Higher
<LI>TheStreet.com Internet Sector index up 3.9%.</LI> <LI>Tobacco shares continue to wheeze.</LI>
(
Updated from 4:03 p.m. EDT
)
The market perked up briefly at midday but major indices lost steam by the end of the session. The
Dow Jones Industrial Average
finished the day with a loss of 8.48 points, or 0.1%, to 10,804.27 after rising more than 30 points in mid-afternoon trading. The
Nasdaq Composite Index
was more consistent in holding on to a moderate gain. The tech-laden index rose 28.49, or 0.7%, to 4274.67.
"Not bad for a summer Monday," said Bill Schneider, head of U.S. equity block trading at
UBS Warburg
adding that today's action is "very orderly, it looks kind of like a staircase.". Referring to the absence of wild points swings, Schneider said "
It used to be like this. We are kind of regressing to the mean in more normal times." He thinks the stability can be construed as a positive as it draws back some investors frightened by volatility.
Earlier, stocks flipped through the flatline, as investors took a cautious stance ahead of tomorrow's
Consumer Price Index
and
Fed Chairman
Alan Greenspan's semiannual report to Congress on the state of the economy -- the
Humphrey-Hawkins
testimony -- on Thursday.
"The day is characterized by rotation, financials have had a pretty good week and are a little ahead of themselves," said Schneider, noting that the stocks are under pressure today. On the other hand, pharmaceuticals and health care stocks were getting some relief after taking it on the chin last week. The
American Stock Exchange Pharmaceutical Index
was edging up 2.1%.
The broader
S&P 500
was up 0.52, to 1510.5 while the small-cap
Russell 2000
rose 2.55, or 0.5%, to 548.18.
Investors will understandably remain cautious ahead of the flood of earnings reports that will hit the market in the next week-and-a-half, said Jay Meagrow, vice president of trading at
McDonald
in Cleveland. "There are too many big names left to report that will move sectors. Nobody is going to jump ahead of them."
Indeed, speaking of the heavyweights, a number of Dow components will report earnings later this week. Tomorrow, chip maker
Intel
(INTC) - Get Intel Corporation Report
, drug company
Johnson & Johnson
(JNJ) - Get Johnson & Johnson Report
and manufacturing biggie,
Honeywell
(HON) - Get Honeywell International Inc. Report
, are all expected to report their earnings.
Other tech proxies turned in a decent performance along with the Comp.
TheStreet.com Internet Sector
, also known as the
DOT, gained 33.93, or 3.9%, to 896.4.
"The Nasdaq continues to trend higher, wants to go higher," said Scott Bleier, chief investment strategist at
Prime Charter
. "Very quietly, there are 52-week highs being made in tech stocks."
Bleier believes there's not much left to the tech run; that we're about to hit some resistance levels that even the mounting optimism for the sector will not be able to overcome.
"Some will say we're breaking out and we're going to make new highs. I doubt that," he said. Yet, Bleier admits he could be wrong on this one -- momentum is a powerful force in technology stocks and can take on a life of its own.
Deal Day
Outside of technology, a number of deals were trying to help the blue-chips overcome investors' urge to take profits.
General Mills
(GIS) - Get General Mills, Inc. Report
announced it will buy
Diageo's
Pillsbury food division, and energy company
AES
(AES) - Get AES Corporation Report
plans to buy utility company
Ipalco
(IPL)
. For more on this delicious merger, take a look at the
story out of
TheStreet.com/NYTimes.com's
joint newsroom.
Paper company
Georgia-Pacific
(TGP) - Get Teekay LNG Partners L.P. Report
also said today that it plans to buy
Fort James
undefined
.
TheStreet.com/NYTimes.com
joint newsroom wrote about the deal in a
story earlier today.
Despite a dip in oil prices, transports were weak, with the
Dow Jones Transportation Index
off 0.6%. Crude oil futures tumbled on NYMEX after OPEC's president told cartel members to prepare to lift production levels by 500,000 barrels a day.
Market Internals
Breadth was mixed on moderate volume.
New York Stock Exchange: 1,319 advancers, 1,518 decliners, 904.5 million shares. 76 new 52-week highs, 27 new lows.
Nasdaq Stock Market: 2,195 advancers, 1,875 decliners, 1.53 billion shares. 98 new highs, 45 new lows.
Back to top
Most Active Stocks
NYSE Most Actives
Nasdaq Most Actives
Back to top
Sector Watch
Several banks -- including
FleetBoston
undefined
,
Northern Trust
(NTRS) - Get Northern Trust Corporation Report
,
Bank of America
(BAC) - Get Bank of America Corp Report
and
Bank of New York
(BKS) - Get Barnes & Noble, Inc. Report
-- reported earnings today.
Investors generally liked the reports -- all but Fleet were higher in late-morning trading -- but that enthusiasm hasn't infected the rest of the sector. The
Philadelphia Stock Exchange/KBW Bank Index
lost 1.5%
Still, the sector has done well lately, posting solid gains through the month. Investors may be hanging back before tomorrow, when a slew of banks report in what has become known as -- and this actually seemed clever the first few hundred-thousand times it was said -- "Super Tuesday."
Banks' recent strength makes some objective sense. There have been some good earnings, and investors are less worried about the Fed these days. But some reckon the love for banks is misplaced.
"People running to financials now strikes me as just plain incoherent," said Doug Cliggott, equity strategist at
J.P. Morgan
. "You're either going to get good earnings and have an interest-rate overhang, or you're going to get weak growth and weak financial earnings and stop worrying about the Fed."
Forestry and paper stocks were verdant on Georgia-Pacific's plan to buy Fort James.
The Philadelphia Stock Exchange Forest & Paper Products Index
was up 2%.
Oil services stocks were getting hit after
OPEC
president
Ali Rodriguez
said cartel members will raise output before the end of July if prices do not fall. The
Philadelphia Stock Exchange Oil Service Sector Index
was down 3.6%
Tobacco stocks continued to wheeze after a Miami jury ordered on Friday that tobacco companies pay $145 billion damages in a class-action suit. The
Amex Tobacco Index
was off 2.9%.
Back to top
Bonds/Economy
Treasuries are sliding further off the highs reached last Thursday, before the release of bearish economic data on Friday. Most yields are at their highest levels in three weeks. But ahead of the next Treasury buyback, slated for Thursday, long-maturity issues, the likely target of the operation, are outperforming short-maturity ones.
With no major economic data on the calendar, the benchmark 10-year Treasury was lately down xx %.
Back to top
International
Despite the weakness in the United States, Europe's bourses put on a pretty good show.
London's
FTSE
closed up 50.1, or 0.8%, to 6525.5, helped by good strength in the technology and telecom sectors.
Across the channel, the Paris
CAC
finished up 48.89, or 0.7%, to 6619.25. Frankfurt's
Xetra Dax
was up 88.73, or 1.2%, to 7406.75 in late trading.
The euro was trading down at $0.9365.
Asian markets all closed higher overnight following a sustained rally in the U.S. last week.
With Japanese investors convinced that the
Bank of Japan
would not raise interest rates, a rally in large-cap technology shares helped the market inch higher today. The optimists were right, and the BOJ said it would keep its zero-interest-rate policy intact after the market closed. The
Nikkei 225
index closed up 143.93 to 17,286.83.
The greenback edged slightly higher against the yen in Tokyo trading to 108.18. It was recently trading at 108.135.
Hong Kong stocks, meanwhile, got a boost from a rally in telecom shares, and the
Hang Seng
index rose 248.62, or 1.4%, to 17,834.78.
Elsewhere in Asia, Taiwan's
TWSE
index closed up 67.39, or 8585.52, while Singapore's
Straits Times
index gained 28.05 for the day, or 1.4%, to 2107.94. Korean markets were closed for a national holiday.
Back to top