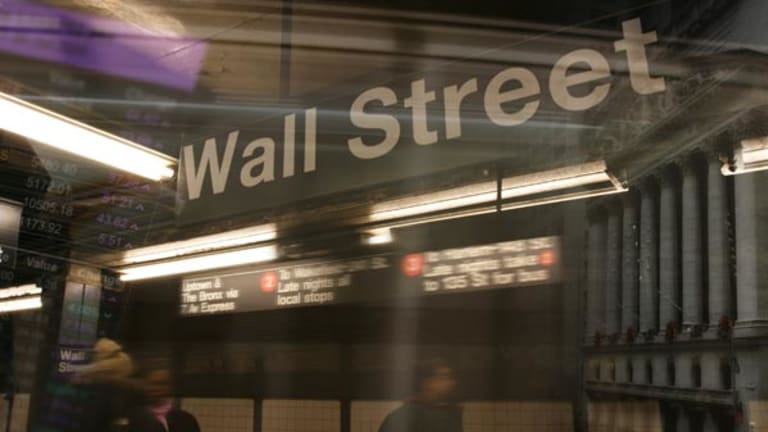 Today's Market: Dow Finds Nasdaq's Healthy Green Color Contagious at Midday
After a mixed morning, stocks look set for another strong session on the back of yesterday's stellar rally.
Not content with taking profits and going home, the major indices are putting together another strong session to close out one of the market's most volatile weeks since the heyday of the downturn in March. A string of recent earnings releases, including last night's reports from
eBay
(EBAY)
,
Commerce One
undefined
, and this morning's release from
Merck
(MRK)
, have steadied the market, as investors are starting to leave the jittery preannouncement season in the dust.
"I think we're done with the bottoms, and the bad news is behind us," said Phil Ruffat, vice president of
Fuji Futures
.
A day after the
Nasdaq Composite Index's 200-point surge, the tech-heavy index is piling onto those gains. It continues a reversal that began two days ago, when the Comp briefly touched 3026. Since that point, it has tacked on nearly 500 points in a session-and-a-half.
Breadth is positive on the
New York Stock Exchange, and the
Dow Jones Industrial Average lately pulled into the green, after an earlier dip into the red on weakness in
United Technologies
(UTX)
and
Coca-Cola
(KO)
. UTX is in
talks to purchase fellow Dow component
Honeywell
, first reported by
CNBC's
David Faber (that's CNBC's David Faber. Once again, that's CNBC's David Faber.)
Coca-Cola, meanwhile, had a
lackluster earnings call and was lately down 4.9% to $54.31. UTX was contributing 43 points of negative drag on the Dow.
The weak components aside, traders report that investors are finding opportunities in the market. Stocks were consistent losers from September through the middle of October, fueled by investor concern that corporate earnings growth would fall short of expectations, and that economic growth would be hindered by rising fuel costs and weakening consumer demand.
In the past few days, however, the market's strongest companies, such as
Microsoft
(MSFT)
,
Nokia
(NOK)
, and
Sun Microsystems
(SUNW)
, have reported strong results, and these have helped allay, for now, fears of a pronounced decline in profit growth.
Among today's movers are
SDL
undefined
; the optical communications company is up 14% to $329.63 after reporting earnings
yesterday. eBay, which also reported
strong results, is bouncing, up 8.9% to $62.31, and it's helping to lift Internet stocks in tandem.
According to earnings tracker
I/B/E/S
, with 249 S&P 500 companies having reported results as of yesterday, 56.6% have beaten consensus estimates, with 26.1% in line, which Joseph Kalinowski of I/B/E/S describes as "good, not great." Earnings growth is 16.3% for the quarter on a year-over-year basis.
"Some of these earnings are good," said Larry Rice, chief investment strategist at Josephthal, who tends to be bearish. "Preannouncements had already taken place, but none of these problems with oil and the Middle East have gone away. The technical condition augured for a rally."
The technical condition prompted Richard McCabe,
Merrill Lynch's
chief market analyst to recommend short-term investors to buy dips rather than selling into rallies.
"The market's sharp rebound in recent days from its deeply oversold condition of the last two weeks suggests that its fall decline has reached a primary or benchmark low near Dow 9,650 and Nasdaq 3,000," he wrote in a comment earlier today.
Leading the way today on the NYSE are the brokerage stocks.
Bear Stearns
(BSC)
is rallying, and the culprit, as usual, are the persistent rumors of a potential takeover. The stock is up 13.6% to $63.25.
Morgan Stanley Dean Witter
undefined
was benefiting from an upgrade, and it was up 6.6% to $81.63. The
American Stock Exchange Broker/Dealer Index
rose 5%.
Today's biggest loser is
Circuit City
(CC)
, after the company
warned third-quarter earnings would be below expectations. The stock was hammered, lately down 41.7%.
Meanwhile, in today's edition of "What Else Can Go Wrong at
Xerox
(XRX)
?" the company is reportedly
considering a restructuring of its business. The stock lately traded at $8.56, down 12.4%.
Market Internals
Breadth was positive on moderate volume.
New York Stock Exchange: 1388 advancers, 1208 decliners, 647.9 million shares. 28 new 52-week highs, 51 new lows.
Nasdaq Stock Market: 2159 advancers, 1482 decliners, 1.189 billion shares. 52 new highs, 64 new lows.
Back to top
Most Active Stocks
NYSE Most Actives
Circuit City: 19 million shares. Honeywell: 17.4 million shares. Nokia: 15.9 million shares.
Nasdaq Most Actives
Microsoft: 53.8 million shares. Ericsson

undefined

: 52.7 million shares. Intel (INTC) : 39.6 million shares.
Back to top
Sector Watch
On the back of SDL's strong earnings report, optical communications and equipment companies are exploding today.
Corning
(GLW)
is up 9.6%,
Ciena
(CIEN)
has gained 6.3%, and
JDS Uniphase
(JDSU)
has gained 10.7%.
TheStreet.com Internet Sector
index was seeing some positive lift from eBay's earnings report. The DOT, as it is commonly known, gained 5.6%, thanks to strong gains in
E*Trade
undefined
, up 7.3%, and
Yahoo!
(YHOO)
, up 4.7%.
The
Philadelphia Oil Service Index
was moving strongly today, up 2.7%.
R&B Falcon
(FLC)
was particularly strong, gaining 3.1% as November crude oil futures increased to $33.20 from $32.91 last night.
Back to top
Bonds/Economy
The bond market is little changed today. With no economic releases today, there's little new to cause any change in the market's view.
The benchmark 10-year
Treasury note was lately at 100 23/32, up 1/32 to 5.650%, and it's traded in a tight range today.
The 30-year
Treasury bondis at 107 8/32, 8/32 higher, to yield 5.737%.
Back to top
International
European markets were mixed at the close, as telecoms and media stocks lost steam on Ericsson's poor earnings report.
London's
FTSE 100
was up 57.40 to 6276.30.
The
CAC 40
in Paris was up 82.96 to 6149.94, while the
Xetra Dax
in Frankfurt was 14.70 lower to 6604.73.
The beleaguered euro continued to rise after the
European Central Bank
decided to leave interest rates unchanged yesterday. The euro was lately trading at 0.8416.
The major
Asian equity markets closed out the week Friday on a positive note, surging as technology shares were buoyed by a rallying Nasdaq and healthy third-quarter earnings from Finnish telecom equipment maker Nokia.
Tokyo booked the region's smallest gains as the country's 11th-largest insurer
Kyoei Life Insurance
filed for bankruptcy. But the
Nikkei 225
still finished up 387.7, or 2.6%, at 15,198.7.
In Tokyo trading, the dollar rose 0.3 to 108.20 yen. The greenback was lately trading higher to 109.12.
Elsewhere, resurgent tech shares ruled the day, as Hong Kong's
Hang Seng
index rose 622.0, or 4.3%, to 15,044.5, South Korea's
Kospi
index jumped 30.9 higher, or 6%, to 545.9 and Taiwan's
TAIEX
index surged 323.5, or 6.4%, to 5404.8.
Back to top