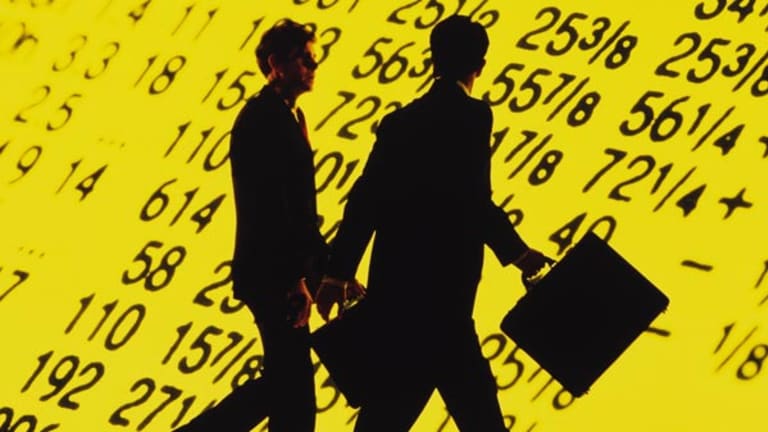 Publish date:
Today's Market: Dow Enjoying Modest Midday Bounce; Nasdaq Little Changed
IBM and H-P were tempering the Dow's performance today as tech has struggled.
IBM and H-P were tempering the Dow's performance today as tech has struggled.
Blue-chips were enjoying a mild bounce to the upside as investors returned from the weekend in a buying mood. But technology stocks were having trouble shaking that old sinking feeling as the
Nasdaq Composite Index attempted unsuccessfully to move higher. At midday, it looked like the Comp could easily add some more downside to last week's 6% drop.
The Comp was lately down 12 to 3967, as it hovered near break-even. The
Dow Jones Industrial Average was up 28 to 11,249, as strength in its financial and retail components offset weakness in the tech heavyweights. The
S&P 500 was also on the rise, lately up 5 to 1499, while the
Russell 2000
was up 1 to 536.
"The market was overdue for a bounce. By any of the short-term technical measures we use, the market had gotten oversold," said Chris Dickerson, analyst at
Global Market Strategists
in Gainesville, Ga. Noting the earlier jump in the Nasdaq, he said that, "the price moved lower but the momentum didn't. Whenever the price moves but the momentum does not register the same movement, it's a warning that the market is going to turn around. It was a classic Monday morning bottom followed by a rally."
Tech heavyweight
IBM
(IBM) - Get Report
got knocked for a loop after
Goldman Sachs
cut third- and fourth-quarter revenue estimates, citing deteriorating currency and exchange rates. IBM was lately down 2.9%, but the damage could have looked a lot worse without today's upside bias to cushion the blow.
Financials were among the best performing stocks today, with
Goldman Sachs
(GS) - Get Report
leading the way, up 5.2% on news that it will buy
New York Stock Exchange
specialist trading firm
Spear Leeds & Kellogg
for $6.5 billion.
J.P. Morgan
(JPM) - Get Report
also continues to get a boost from merger speculation, lately up 3% and adding nearly 30 points to the Dow.
Oil stocks were also much stronger, as crude oil prices continued their rise, on sentiment that
OPEC's
800,000 barrel-per-day increase will not be enough to cool prices.
Halliburton
(HAL) - Get Report
was up 4.7%, while
Global Marine
(GLM)
was gaining 5.8%.
Despite today's tame market tone, Dickinson expressed some caution about his outlook for September. "We are starting to break some support levels. September may live up to its reputation," as an historically weak month, he said. Still, he said he expects November and December to be good months for the market. Noting the recent spate of earnings warnings, he said "they are lowering the bar, so that when they meet lowered expectations, the rally cry will be heard."
Internet stocks were leaning to the upside with
The Street.com Internet Sector
index up 9 to 818. A report in
Barron's
that said the future looks good for tech stocks may be giving the sector a slight boost.
Market Internals
Breadth was positive on the Big Board and negative on the Nasdaq on decent volume.
New York Stock Exchange: 1,434 advancers, 1,171 decliners, 492 million shares. 157 new 52-week highs, 23 new lows.
Nasdaq Stock Market: 1,593 advancers, 2,145 decliners, 769 million shares. 60 new highs, 44 new lows.
Back to top
Most Active Stocks
NYSE Most Actives
Nortel (NT) : 12.4 million shares. Lucent (LU) : 8.4 million shares. AT&T (T) - Get Report: 7.2 million shares.
Nasdaq Most Actives
Back to top
Sector Watch
Speaking of small bounces, semiconductor stocks were attempting to repair some of last week's damage. The
Philadelphia Stock Exchange Semiconductor Index
was up 1.7%, after suffering a 9% slide last week.
Advanced Micro Devices
(AMD) - Get Report
and
Applied Materials
(AMAT) - Get Report
were moving higher.
Financials were strong with
American Stock Exchange Broker/Dealer Index
up 1.6% and the
Philadelphia Stock Exchange/KBW Bank Index
up 0.7%.
Continued strength in crude oil prices, despite OPEC's promise to boost production, was lifting both the
American Stock Exchange Oil & Gas Index
, up 2.9%, and the
Philadelphia Stock Exchange Oil Service Index
, which was rising 4.6%.
Back to top
Bonds/Economy
Oil prices are back up, and the bond market doesn't like it.
In the wake of
OPEC's
decision over the weekend to boost output by just 3%, oil, which tumbled 5% on Friday, is back near the 10-year high of $35.39 a barrel it hit on Thursday. With no economic data on the calendar, the negative implications for inflation are hurting bonds.
The benchmark 10-year Treasury note lately was down 10/32 to 99 25/32, its yield at 5.78%..
Back to top
International
Major European indices were lower in late trading with London's
FTSE
down 18.7 to 6582. Paris'
CAC
was off 28.35 to 6675.01 and the
DAX
in Germany was down 25.05 to 7242.72.
The euro was trading at $0.8596. The dollar was trading at 106.09 yen.
Asian markets stumbled overnight.
Despite strong economic numbers, Tokyo shares closed lower amid news of an index reshuffling that had investors scrambling to adjust portfolios. The key
Nikkei 225
index shed 370.65, or 2.3%, to close at 16,130.90,
With the euro hitting a new low, the greenback fell against the yen to fetch 106.21. in Tokyo trading. The dollar was lately trading at 106.04 yen.
Hong Kong's Hang Seng index declined 267.47, or 1.6%, to close at 17,007.98 as shares of
Pacific Cyberworks
(PCW)
continued to be punished by investors.
Back to top