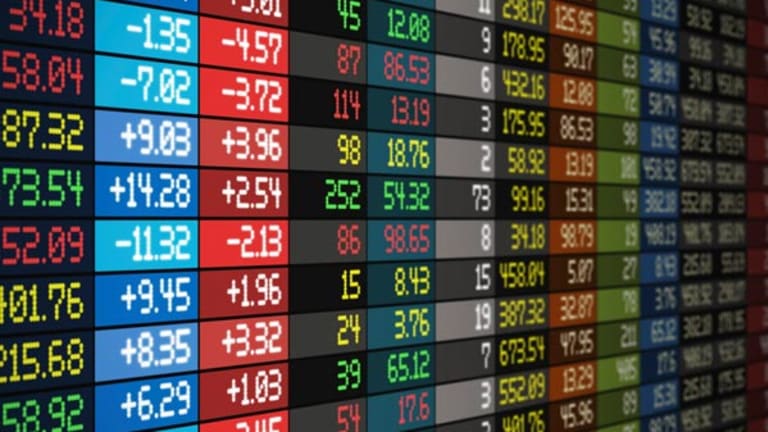 Today's Market: Dow Ends Session Higher; Yahoo!'s Earnings Beat the Street
<LI>Nasdaq ends trading little changed.</LI> <LI>VoiceStream-DT in spotlight.</LI><LI>Pinnacle falls from its peak.</LI>
(Updated from 4:09 p.m. EDT)
The three-martini lunch has basically gone the way of the USFL, but it would have worked today: buy heavily at the open, sell at noon, and let the vermouth do its stuff before coming back for some selective buying at 3:30 or so.
Oh, and don't buy tech. While Dow stocks were buoyed by positive earnings reports, the Nasdaq suffered under earnings warnings and continued selling of the Internet and semiconductor sectors.
After attaining as much as a 161-point gain, the
Dow Jones Industrial Average gave back half of that, ending up 80.61, or 0.76%, to 10727.19. The
S&P 500 finished up 5.26, or 0.4%, to 1480.88, and the
Nasdaq Composite Index dropped 23.91, or 0.6%, to 3956.38, led by losses in
Yahoo!
(YHOO)
. The
Russell 2000 was fractionally lower, losing 0.85 to 529.98.
After the bell, Yahoo! reported earnings of 12 cents per share for the second quarter, besting the
First Call/Thomson Financial
consensus of 29 brokers for earnings of 10 cents a share. In after-hours trading, the shares were up about 8 to 113.
The Dow was led by gains in
International Paper
(IP) - Get International Paper Company Report
, which beat earnings estimates by a penny, earning 75 cents a share for the second quarter, and
Alcoa
(AA) - Get Alcoa Corporation Report
, yesterday's earnings winner.
However, the industrial average finished lower than earlier highs, and other indices also ended the day generally weaker than they were in the late morning. IP finished up 9%, while Alcoa gained 8%.
"I think
the late selloff is earnings jitters," said Larry Rice, chief investment strategist at
Josephthal
. "I think there's general apprehension that if the economy is slowing down more, there's going to be more disappointing earnings projections."
Nonetheless, the advance marks the third straight day of gains for the 30-stock average, and represents the strongest upswing for the index since early June. The onset of earnings season, expected to be quite a positive one, is viewed as a potential catalyst for a hoped-for summer rally. Market participants are hoping for a change from June, when advances in the S&P were checked at every turn.
"The market's reverting back to cyclicals following Alcoa's earnings, and I-Paper's today," said Stephen Kroll, managing director at
Moness Crespi & Hardt
. "The market in general, for the first time in a while, is beginning to appreciate earnings. IP made 75 cents
a share, vs. the expected 74 cents; Yahoo!
may
make 10 cents. Investors are keying on that."
It didn't help the technology stocks today -- especially Internet stocks, which were hammered from the word go. Yahoo! finished down 4% today, and
TheStreet.com Internet Sector
index dropped 30, or 3.85%, to 753.80. The 29-analyst
First Call/Thomson Financial
estimate for Yahoo! was calling for a dime a share.
Net Stocks Drag Down Tech
Other portal types with cute names, such as
Lycos
(LCOS)
(down 10.5%) and
Excite@Home
(ATHM) - Get Autohome Inc. Report
(down 3.1%), were taken down today.
It's clear that investors heeded last week's Yahoo! downgrade by
Deutsche Banc Alex. Brown
, which warned of diminishing ad revenues in coming quarters, and the potential move by advertisers to target fewer sites (which ultimately could benefit Yahoo!).
Go.com
(GO) - Get Grocery Outlet Holding Corp. Report
, for one, hit a 52-week low today, dropping 6.2% to 9 7/16.
Other sectors within technology didn't having any fun today, either. The
Philadelphia Stock Exchange Semiconductor Index
ended down 2.7%, despite some positive comments from
Merrill Lynch
analysts attending a semiconductor conference on the West Coast.
Pinnacle Systems
(PCLE)
said early this morning it expected to miss earnings estimates, destroying that stock. Pinnacle and software-maker
Aspect
(ASPT)
, which yesterday warned it would miss estimates, were among the most hated on the Nasdaq today.
Pinnacle shed 59.4% and Aspect tumbled 54%.
TheStreet.com/NYTimes.com
joint newsroom wrote about Pinnacle
this morning.
DoubleClick
(DCLK)
dropped 10.5% today, after
Merrill Lynch's
Henry Blodget cut earning estimates for 2000 and 2001, citing, among other things, slower ad revenues. The stock was at a 52-week low.
Biotechnology stocks were strong, however, as the
Nasdaq Biotechnology Index
rose 1%.
Broader Market Breadth Strong
But with top-tier earnings reports filtering into the market, that gave the broader
New York Stock Exchange strength, especially in sectors where year-over-year comparisons are bound to be strong, such as cyclical stocks, among the strongest sectors today.
The
Philadelphia Stock Exchange Forest & Paper Products Index
was up 5.3% the
American Stock Exchange Natural Gas Index
gained 4.3% and the
S&P Chemical Index
was up 4.5%.
Today's relatively restrained advance in the Dow stocks was something of a relief to Rice, who's been watching the major indices swing wildly in the last two months in an attempt to find equilibrium for the last few months. That's especially true of the Dow and S&P, which have vacillated between slouching toward the low end of the range and bounding toward the upper end.
Some strategists have expressed the view that a continuously narrowing range is a positive development in the market -- it means investors are finding what it believes to be fair value for the overall market. That may have happened last week, and strong earnings could cause a breakout, Rice said.
"Stocks are OK," he said. "They're not undervalued like they were in April, and they're not overvalued, but if we keep going up 100 points a day, we'll get there quickly."
It didn't quite happen today, despite the Dow's late surge. Continued weakness in the technology components kept the market down, and part of the selloff was probably due to folks taking profits after the quick rally that followed
Fed Chairman
Alan Greenspan's nonevent of a
speech to the
National Governors' Association
.
What's the Future?
What's most crucial this quarter isn't just second-quarter earnings reports (save for notable disappointments), but comments from companies regarding the future prospects for business.
"I don't see any reason why we shouldn't have a rally, but I've got to be sure before I get in there and commit to it," said William Rhodes, chief investment strategist at
Williams Capital
, who added that three days of positive action in the Dow are a good start. "The real question to answer is, what happens in two or three quarters? Are those
earnings numbers going to continue to advance? Now you're talking about difficult comparisons."
One bad example of that, albeit a minor one, was
International Speedway
(ISCA) - Get International Speedway Corporation Class A Report
, which reported strong second-quarter earnings, but said third-quarter earnings might decrease by 2 to 3 cents thanks to declining ticket demand. The stock was whacked, finishing down 19.8%.
Negative preannouncements only accounted for 65% of preannouncements this quarter, lower than the 83% norm, according to earnings watcher
I/B/E/S
.
Earnings power turned
Quest Diagnostics
(DGX) - Get Quest Diagnostics Incorporated Report
into a Big Board highflier today. The stock rose 14.8% after it said it expects second-quarter and 2000 earnings to
beat estimates, citing good volume trends and improving revenue per requisition.
Deutsche Telekom
(DT) - Get Dynatrace, Inc. Report
captured attention today on reports that it made a bid for
VoiceStream Wireless
(VSTR)
, a wireless company that operates throughout the U.S., in a deal worth over $40 billion. VoiceStream soared 11.3%, while Deutsche Telekom ended down 3.4%.
But many participants still believe that VoiceStream is not Deutsche Telekom's true target.
TSC's
Scott Moritz wrote about the merger mania in a
story today.
Market Internals
Breadth was mixed on moderate volume.
New York Stock Exchange: 1,613 advancers, 1,294 decliners, 981 million shares. 73 new 52-week highs, 54 new lows.
Nasdaq Stock Market: 1,849 advancers, 2,166 decliners, 1.68 billion shares. 97 new highs, 82 new lows.
Back to top
Most Active Stocks
NYSE Most Actives
Nasdaq Most Actives
Back to top
Sector Watch
Oil service stocks were strong as the
Philadelphia Stock Exchange Oil Service Index
gained 9%. Oil giant
BP Amoco
(BPA)
said it is raising its capital expenditure target to $13.5 billion a year through 2003.
Halliburton
(HAL) - Get Halliburton Company Report
, which was upgraded by
Donaldson Lufkin & Jenrette
, was up 11.4%, while
Schlumberger
(SLB) - Get Schlumberger NV Report
was sailing up 8.8%.
Other defensive names continue to move along strongly, including the drug and pharmaceutical names. The
American Stock Exchange Pharmaceutical Index
was up just 0.8%, but
Pfizer
(PFE) - Get Pfizer Inc. Report
and health service/insurance companies, such as
Cigna
(CI) - Get Cigna Corporation Report
and
Cardinal Health
(CAH) - Get Cardinal Health, Inc. Report
were all reaching new highs.
Brokerages were in good shape today as well -- the
American Stock Exchange Broker/Dealer Index
was up 3.3%, as
Merrill Lynch
(MER)
hit a new high, closing up 2% to 129 5/8.
Back to top
Bonds/Economy
Treasuries were mixed after Fed Chairman Alan Greenspan passed up an opportunity to talk them down.
In a speech to the National Governors' Association this morning, Greenspan said nothing that could be construed as a hint about the likely outcome of the
Federal Open Market Committee's next meeting, on Aug. 22. A small majority of market participants expect the FOMC to leave the
fed funds rate unchanged, and Greenspan did not challenge that view, as some feared he might.
No major economic reports are slated for release today.
The benchmark 10-year Treasury note lately was up 1/32 to 103 7/32, its yield at 6.05%.
International
The European bourses ended the day mixed.
London's
FTSE
turned around, after flip flopping on the stronger-than-expected inflation data which came out this morning. It closed up 9.6 to 6475.8.
Meanwhile, the Paris
CAC
also reversed a loss, ending up 2.93 to 6490.35, while Frankfurt's
Xetra Dax
dropped 72.53, or 1%, to 6998.29 in late trading.
The euro was lately trading higher at $0.9523.
Asian markets were mixed overnight as concerns over local interest rates weighed on Japan, and Hong Kong felt the pressure of the Nasdaq's Monday slide.
In Tokyo, traders started to price in the possibility of a rate hike in Japan next week, after
Bank of Japan
Governor
Masaru Hayami
said the conditions were "all right" for another 25-basis-point rate hike. The
Nikkei 225
index shed 68.32 to 17,504.36.
Hong Kong's
Hang Seng
index gained 120.99 to 17,359.66, but the upside was limited as profit-taking on key telecom shares emerged following the
Nasdaq's
drop yesterday.
Korea's
Kospi
shed 14.61, or 1.7%, to 836.86 after the market worried about the effect of a banking strike today.
Taiwan's
TWSE
index gained 3.96 to 8158.63.
Back to top