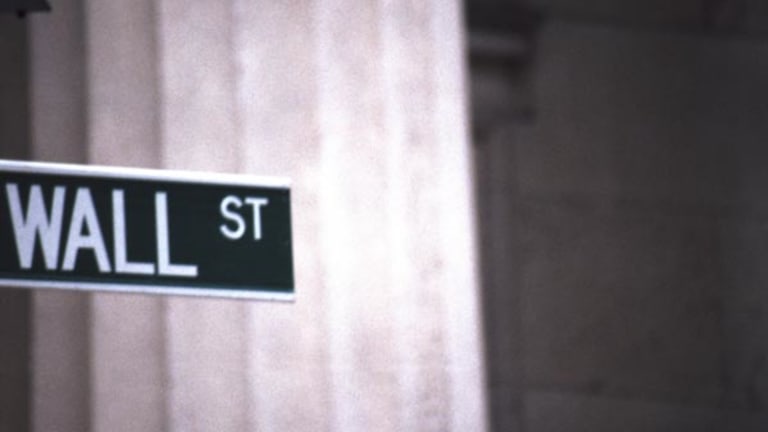 Today's Market: Dow Drops and Nasdaq Fades
Cisco is still higher on its upgrade from Morgan Stanley, but stocks can't hold earlier gains.
Cisco is still higher on its upgrade from Morgan Stanley, but stocks can't hold earlier gains.
(Updated from 10:27 a.m. EDT)
Investors pumped up tech stocks early this morning after
Morgan Stanley
upgraded technology bellwether
Cisco
(CSCO) - Get Report
to outperform from neutral. Analyst Christopher Stix said he thinks the stock will recover a half-year ahead of its fundamentals. But then many of the gains slipped away.
The tech-heavy
Nasdaq was recently up 9 points to 2182. The
S&P 500, which tracks the broad market, was down about 6 points to 1258. And the
blue-chip
Dow Jones Industrial Average was off 83 to 10,852.
Networking giant Cisco, which reports fiscal third-quarter earnings today after the market closes, and several other technology bellwethers were trading higher. Cisco was up 4.3% to $20.08, chipmaker
Intel
(INTC) - Get Report
was 0.8% higher to $31.41 and
Ciena
(CIEN) - Get Report
was rising 8.5% to $59.94.
Wall Street already had an eye trained on Cisco to hear its third-quarter earnings, and more importantly, about inventory and demand going forward. Morgan's report probably gave them a shot of optimism about the company's future quarters. "I think the market is poised for some more nice gains," said Ray Hawkins, vice president of
J.P. Morgan
. "These Cisco upgrades should be enough to carry the rally through today and even for a couple of days."
All eyes are on Cisco because investors want to hear what John Chambers, the company's chief executive officer, has to say about inventory and demand when he addresses investors during the conference call that follows the earnings report. Chambers has been vocal about the economic slowdown and its impact on his company since early this year. Cisco recently took a
$3 billion restructuring charge to write down an enormous amount of surplus inventory. In addition, there doesn't seem to be any consensus yet on whether the worst is past for Cisco and other high-tech companies -- analysts have been divided on the subject over the past month.
Cisco is expected to post earnings of 2 cents a share, barely a shadow of the 14 cents it earned in the year-ago period.
As earnings season winds down, a couple of companies re-affirmed their targets for coming fiscal quarters. Four weeks before the end of its fiscal quarter, PC maker
Dell
(DELL) - Get Report
said it was
on target to meet its forecast. But the company also announced job cuts. It was lately off 2.6% to $25.26.
Motorola
(MOT)
yesterday said it expects its mobile-phone unit to return to profitability in the fourth quarter. It lately was up 1.5% to $16.65.
Networking equipment maker Ciena is rising on news it signed a contract to supply optical switching and transport systems for
TyCom's
(TCM)
global communications network. The two-year agreement is initially valued at more than $150 million. Ciena was lately rising 8.6% to $60.04, while Tycom was up 0.3% to $16.30.
Some financial stocks are taking another hit today after Morgan Stanley downgraded
American Express
(AXP) - Get Report
this morning. The financials were beaten down yesterday after
Prudential
downgraded
J.P. Morgan Chase
(JPM) - Get Report
to a sell rating. American Express was recently off 3.4% to $41.75; J.P. Morgan Chase was off 1.9% to $48.25.
Equities have performed extremely well since the beginning of April, as investors have become more confident the economic landscape will improve over the course of the year. Not even Friday's news that the unemployment rate
rose to 4.5% in April deterred them from buying.
Investors seem to believe the rise in unemployment indicates that companies are taking their medicine and that the
Federal Reserve will keep cutting interest rates to strengthen the economy.
Alan Greenspan and his policy-making pals already have cut the
federal funds target rate -- the overnight rate that banks charge each other and that guides interest rates -- four times this year. The bond market is increasingly pricing in expectations that the Fed will cut another half-point when it meets a week from today. Lower interest rates make borrowing cheaper for consumers and companies, encouraging them to spend more.
Wall Street paid little attention to ugly data released this morning on first-quarter
productivity and unit labor costs
, echoing its response to Friday's data, which also showed weakness in the economy. Productivity fell 0.1%, well below the expected 1.2% rise and the 2.2% growth in the fourth quarter. Unit labor costs rose a whopping 5.2%, much higher than the 4.4% economists expected, and quite a bit higher than the previous quarter's 4.3% uptick. Low productivity and higher labor costs aren't good for companies. At a time when profits have fallen so drastically, many are working to keep costs down. Still, both productivity and unit labor costs are volatile indicators, so surprising numbers are less likely to affect the market. Both indicators tend to change drastically from month to month.
Back to top
Bonds/Economy
The Treasury market was edging lower this morning following the weak productivity data. The benchmark 10-year
Treasury note was 5/32 higher to 98 21/32, yielding 5.174%.
Back to top
International
European shares got a boost from the turnaround on Wall Street, and the major European indices were lately higher despite pessimism over a major share issue by
British Telecom
(BTY)
.
London's
FTSE 100
was lately up just 4.4 to 5874.7. Across the channel, stocks were stronger. The Paris
CAC-40
was gaining 40.3 to 5538.8. The Frankfurt
Xetra Dax
was up 33.4 to 6156.0.
Oil group
BP Amoco
(BP) - Get Report
was falling after it posted OK earnings that were in line with expectations. Investors were hoping the company would beat targets due to strong energy demand.
The euro was lately trading at $0.8847.
Asian markets slipped overnight, led lower by financials. Tokyo's
Nikkei 225
fell 240.4 to 14,289.1. Stocks in Hong Kong also moved lower, and the key
Hang Seng
dropped 60.0 to 13,540.8.
The dollar was trading at 122.0 yen.
Back to top