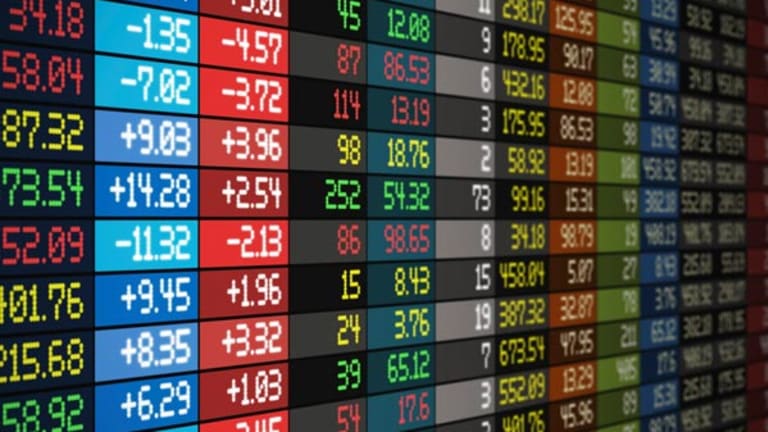 Today's Market: Dow Dives Again
A new slew of warnings unsettle investors, pulling down blue-chips and tech.
(Updated from 9:32 a.m.)
The tidal wave of earnings warnings Wall Street predicted for Monday and today
unleashed itself on the market last night. The companies that warned they wouldn't make their quarterly numbers were probably hoping, desperately, that end-of-the-quarter sales would allow them to meet expectations.
It used to be mostly software companies that tended to cram additional sales in at the very end of a quarter. But in this business environment, where executives are keeping a tight leash on company coffers, the quarter-end cram effect is hitting all over the tech universe.
And if yesterday's news is any indication, there are probably lots more companies with last-minute disappointments to announce. That means the earnings picture is still worse than anyone thought, and that, well, crippled stocks could have still further to fall.
Salomon Smith Barney
this morning cut its 2001 year-end target for the
Dow Jones Industrial Average to 11,400 from 11,750. The
blue-chip index closed lower yesterday to 9778, near bear-market territory. But Salomon analyst Tobias Levkovich upped his equity rating to 70% from 65%.
The Dow took another tumble, lately falling 71.7 to 9705. The Nasdaq was also lower, off 33 to 1750.
Traders said continued weakness was more about a lack of buyers than any extreme negative sentiment. "We're not seeing a lot of participation on the buy side," said Ray Hawkins, vice president of block trading at
J.P. Morgan
. "With the earnings period coming up, nobody wants to step up," he said. "I'm not extremely negative, but there's no real enthusiasm, and last week's momentum has died down."
Last night's roster of earnings warnings was packed with networking companies, Internet commerce firms and business-to-business software and services outfits. B2B play
Ariba
(ARBA)
said it expects revenue for the March 31 quarter to be
just half what analysts expected.
Networker
Redback Networks
undefined
said revenues for the March 31 fiscal quarter would
fall short of expectations by about $45 million. Internet infrastructure software developer
Inktomi
(INKT)
said
losses would total 23 cents to 25 cents, rather than the anticipated 4 cent loss. And e-services firm
E.piphany
undefined
says it expects losses, excluding charges, to be around 40 cents a share, substantially more than the estimated 9 cent loss. Broadband supplier
Harmonic
(HLIT)
dropped its revenue target and widened its losses for first quarter, as well as widening the loss it reported for the fourth quarter of 2000.
This morning, as analysts are wont to do after companies announce bad news,
Credit Suisse First Boston
cut its earnings forecasts for several of last night's sinners. On its hit list: Broadvision, E.Piphany and Ariba, as well as e-business solutions outfit
Documentum
undefined
.
Lehman Brothers
and
Goldman Sachs
also made negative comments on Ariba.
It is possible that the B2B sector is working its way toward "capitulation," a momentous selloff that takes stocks to a bottom from which they can move higher. Yesterday,
i2 Technologies
(ITWO)
rose in regular trading despite issuing a warning before the trading day began.
But after some pretty rough riding in March, most market pros say stocks will continue to slush out a bottom and won't likely sustain any real gains until corporate earnings begin to improve. The problem is, with each new round of earnings warnings, an economic recovery looks farther and farther out. Investors were originally expecting a V-shaped recovery, or a sharp rebound in the second half of this year. But the V has since been replaced in many camps by a U-shaped recovery, which has the economy recovering in the fourth quarter of 2001 or early next year.
There is even a new and far more dire scenario floating around Wall Street:
the W-shape, which would be a brief rebound in economic strength that calms the markets and consumers, followed by a business-led plunge in growth that ultimately pushed the economy into a recession.
Investors will be watching particularly carefully to see what companies have to say about future quarters when they announce March quarter earnings. Wall Street desperately wants to hear that visibility has cleared up and that things are finally going to get better. "A lot of it has to do with what these companies are going to say about the future," Hawkins said. "If they continue to say there is no visibility, then stocks will continue to get weak."
In the past two weeks, the market has reacted violently to the warnings and to heightened worries about the slowing economy. Stocks have swung wildly, with the Dow and
Nasdaq alternately falling to and then bouncing off two-year lows. The Nasdaq fell to new lows not seen since October 1998; it closed off 3.11% to 1782.9.
Preopen trading on electronic brokerage
Instinet
was quiet, but those shares that were trading were all in the dumps. Redback was falling 18.8% to $9.50, while E.Piphany was dropping 25.6% to $7.25.
The good news is, energy powerhouse
Entergy
(ETR)
this morning said it expects first-quarter operating earnings to come in 10% to 15% above the high end of analysts estimates. Entergy on Monday said it had abandoned a planned merger with
FPL Group
(FPL)
. Electronics retailer
Best Buy
(BBY)
also beat its first-quarter targets, by 7 cents a share, coming out with earnings that hit 89 cents.
Hawkins said any strength today might be concentrated in the energy sector.
Back to top
Bonds/Economy
Bond prices were edging down this morning. The benchmark 10-year
Treasury note was down 6/32 to 100, yielding 4.999%. Bond prices and equities have been moving opposite each other in recent trading.
Treasury prices fell yesterday due to some data that indicated a slight rebound in sentiment among purchasing executives in the manufacturing sector. Bonds dragged all day, not even deriving strength from the weakness in stocks.
Back to top
International
Overseas markets were tattered and in rags. The major European indices were posting three-digit losses near their midsession. Continuing weakness in banks and trouble for drug stocks hit London's
FTSE 100
, which was down 113.4, or 2%, to 5505.1. Across the channel, the Paris
CAC 40
was off 145.4, or 2.8%, to 5065.1, and Frankfurt's
Xetra Dax
was shedding 142.4, or 2.5%, to 5618.3.
The euro was lately trading at $0.8845.
Tokyo snapped back after three days of major losses, though Hong Kong didn't follow it higher. Japan's
Nikkei 225
rose 1.4%, or 186.6, to 13124.5 overnight as investors snatched up banks, real estate and other shares in anticipation of announcements of an emergency economic package on Wednesday. Hong Kong's
Hang Seng
slipped another 143.1 points, or 1.1%, to 12,584.2.
The dollar was trading at 125.87 yen.
Back to top