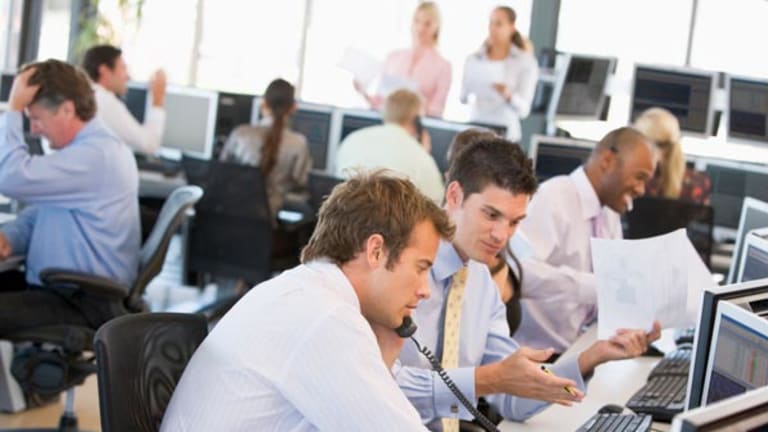 Today's Market: Dow, Comp End Sharply Lower as Earnings Scare Investors
<LI>Amazon, JDS Uniphase beat the Street.</LI> <LI>Oracle helps Nasdaq.</LI> <LI>eBay, Nortel suffer despite earnings.</LI>
(
Updated from 4:08 p.m.
)
Stocks went out in a blaze of red, as concerns about future growth weighed on the market, and even on companies that served up solid earnings reports in the latest quarter.
The
Nasdaq lost 41.65, or 1%, to 3987.92, up from its session low of 3906.55 but unable to break back above the key 4,000 level. The
Dow Jones Industrial Average tumbled 183.49, or 1.7%, to 10,516.48. The
S&P 500 slid 22.04, or 1.5%, to 1,452.43.
TheStreet.com Internet Sector
index, the
DOT, lost 20.38, or 2.6%, to 778.85.
"We're seeing a lot of selling on
earnings news, whether it's good or bad," said Peter Da Puzzo, president of
Cantor Fitzgerald
. Investors are concerned we're going to have a more difficult second half of the year, he said, adding that recent trading has been characterized by a mix of apprehension and apathy, as people are more concerned about vacations than volatile markets right now.
Given that mood, it's not surprising that stocks with solid earnings news were taken down a few notches. Despite reporting in-line or better-than-expected earnings and getting a postclose lift last night, both
eBay
and
Nortel
(NT)
got swatted around.
Salomon Smith Barney
even raised its earnings estimates and price target on the latter this morning. eBay fell 3 9/16, or 6.3%, to 52 11/16 while Nortel lost 3 1/16 to 83 15/16.
Still, some strategists point out there is a positive side to this market psychology. "We've been so successful as investors by owning tech stocks that we have a short-term memory. Now we're getting our hands slapped and it's a pretty decent reality check," said Brian Belski, fundamental market strategist at
U.S. Bancorp Piper Jaffrey
in Minneapolis. But it means that people are actually doing research
on these companies. This bodes well for the market in the long term. If you think that and believe in the efficient market hypothesis, then the strongest stocks and fundamentals should outperform."
Meanwhile, market players focused on the near term are also keeping tomorrow's
Employment Cost Index
and Friday's second-quarter
gross domestic product
numbers on their radar screens. While the data probably won't yield any big surprises, it will help the market get a sense of whether the
Fed will raise interest rates when it meets on Aug. 22.
Fed funds futures are currently pricing in a 30% chance of a rate hike.
The ECI, designed to measure the change in the cost of labor, almost always moves markets and is considered one of the is one of the leading inflation indicators. GDP measures in the change in the market value of goods, services and structures produced in the economy.
On the Downside
Chip stocks led the Nasdaq's descent this afternoon. Although semiconductor manufacturer
LSI Logic
(LSI) - Get Life Storage, Inc. Report
posted earnings in line with expectations, Wall Street was disappointed by its revenues.
Prudential Securities
downgraded the stock this morning to accumulate from strong buy. LSI Logic lost 7 7/8, or 19.4%, to 32 5/8.
Internet top dog
Amazon.com
(AMZN) - Get Amazon.com, Inc. Report
, meanwhile, was still stuck in the jungle ahead of its earnings report. The stock fell 1 9/16 to 36 1/16. The company reported a loss of 33 cents after the bell, beating analysts' call for a loss of 35 cents.
Amazon was downgraded by
Lehman Brothers
this morning to neutral from buy. The company reports earnings today after the close, and it has been rumored that it will miss estimates. Yesterday, Amazon was one of the few big-cap techs that didn't post big gains after it announced that President and COO Joseph Galli was leaving to become CEO of
VerticalNet
(VERT)
.
TheStreet.com
was on top of that
story yesterday.
And watch out for
Xerox
(XRX) - Get Xerox Holdings Corporation Report
! The embattled copier company's shares were shredded 3 3/16, or 17.5%, to 15.
This morning, Xerox lowered its earnings estimates for the third quarter and said second-quarter profits were cut in half because of weakness in sales of publishing machinery. The figure met a revised forecast from analysts surveyed by
First Call/Thomson Financial
of 30 cents a share. Yesterday,
Credit Suisse First Boston
cut the company's rating to hold from buy. Xerox has taken a beating in recent months after investors sued the company over its business practices in Mexico. Prior to that, the CEO had resigned.
Shares of
Microsoft
(MSFT) - Get Microsoft Corporation Report
, one of this afternoon's most actively traded stocks, slipped 1 3/16 to 67 13/16 after Mister Softee
asked the Supreme Court to send its appeal back to a federal appeals court.
"The sheer number of issues raised by Microsoft's appeals makes this case completely unsuitable for direct appeal" to the Supreme Court, the company said in a statement. District Judge
Thomas Penfield Jackson
ruled in June that the software giant abused monopoly power to prevent competition within the industry and should be split in two.
On the Upside
Compaq
(CPQ)
was faring better, up 15/16 to 29. After reporting earnings in line with estimates last night and saying it was comfortable with third-quarter earnings estimates, Compaq received upgrades from
Bear Stearns
,
Chase Hambrecht & Quist
and
PaineWebber
and was faring much better.
JDS Uniphase
(JDSU)
was bouncing back ahead of its earnings, which came out after the close. JDS lost a little ground yesterday after soaring for a week. JDS and handheld computer-maker
Palm
(PALM)
have been popular with index portfolio managers since
Standard & Poor's
announced it would add the companies to the S&P 500 at the end of this week.
In big merger and acquisition news, Germany's
Dresdner Bank
and
Commerzbank
ended merger talks after they couldn't settle differences on the value of the deal. If the merger had gone through, they would have formed the second-largest bank in Germany.
Back to top
Market Internals
Breadth was negative on moderate volume.
New York Stock Exchange: 1,364 advancers, 1,475 decliners, 1.8 million shares. 85 new 52-week highs, 71 new lows.
Nasdaq Stock Market: 1,588 advancers, 2,366 decliners, 1.63 billion shares. 43 new highs, 133 new lows.
Back to top
Most Active Stocks
NYSE Most Actives
LSI Logic: 50.44 million shares. Compaq: 37.8 million shares. Xerox: 32.8 million shares.
Nasdaq Most Actives
Back to top
Sector Watch
Chip stocks were under broad pressure, a downturn apparently triggered by a wave of selling in LSI Logic following its second-quarter earnings report. The company's lighter-than-expected revenues prompted Salomon Smith Barney's Clark Westmont and Prudential Securities' Hans Mosesman to downgrade the stock.
The
Philadelphia Stock Exchange Semiconductor Index
slid 6.3%.
"LSI has just put the fear of semis into people," said Westmont. "Given that the stock was at almost 90 a few months ago, it just goes to show how low the semis can go when they're being sold." Solly has no recent underwriting relationship with LSI Logic.
The always-volatile
Rambus
(RMBS) - Get Rambus Inc. Report
was getting hit hard following a
ZDNet
report that
Intel
(INTC) - Get Intel Corporation Report
will support synchronous dynamic RAM (SDRAM) for its next generation Pentium 4 chips. SDRAM is much less expensive than Rambus' direct RAM (RDRAM), the technology licensing of which Rambus depends on for its income.
One sector that was a bit greener than others was the
American Stock Exchange Pharmaceutical Index
, which rose 1.4% after a lousy day Tuesday.
Schering-Plough
(SGP)
slipped 1/4 to 43 1/16 after spending most of the day in the green, while
American Home Products
(AHP)
held onto a gain of 3/16 to 54 1/16.
Glaxo Wellcome
(GLX)
rose 5/8 to 54 5/8.
The
S&P Insurance Index
, continuing its run from yesterday, was 1.9% higher to 673.77.
American International Group
(AIG) - Get American International Group, Inc. Report
traded at an all-time high yesterday and continues to move ahead today, rising 1.1% to 125 1/8. Shares of AIG have been rising since July 21.
Back to top
Bonds/Economy
Treasuries are slightly higher on light volume, awaiting the key economic releases tomorrow and Friday. Also included in Thursday's numbers will be June's
durable goods orders
report).
The
Treasury Department
announced the details of tomorrow's buyback operation, which will target $1 billion of 30-year bonds maturing between February 2019 and 2021. Buybacks are the department's coordinated purchases of Treasury securities from primary dealers to take them out of circulation. Federal government surpluses have made it possible for the government to pay down debt, which takes the form of outstanding Treasury securities.
The benchmark 10-year Treasury note was up 1/32 at 103 12/32, putting its yield at 6.026%.
Back to top
International
European markets ended the day mixed.
London's
FTSE
was mildly lower following a plethora of earnings statements this morning from some big U.K. names, but had fallen back from earlier gains. The
FTSE 100
gave up 3.6 to 6387
Across the channel, Frankfurt's
Xetra Dax
was down 26.92 to 7302.12 and the Paris
CAC
was up 29.09 to 6493.
The euro traded at $0.9426.
Asian markets were mixed, with only Tokyo getting hit, while most other markets closed higher.
Tokyo stocks closed down despite excitement over a possible mobile-phone content deal between
NTT DoCoMo
(NTT)
and
America Online
(AOL)
in the U.S. The
Nikkei 225
index shed 70.98 to close at 16,502.61.
With worries over the near-term economic scenario in Japan due to a string of large corporate bankruptcies, the greenback continued to inch higher against the yen, closing at 109.2 yen in Tokyo trading. The dollar was recently trading at 109.17 yen.
Hong Kong's
Hang Seng
index jumped 244.89, or 1.4%, to close at 17,620.23 as investors speculated major banks to post healthy earnings results this week.
Elsewhere in Asia, Korea's
Kospi
index rose 6.20 to 743.84, while Taiwan's
TWSE
index gained 61.15 to 7961.54.
Back to top