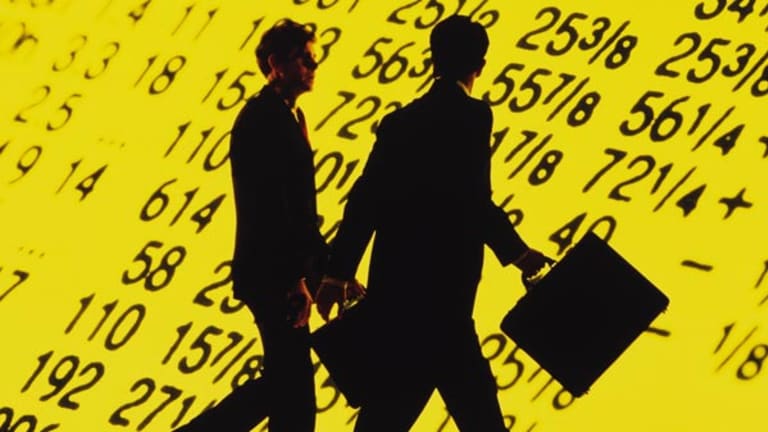 Today's Market: Dow Bouncing Back Ahead of Tomorrow's Fed Meeting
The Nasdaq, though, was little changed as tech's woes continue.
Look at the Dow Jones Industrial Average go!
At last glance, the blue-chip index was well on its way to recovering the 240 points it lost on Friday, gaining 220 points to 10,655, and strengthened by optimism about a possible interest rate cut tomorrow. The
Nasdaq Composite Index, however, was not doing much to reverse its losing streak -- down 18 points to 2635, and weakened by analyst downgrades on the technology sector.
"The market's discounting a 25-basis-point reduction tomorrow," said Bryan Piskorowski, market analyst at
Prudential Securities
.
Indeed, this morning, the
Wall Street Journal
reported that the
Federal Reserve, which holds its final
Federal Open Market Committee meeting of the year on Tuesday, is weighing a more aggressive stance to the slowing economy and is considering an interest rate cut tomorrow, instead of waiting until January.
But while the market has lately priced in only a 46% chance of rate cut tomorrow, up from 41% on Friday, sectors of the Old Economy -- particularly interest-rate-sensitive financial stocks -- bounced in afternoon trading. In recent action, the
Philadelphia Stock Exchange/KBW Bank Index
had advanced 4.1%. Shares of
J.P. Morgan
(JPM) - Get Free Report
gained 3.2% to $165.06, while
Citigroup
(C) - Get Free Report
had lifted 3.9% to $49.94.
Today's good news about the prospect of a rate reduction has been coupled with bad news about corporate profits. Earlier today, media giant
Time Warner
(TWX)
announced that it was lowering its earnings growth estimates for 2000 due to reduced cable network advertising revenue, weaker music sales and disappointing box office sales.
Time Warner added that its merger partner,
America Online
(AOL)
, would meet Wall Street's forecasts for advertising and commerce revenue. The companies received
Federal Trade Commission
approval for their deal last Thursday.
In recent trading, Time Warner had dropped 12.8% to $63.33, while America Online fell 13.6% to $42.37.
Unfortunately, AOL was not the only Internet stock to take it on the chin today. On the heels of a
Goldman Sachs
downgrade on e-commerce companies,
TheStreet.com Internet Sector
decreased 3.4%.
Just last Friday,
eToys
undefined
warned that third-quarter financial results would fall short of its previous expectations, citing a harsh retail climate. In addition, the firm announced that it had hired Goldman Sachs to explore alternatives including a merger, asset sale, or other restructuring.
In the wake of Friday's warning, Goldman lowered its targets for eToys, down 69.7% to 31 cents in recent trading;
Barnes&Noble.com
undefined
, off 12.5% to $1.63;
WebVan
undefined
, behind 13.3% to 53 cents; and
Ashford.com
undefined
, lower 39.4% to 63 cents.
Elsewhere in the technology sector,
Sun Microsystems
(SUNW) - Get Free Report
has suffered, on the back of an analyst downgrade today from Prudential, which cited that demand for the company's business computers has begun to slow. At last glance, Sun Microsystems had sunk 8.2% to $27.94.
Large-tech stock
Cisco
(CSCO) - Get Free Report
, down 7.4% to $44.63, has put additional pressure on the Nasdaq, while
Oracle
(ORCL) - Get Free Report
, up 11.1% to $31.75 has helped relieve the index.
For the year, the Nasdaq is down approximately 34%. "There's a general apathy toward the tech sector," said Piskorowski. "If investors are hanging their hopes on technology stocks that have performed well over the last four years, this year is going to be a disaster."
According to Piskorowski, market players must look outside of the tech and telecom sectors: "If investors learn one lesson from Y2K, broadening their horizons should be it.
Market Internals
Breadth was mixed on heavy volume.
New York Stock Exchange: 1,725 advancers, 1,091 decliners, 637 million shares. 143 new 52-week highs, 58 new lows.
Nasdaq Stock Market: 1,489 advancers, 2,290 decliners, 1.1 billion shares. 41 new highs, 244 new lows.
Back to top
Most Active Stocks
NYSE Most Actives
America Online: 12.9 million shares. Lucent (LU) - Get Free Report: 11.9 million shares. Compaq

undefined

: 11.5 million shares.
Nasdaq Most Actives
Cisco: 53 million shares. Sun Microsystems: 46.8 million shares. Oracle: 30.1 million shares.
Back to top
Sector Watch
A boost in gas and oil prices has fueled the energy and transport sectors this afternoon. The
American Stock Exchange Natural Gas Index
was up 3.4%, while the
Dow Transportation Index
was ahead 1.9%.
Back to top
Bonds/Economy
Treasury prices are sharply higher based on optimism that the
Fed will lower interest rates, if not at its meeting tomorrow, then soon afterward. The rally is dropping yields to new lows for the year.
The benchmark 10-year
Treasury note lately was up 12/32 at 104 20/32, lowering its yield to 5.139%.
The odds rose that the Fed will lower interest rates either tomorrow or at its subsequent meeting in January following a report in today's
Wall Street Journal
. The paper reported that the
Federal Open Market Committee, the Fed's monetary policy arm, may skip a step in the process that could eventually lead it to lower rates. The FOMC, which has been expected to issue a statement declaring the risks to the economy balanced between rising inflation and too-slow growth, is considering declaring too-slow growth the paramount risk, the paper reported. The committee might even lower the fed funds rate tomorrow, the
Journal
said.
Traders of
fed funds futures are discounting 52% odds that the rate will fall to 6.25% tomorrow from 6.5% currently, up from 41% on Friday.
There is no economic news today.
Back to top
International
Computer-related companies lifted major European indices today. London's
FTSE
closed up 70.7 to 6246.5. Across the channel, Paris'
CAC-40
finished ahead 48 to 5887.5, while Germany's
Xetra Dax
-- still trading -- was 37 points higher to 6368.2.
Glaxo Wellcome
undefined
and
SmithKline Beecham
(SBH) - Get Free Report
, which will be formally merged into GlaxoSmithKline next week, got socked with a downgrade by
Deutsche Bank
. The firm said it knocked down its rating after the U.S. Food and Drug Administration rejected marketing approval for one of SmithKline's antibiotic treatments.
The euro finished at $0.8957. It has been gaining in the past few weeks as the U.S. dollar weakens in the face of a slowing domestic economy.
Asian markets were mixed Monday. In Japan, the
Nikkei 225
fell 69 to 14484. Hong Kong's
Hang Seng
closed up 49 to 15025.
While the greenback was lately lower against the yen to 112.16 yen, the yen is continuing is downward fall in value as it was edging new 16-month lows versus the dollar.
Back to top