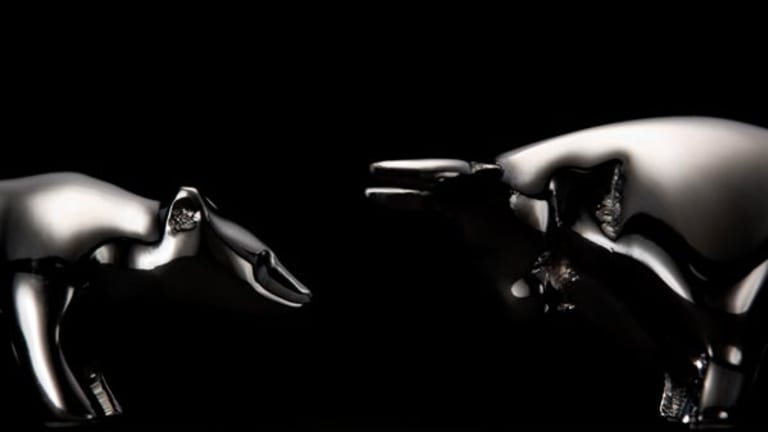 Today's Market: Dow and Nasdaq Rack Up Bounty on Halloween
<LI>Dow closes just below 11,000 mark.</LI> <LI>Optical stocks come roaring back.</LI> <LI>Procter & Gamble tumbles.</LI>
There were no apples or raisins or pennies in this market's
Halloween booty.
Nope. Today, the
Nasdaq Composite Index cleaned up with a triple-digit-point gain (the equivalent of getting big candy bars in your plastic pumpkin). The
Dow Jones Industrial Average had its own good treats, giving the blue-chip index its third consecutive day of cleaning up.
Since Friday, the Dow has added almost 600 points, and today closed just below the 11,000 mark. It was just two weeks ago that the Dow closed below the psychologically important 10,000 level. It's been lifted steadily by the return of money that had been leaving the uncertainty of technology for the safety of Old Economy stocks. But today, also tech made a comeback.
A pocket of particular strength was fiber optic and networking stocks. These companies had been market darlings until they were beaten up in the past week after fiber optic leader
Nortel
(NT)
came out with an
earnings report that disappointed. Seems you can't keep a good optical down. Nortel and its brethren bounced back today.
JDS Uniphase
(JDSU)
was up 14.2%, or $10.16, and
Corning
(GLW)
gained 7.8%, or $5.50.
Juniper Networks
(JNPR)
, up $28.63, and
Ciena
(CIEN)
, $14.44 higher, were among the Nasdaq's biggest gainers.
Tim Hayes, global equity strategist at
Ned Davis Research
, said Nasdaq stocks are in an oversold position. Couple that with the looming presidential election and you get a rally. Historically, Hayes said, the market goes into an up trend before an election. And that's certainly where the Dow's been in these last couple days of Al Gore and George W. Bush get in their last licks before Election Day.
That doesn't mean the tides of negativity or volatility that have washed over the markets have completely receded. Says Hayes: "There are a lot of negatives out there still. It's too early to get too excited."
Tech investors couldn't contain themselves today, however. Even
Cisco
(CSCO)
, which slid yesterday on news that
Lehman Brothers
slashed its price target, was up and the most actively traded stock on the Nasdaq. It ended the day 12.1% higher to $53.88.
The black eye on the tech-heavy Nasdaq was the ever-volatile
Rambus
(RMBS)
, off 15.9%, on reports that chip giant
Intel
(INTC)
will
phase out its use of Rambus's DRAM chips in its platforms.
Intel ended the day unchanged, but almost every other Dow components bounced, including
J.P. Morgan
(JPM)
. The old line bank got a boost after
Deutsche Banc Alex. Brown
raised its rating to buy from market perform on J.P. Morgan's merger partner
Chase Manhattan
undefined
.
Consumer giant
Procter & Gamble
(PG)
reported
first-quarter earnings that were in line with analyst estimates, but concerns of slowing sales growth pulled the stock down.
The Dow and the Comp's paths moved in such dramatically different directions on Friday and Monday. A lot of movement these days is driven by earnings news. To be sure, companies of all stripes have reported disappointments. But because Nasdaq stocks were more commonly priced for perfection, they had further to fall if and when they announced bad news. So when certain big name tech stocks started to report problems, more focus -- and selling -- was put on them than Old Economy stocks, sparking the most recent big dips in the Nasdaq.
Techs are back, not because there are no more worries, but because optimism in the broad market helped lift its spirits on this Halloween. Anyone for a treat?
Market Internals
Breadth was scarily positive on heavy volume.
New York Stock Exchange: 2,053 advancers, 886 decliners, 1.35 billion shares. 95 new 52-week highs, 42 new lows.
Nasdaq Stock Market: 2,775 advancers, 1,254 decliners, 2.1 billion shares. 89 new highs, 136 new lows.
Back to top
Most Active Stocks
NYSE Most Actives
Lucent (LU) : 37.4 million shares. AT&T (T) : 31.1 million shares. Nortel Networks: 27.2 million shares.
Nasdaq Most Actives
Cisco: 85.8 million shares. Worldcom

undefined

: 59.6 million shares. Intel: 54.7 million shares.
Back to top
Sector Watch
Typically defensive plays, tobacco and gold got whacked on a day when e-commerce and anything tech were big gainers.
The
American Stock Exchange Tobacco Index
was 1.5% lower, and the
Philadelphia Stock Exchange Gold and Silver Index
was down 1.8%.
Meanwhile, Internet stocks were going gangbusters.
Yahoo!
(YHOO)
gained 11.4% to $58.63, helping to lift
TheStreet.com Internet Sector
index to a 7.5% gain.
TheStreet.com E-Commerce Index
was 6.4% higher. It was boosted by components
Amazon.com
(AMZN)
,
BroadVision
(BVSN)
and
eBay
(EBAY)
.
The
Philadelphia Stock Exchange Computer Box Maker Index
rose 4.1%, while the
Philadelphia Stock Exchange Semiconductor Index
jumped 5.5%.
Back to top
Bonds/Economy
On a day when stocks soared, bonds took some minor hits.
The benchmark 10-year
Treasury note was 4/32 lower to 99 29/32, lifting its yield to 5.761%.
The 30-year
Treasury bond lost 12/32 to 106 17/32, its yield at 5.787%.
It was a day that had a flurry of economic data released.
New home sales rose to a seasonally adjusted annual rate of 946,000 in September from 866,000 in August, the fastest rate of sales since February. Sales were helped by mortgage interest rates, which have been declining steadily since mid-May and stand at their lowest levels in nearly a year. New home sales are considered a good gauge of near-term spending for housing-related items and consumer spending in general.
Another release, the
BTM Weekly U.S. Retail Chain Store Sales Index
(
definition |
chart ) for the week ended Oct. 28, slipped 1.2% after a decline of 0.2% in the prior week.
And the
APICS Business Outlook Index
(
definition |
chart |
source
) for September rose to 53.5 from 49.3 in August. This national manufacturing index is constructed from a survey of manufacturing firms. When it comes in above 50, it signals factory-sector expansion. It flags a contraction when it comes in below that level.
Back to top
International
Battered tech shares moved higher in
Europe today.
The
FTSE 100
in London ended up 50 to 6438.40.
The
CAC 40
in Paris closed up 100.82 to 6397.66, while the
Xetra Dax
in Frankfurt rose 150.87 to 7077.44.
The
battered euro continued to rise. It was lately at 0.8488.
Most Asian
equity markets closed higher Tuesday, as investors in Japan, South Korea and Hong Kong snapped up the shares that had been sold at considerably lower levels over the past few days.
In Tokyo, the
Nikkei 225
closed up 75.0 points, or 0.5%, at 14,539.6.
In Tokyo trading, the dollar traded up 0.29 yen to 108.99 yen, and extended those gains in New York, lately traded at 108.87.
Elsewhere, South Korea's
Kospi
index climbed 9.8, or 1.9%, to 514.5 as
SK Telecom
(SKM)
jumped 5.4% to 242,500 won ($212.72).
Hong Kong's
Hang Seng
index rose 95.4, or 0.6%, to 14,895.3.
Back to top
Senior markets editor Ellen Braitman chats with Christopher Edmonds, columnist for RealMoney.com exclusively on TheStreet.com at 3 p.m. EST on Wednesday, Nov. 1. Join them with your market and investment questions by logging on TheStreet.com's home page.