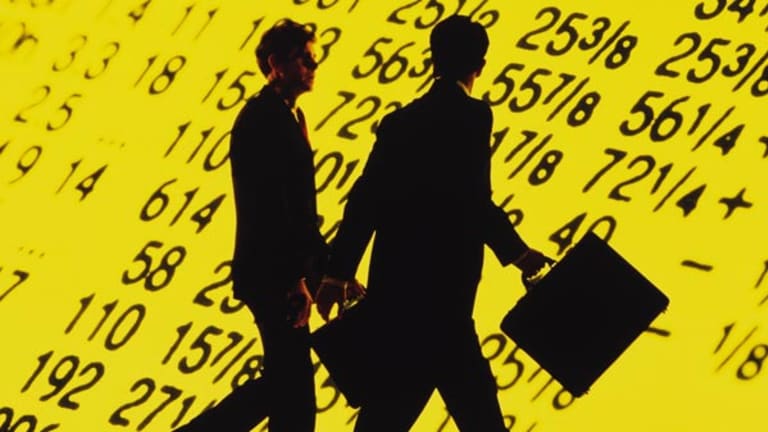 Today's Market: Dow and Nasdaq Fight Back After Recent Beatings
<LI>Lucent warns yet again and announces restructuring.</LI> <LI>Xerox's woes get worse.</LI> <LI>GDP rose lower-than-expected 2.2% in third quarter.</LI>
(Updated from 9:19 a.m. EST)
Market pros are saying fund managers and international investors want nothing to do with the U.S. market.
Indicators in the options market say there's no bottom in sight. And another tsunami of companies lowered earnings estimates last night and this morning.
You'd expect it to be a bit like a Chicago ice storm out there -- deadly, blinding and merciless.
But the
Nasdaq was lately on the upside, gaining 21 to 2354.
Yesterday, more than 700 stocks hit 52-week lows on the Nasdaq, which broke below 2400 for the first time since the first week of June 1999. It wasn't just a 52-week low -- it was an 81-week low. The
Dow Jones Industrial Average was gaining 34 to 10,352, and the
S&P 500 was moving 2 higher to 1267.
Some are wondering today if the tech-heavy Nasdaq could have an eighth down day in a row. Others think this is no time to try buying on the
dips. "People don't seem to have the confidence to buy anything," said Brian Finnerty, head of trading at
C.E. Unterberg Towbin
.
This morning, final third-quarter
gross domestic product, known as GDP, showed that the market value of goods, services and structures produced in the economy grew more slowly than originally expected. GDP came in at 2.2% vs. the previous estimate of 2.4%. Jobless claims came in higher than expected, which might reduce concern over inflationary pressures from a tight labor market. Jobless claims for the week ended Dec. 16 rose to 354,000 from 320,000 the prior week.
No matter what happens to the major stock market indices today, a few companies are going to have a pretty rough time. This morning, beleaguered copy-maker
Xerox
(XRX)
announced that it would miss its fourth-quarter earnings estimates by a "wide margin." The
company, which has seen its stock plunge to $6 a share, also said it had drawn down its $7 billion revolving credit line, a portion of which was used to repay the company's maturing debt. Xerox was off 7.3% to $5.56.
And for
Lucent
(LU)
, life certainly isn't pretty. The battered telecom equipment and networking company this morning said it would have significant losses in its current quarter; it also announced a restructuring plan. This follows the announcement last night from its former parent,
AT&T
(T)
, which lowered its own
earnings guidance.
Lucent said it expects a pro forma loss of 25 cents to 30 cents per share in the first fiscal quarter of 2001, which ends Dec. 31. Analysts polled by
First Call//Thompson Financial
expect a loss of only 1 cent. Its fourth quarter of 2000 will also disappoint. Instead of the expected $9.4 billion in revenues and earnings of 18 cents a share for the quarter that ended in September, the company said it had $8.7 billion in revenue and earnings of 10 cents a share. Lucent was off 11.7% to $13.75.
Lucent blamed its troubles on the problems among competitive local phone companies, the slowdown in capital spending among established telecom companies and lower software sales.
Slowing capital spending has been cited by several technology companies as the reason for earnings weakness in the past few months. And it illustrates the interdependency between the different technology industries. The economic slowdown bites into one company and then bites into all as weakness trickles down.
Several big-spending telecom companies have cut their capital spending in recent months, including
Bellsouth
(BLS)
.
WorldCom
undefined
and
Williams
(WCG)
, while AT&T has said it expects spending to level off.
In October, Lucent, which was spun off from AT&T, warned that fourth-quarter earnings would fall short of Wall Street expectations, marking its then fourth consecutive shortfall dating back to the first fiscal quarter of this year. After that announcement,
TheStreet.com
took a look at how the one-time darling of Wall Street was
in a tailspin.
AT&T
last night lowered its revenue and earnings guidance for the fourth quarter and chopped its quarterly dividend, saying changes in the anticipated signing of certain large network-management contracts and an industrywide slowdown are hurting its operations. AT&T was off 7.6% to $17.50.
Qwest
undefined
, however, said it expects fourth-quarter earnings to meet or beat existing estimates. It was gaining 5.6%.
Other warnings also crowded the post-close scene last night. Semiconductor company
Micron Technology
(MU)
reported earnings that were 2 cents below its target, coming out with earnings of 58 cents per share. Internet broadcasting enabler
RealNetworks
(RNWK)
also
warned it would miss earnings targets, as did
wireless chipmaker
Conexant
(CNXT)
.
Investors were punishing the hand-held organizer darlings, despite better-than-expected earnings from two of them last night. Both
Palm
(PALM)
and
Research in Motion
(RIMM)
beat expectations. But
Palm,
Research in Motion and
Handspring
undefined
are all lower. Palm was losing 27%, Research in Motion was off 3.7%, while Handspring was falling 13.9%.
Back to top
Bonds/Economy
Treasury prices were edging lower this morning after the Fed earlier this week moved its bias on the economy to easing from tightening -- indicating it might lower interest rates as soon as January. The benchmark 10-year
Treasury note was lately down 2/32 at 105 8/32, yielding 5.055%.
Back to top
International
European markets were lower this morning, but they looked better than they have in recent days.
London's
FTSE
was down 59.80, or 0.97%. Across the channel, Paris'
CAC-40
was falling 55.20, or 0.96%, while Germany's
Xetra Dax
was 85.64 lower, or 1.37%.
The flip-flopping euro was rising again this morning, trading up to $0.9152. It has been gaining slowly in the past few weeks as the U.S. dollar weakens in the face of a slowing domestic economy.
Asian markets were bamboozled -- again -- overnight. Japan's
Nikkei 225
fell 491.22, or 3.53%, to 13,423.31. Yesterday, it closed below the key 14,000 mark for the first time in almost 22 months. Hong Kong stocks fell on weakness in techs and telecoms. The
Hang Seng
closed down 271.40, or 1.82%, to 14,659.32.
The greenback was falling against the yen to 112.33 yen.
Back to top