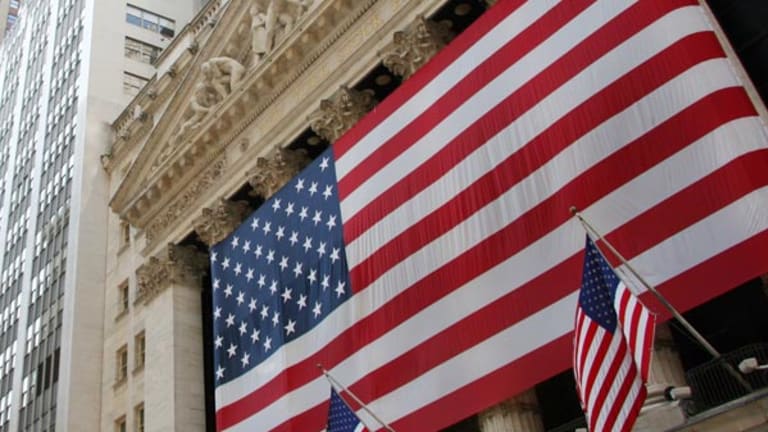 Publish date:
Today's Market: Despite Microsoft's Strength, Stocks Can't Keep Up Early Boost
The Dow was bathed in red today and the Nasdaq was little changed in an uninspiring session.
The Dow was bathed in red today and the Nasdaq was little changed in an uninspiring session.
In one of the more lackluster sessions the stock market's experienced in some time, significant selling is taking place on the
New York Stock Exchange, while investors continue to do some selective buying in technology shares.
During the morning, traders noted that market participants were heartened by a decent earnings report out of
Microsoft
(MSFT) - Get Microsoft Corporation (MSFT) Report
, but were surprised at the fair amount of positive activity in tech, despite fundamentals that are mediocre (and that's being generous).
Beyond technology, today's action is being viewed as profit-taking, a bit of a pullback in a market that's had a reasonably good run built mostly out of the notion that the
Federal Reserve will remain aggressive in cutting rates, which in turn will help stimulate economic activity several months down the road.
The market isn't entirely convinced of a quick Fed-led recovery, it seems -- while tech stocks rally, slower-growing cyclicals, like defense and capital goods stocks, are selling off, suggesting that there's still concern about slowing growth. The University of Michigan's
Consumer Sentiment Index
(
definition |
chart ) fell to 93.4, lowest since 1996. Most anecdotal and regional indices are displaying significant
weakness, including the yesterday's Philadelphia Fed
Business Outlook Index and the
National Association of Purchasing Management's
purchasing managers' index.
"They ran 'em up pretty good on some pretty average numbers, even starting with
IBM
(IBM) - Get International Business Machines (IBM) Report
and Microsoft," said Peter Blatchford, trader at
Miller Tabak
. "These are hardly 'shout from the top of the roof' type numbers. People are really looking ahead, and really discounting that Philly Fed number that the Fed's going to be aggressive."
In a speech today, Richmond Fed President Al Broaddus lent
credence to that idea, saying the Fed would respond "decisively" to keep the economy from slowing "excessively." The Philadelphia Fed Index yesterday fell to -36.8, its lowest level since Dec. 1990, when the country was in recession.
With the exception of
ExxonMobil
(XOM) - Get Exxon Mobil Corporation Report
and the four technology components, the Dow is getting picked apart today, with the heaviest losses coming in
Home Depot
(HD) - Get Home Depot, Inc. (HD) Report
, which issued an earnings warning this morning. This is the second quarter in a row the home improvement retailer has guided earnings estimates lower, but it's not a surprise, due to the slowing in consumer demand and declines in materials prices, such as lumber. The stock was down 4.5% to $42.25 lately.
The performance of technology stocks is mixed today. Computer and PC-related names, as well as optical fiber stocks, are doing reasonable business, while most other sectors are in poor shape as well. The performance of technology stocks seems to depend on just how prepared investors were for a particular earnings report, and how optimistically the report was spun. Microsoft, the Teflon stock, is rising sharply, lately up 7.9% to $59.88 after meeting previously lowered earnings estimates, but beat revenue expectations.
Nortel Networks
(NT)
, the Canadian networking company, is also holding up reasonably well after meeting estimates. It was lately gaining 6% to $38.94.
On the downside was
Sun Microsystems
(SUNW) - Get Sunworks, Inc. Report
. The company, which during the third quarter seemed immune to a slowdown that was happening all around them, met estimates but missed revenue expectations, and nobody's taking it kindly. The stock was lately down 11.5% to $30.88.
The divergent reactions in stocks such as Sun and Microsoft illustrate the market's uneasiness with the current economic state. Currently, the market is discounting, off in the future, an economic recovery led by the Fed's efforts. However, the time it takes to get there, and the strength of that supposed recovery, is unknown, and with that factor most specifically driving the market, there's a lot of uncertainty. One trader at a major brokerage commented that this week, which has been generally strong, could be followed by an equally unpleasant week next week.
"They could sell tech a bit to be prudent and await further good news," said the trader. "Bank stocks have been selling off in order to put money into technology, but if there's no additional good news, money could go back into health care and financials."
For now, however, investors seem to have accepted that a near-recession, or a hard landing, are a pretty likely possibility, so they're looking to the future and hoping demand rebounds. But the strength in technology at the behest of all else suggests more of the move is related to fund flows than it is to a fundamental belief in an economic rebound.
"There is this rush coming off a horrendous December, capping a terrible year in tech where shares just got battered and sold out," said Barry Hyman, chief investment strategist at
Weatherly Securities
. "What was natural to expect was the lift in January; but the fundamentals are not indicating there is an imminent turn in the market."
Market Internals
Breadth was sour on active volume on the New York Stock Exchange; middling on hefty volume on the Nasdaq.
New York Stock Exchange: 1,167 advancers, 1,530 decliners, 766 million shares. 73 new 52-week highs, 6 new lows.
Nasdaq Stock Market: 1,712 advancers, 1,813 decliners, 1.482 billion shares. 47 new highs, 9 new lows.
Back to top
Most Active Stocks
NYSE Most Actives
Nasdaq Most Actives
Back to top
Sector Watch
Some note that failure of the industrial stocks to rally along with tech in the past week suggests continued uncertainty about the upturn.
If stocks are rallying because they think the Fed is going to continue to aggressively cut rates, then more cyclical stocks should respond (cyclical stocks tend to grow and slow in synch with the economy.) However, it should be noted that capital goods stocks like
Emerson Electric
(EMR) - Get Emerson Electric Co. Report
and
General Dynamics
(GD) - Get General Dynamics Corporation (GD) Report
strengthened in anticipation of the rate cut.
Today, the
Morgan Stanley Cyclical Index
was down 1.9%, with names like heavy-machinery
Caterpillar
(CAT) - Get Caterpillar Inc. Report
, down 3.4%, farm equipment giant
Deere
(DE) - Get Deere & Company Report
falling 2.3%, and non-electrical machinery and equipment maker
Ingersoll-Rand
(IR) - Get Ingersoll-Rand Plc (IR) Report
off 0.96%. Another industrial name,
United Technology
undefined
was slipping 2.9%.
Among the other weak stocks in the 30-stock Dow are the consumer staples names such as
3M
, which continues a string of lousy sessions, and
Coca-Cola
(KO) - Get Coca-Cola Company Report
, which isn't making anybody smile, down 2% to $56. The
Morgan Stanley Consumer Index
was lately down 1.3%.
Retail stocks, which are also supposed to rally as interest-rates fall, were in the muck. The
S&P Retail Index
was down 2.9%.
Back to top
Bonds/Economy
Treasuries have been trading lower for much of the morning as investors take profits after driving up prices for three consecutive days. The stronger opening in equities lessened the draw of fixed income instruments. But stocks are mostly in retreat now, giving Treasuries some breathing space. The long bond, which had led the money market rally over the week, is still deep in the red. Yields are up marginally across the board.
Notes and bonds have rebounded recently on renewed hopes that the
Federal Reserve will lower interest rates by half a percentage point.
The benchmark 10-year
Treasury note lately was down 8/32 to 104 16/32, raising its yield to 5.148%.
In economic news, the
international trade
(
definition |
chart |
) report showed that the deficit narrowed to $32.99 billion in November from a revised reading of $33.55 in the prior month. This is the first time since mid-1997 that the deficit has declined two months in a row. Imports as well as exports fell. The trade data however lags the latest news about the economy, and currently available numbers do not contradict the slowing of the nation's economic growth.
The Consumer Sentiment Index fell to 93.6 in January from 98.4 in December, its lowest level since Oct. 1998. The gauge measures the confidence consumers have in the economy looking six to nine months in the future.
Back to top
International
European markets, at the end of the session, weren't blowing anybody's doors off. In France, the
CAC-40
fell 14.43 to 5845.73, and the U.K.'s
FTSE 100
fell 0.6 to 6209.3. Germany's
Xetra Dax
, still trading, was up 15.56 to 6651.32.
Hong Kong's
Hang Seng
exploded, gaining 404.80 to 15933.55, while Japan's
Nikkei 225
rose 115.20 to 13989.12.
For more on the world stock markets, check out TheStreet.com's
global indices information
Back to top