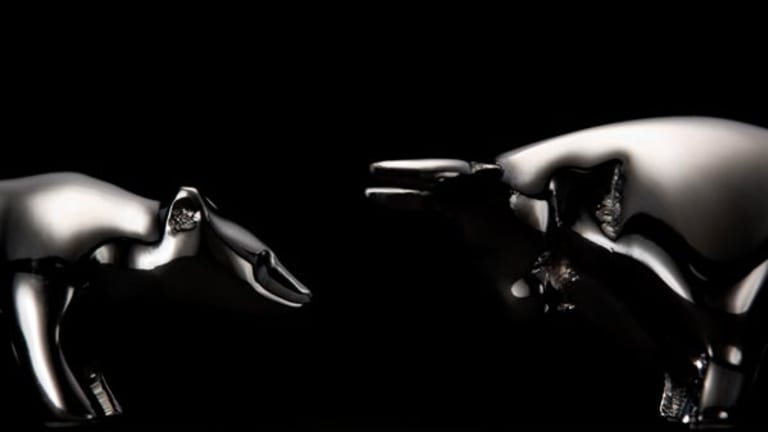 Today's Market: Despite Impressive Bounceback, Not Everyone Believes Market Bottomed Out This Morning
Both the Dow and the Nasdaq came well off their lows -- but the instability continues.
Bottom feeders aren't finished yet.
The
Dow Jones Industrial Average finished the day below the psychologically important 10,000 level -- the first time since March 14, when it closed at 9,776.49. Some are calling it a
bottom.
And, as bad as it was, it could have been a lot worse. Right after the opening bell, the index fell over 400 points. It rebounded off those lows and when it crossed back over 10,000, Peter Coolidge, managing director of trading at
Brean Murray Foster Securities
, said "I don't know that we touched bottom, but we had a nice quick selloff and it's impressive that buyers came back in with an appetite to buy."
But that was before the index headed back toward the dark side of 10,000.
Bob Dickey, chief technical analyst at
Dain Rauscher
, said he puts a lot of faith in the last hour of trading. He said by that time the public was through trading and professionals are in figuring out what they are willing to hold overnight. The lack of confidence he saw in the last hour of closing today is indicative of where we're going, he said.
For one, he said you can't count on today being the bottom. He said he looks back at the lows tested in 1987 and 1998, in which big dramatic bottoms were tested over the period of a month. He said he's seen the lows before and things can get worse and worse and market can keep getting more and more oversold. When that happens, strategists say it's so oversold, it has to bounce.
"We have plenty of work cut out for us before we can see any kind of decent rally," Dickey said. "We still have earnings news ahead of use pretty heavily for next two weeks.
Dickey we have to wait for earnings season to be over and for analysts to figure out what it all means and how the fourth quarter will measure up. Until then, he advised investors to keep a good cash reserve because there will be some even better bargains than there are now.
Meanwhile, everyone wanted to get in on the action today, whether for good or evil. In fact, the
Nasdaq Composite Index had its third-heaviest volume day, thanks mainly to
Intel
(INTC) - Get Intel Corporation (INTC) Report
, which reported earnings last night above its revised expectations. Though several other analysts came out with downgrades on the company, Intel was upgraded by
ABN Amro
.
Big Blue Feeling Blue
IBM
(IBM) - Get International Business Machines (IBM) Report
was one of the most popular stocks on the Big Board and was the Dow's anchor today. It ended the day with about 104 negative points to the index. Yesterday, after the close, the company posted earnings that beat estimates, but revenue was on the low end of expectations. Big Blue also gave cautious words for its fourth quarter.
TheStreet.com
covered
the announcement more in depth in an earlier story.
It also was hit by negative notes from
Merrill Lynch
and
Bear Stearns
, which lowered their earnings estimates.
Prudential Securities
cut its rating on the company to hold from accumulate and
Goldman Sachs
removed IBM from its recommended list.
Hewlett-Packard
(HWP)
, with almost 30 negative points, and
J.P. Morgan
(JPM) - Get JPMorgan Chase & Co. (JPM) Report
, with 20 negative points, were the second- and third-biggest drags on the Dow.
H-P was down in conjunction with IBM's troubles, but J.P. Morgan sunk on news that its merger partner
Chase Manhattan
(CMB)
reported lower-than-expected earnings. The company partly blamed losses on the Nasdaq, which hurt
results at its venture capital arm. Chase was off 2.8% to $36.88. J.P. Morgan actually reported earnings that beat estimates. It was down 2.4% to $134.25.
The Comp had a volatile day, bouncing up and down over the breakeven line all session. It ended the day dragged down by such components as
Cisco
(CSCO) - Get Cisco Systems, Inc. Report
and
Oracle
(ORCL) - Get Oracle Corporation Report
.
Nasdaq heavyweight
Sun Microsystems
(SUNW) - Get Sunworks, Inc. Report
bounced higher after it
inadvertently posted its earnings early, which were well above estimates, on its web site. But it still ended the day on the downside, off 1% to $110.31.
Also on the Comp,
RF Micro Devices
(RFMD)
was down 38% to $14.25 after it reported earnings in line with expectations, but warned about earnings for its next quarter. The stock was downgraded by
Credit Suisse First Boston
and
CIBC World Markets
.
Market Internals
Breadth was terrible on heavy volume.
New York Stock Exchange: 994 advancers, 1,891 decliners, 1,43 billion shares. 19 new 52-week highs, 286 new lows.
Nasdaq Stock Market: 1,451 advancers, 2,572 decliners, 2.49 billion shares. 22 new highs, 516 new lows.
Back to top
Most Active Stocks
NYSE Most Actives
America Online (AOL) : 44.08 million shares. IBM: 29.77 million shares. Chase Manhattan: 29.64 million shares.
Nasdaq Most Actives
Intel: 119.80 million shares. Covad (COVD) : 69.82 million shares. WorldCom (WCOM) : 68.86 million shares.
Back to top
Sector Watch
Paper stocks and retailers rallied, while just about everything else suffered.
The
Philadelphia Stock Exchange Forest & Paper Products Index
was up 6.4% after components
Georgia-Pacific
(GP)
and
International Paper
(IP) - Get International Paper Company (IP) Report
said they would be closing mills.
The
S&P Retail Index
rose 2.4%. Component
Gap
(GPS) - Get Gap, Inc. (GPS) Report
was upgraded to near-term buy from neutral at
Merrill Lynch
. It ended the day up 12%.
The
American Stock Exchange Airline Index
was down 2%.
Delta Air Lines
(DAL) - Get Delta Air Lines, Inc. Report
and
Alaska Air
(ALK) - Get Alaska Air Group, Inc. Report
both reported drops in earnings, while
Southwest
(LUV) - Get Southwest Airlines Co. Report
posted earnings that beat estimates. Today, they were all on the downside. Also, Alaska saw its 2000 EPS view cut by
Goldman Sachs
.
And
TheStreet.com E-Finance Index
was down 2.3%, suffering right along with the broker/dealer and bank sectors.
Back to top
Bonds/Economy
The bond market is rallying strongly as funds move into safer investments following ongoing signs of weakness in equity markets.
The market was relatively unconcerned by today's
Consumer Price Index
(
definition |
chart |
) for September which showed a 0.5% rise in the headline number and a 0.3% increase in the core rate. Energy prices rose 3.8% in the latest month, a big turnaround from August's 2.9% drop. On an annual basis, CPI is now running at a 3.8% rate, well ahead of last year's 2.7% increase.
The benchmark 10-year
Treasury note was lately at 100 13/32, down 3/32 to yield 5.694%.
Back to top
International
European markets were
down at the close following the bad news from IBM last night.
London's
FTSE 100
fell 55 to 6148.2.
The
CAC 40
in Paris dropped 129.8 to 5937.4, while the
Xetra Dax
in Frankfurt fell 48.7 to 6483.
The euro continued lower, lately trading down to 0.8386.
The major
Asian equity markets closed broadly lower Wednesday, as the region's technology shares got pounded after IBM reported weak revenues Tuesday.
In Tokyo, the
Nikkei 225
tanked 467.7, or 3.1%, to close at 14,872.5, ending under 15,000 for the first time in more than a year and a half.
In Tokyo trading, the dollar fell to 107.85 yen. It was lately trading at 107.76.
Elsewhere, Taiwan's
TWSE
index closed off 270.1, or 4.7%, at 5432.2, as chipmakers including
Taiwan Semiconductor
(TSM) - Get Taiwan Semiconductor Manufacturing Co., Ltd. Sponsored ADR Report
, which dropped nearly 7%, got mauled. Hong Kong's
Hang Seng
index fell 414.9, or 2.8%, to 14,458.5.
Back to top