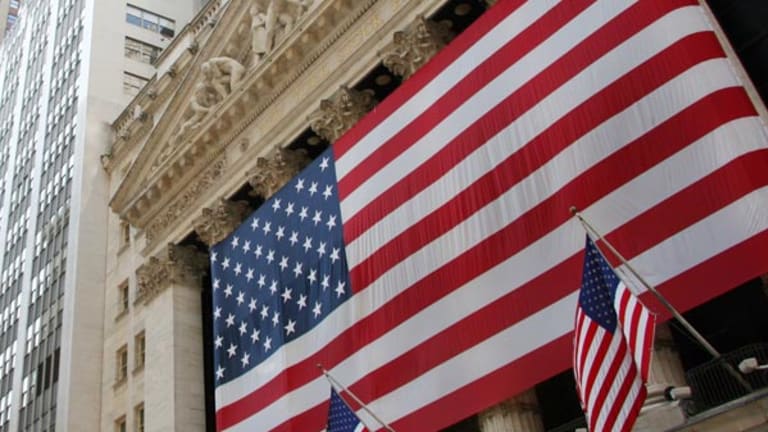 Today's Market: Daley's Fightin' Words Send Dow, Nasdaq Sharply Lower
The Dow was off almost 300 points as Gore's top advisors make it sound like this fight will be a long one.
(
Updated from 1:14 p.m. EDT
)
The more we hear election-related reports and rumors, the more confusion and uncertainty gets created.
The markets don't know what to make of it. But, they sure don't like it. The
Nasdaq Composite Index, which had triple-digit losses yesterday, and the blue-chip
Dow Jones Industrial Average, which had some losses of its own Wednesday, were sinking in the last 15 minutes as two of Vice President Al Gore's top people seemed to be bracing for a longer-than-expected fight.
Bill Daley and William Christopher, in Florida at Gore's behest, made it sound as if a much larger-than-expected number of the ballots in this election are in question.
The Dow Jones Industrial Average dropped more than 40 points while they talked, making a bad day even worse and was last off 240 to 10,665.
The Gore campaign said it would support legal action, although not as a direct participant, while demanding a manual hand-count of the votes. Investors, who have clung to the adage "markets don't like uncertainty" for the past few days, seemed to grow despondent when faced with the news that this election may not end when the recount finishes at 5 p.m. EDT.
Even the
Producer Price Index, which is a key measure of inflation, wasn't getting as much attention as it typically does. This morning, the PPI, as the index is known, for October rose 0.4%, higher than the 0.1% increase that was expected by economists polled by
Reuters
. Excluding volatile food and energy, it fell 0.1% compared to the 0.1% rise that was expected.
The
PPI report also revealed wholesale prices grew at a slower rate in October on the heels of moderating energy costs, although the modest decline likely does not signal that the
Federal Reserve will consider cutting interest rates.
The index measures the change in prices received by domestic producers of products in all stages of processing (that's crude materials, intermediate materials and finished goods). The "core" PPI, which excludes the volatile food and energy sectors, gives a focused picture of underlying inflation trends, since it looks at what's happening to wholesale prices.
Jay Meagrow, vice president of trading at
McDonald
, said that "the core number looked OK, but for the first time, it may not have as big an effect as it usually does."
He said the information is secondary to what's on everybody's minds, and with every news report it's starting to sound like we're still not going to know today who the new president will be. That waiting in limbo will keep the market in flux again today.
Still, there was plenty of non-election news to move the markets today.
Dell
(DELL) - Get Dell Technologies Inc. Class C Report
lately was down 9.7% ahead of its post-close earnings announcement.
TheStreet.com
wrote about what investors are hoping for from Dell in a
separate story. And we recently took a look at how
third-quarter earnings have shaken out.
Dell and its box-maker cohorts continued the slide that started yesterday. The
Philadelphia Stock Exchange Computer Box Maker Index
lately was 4.2% lower.
IBM
(IBM) - Get International Business Machines Corporation Report
, down 1.3%, was helping to keep the boxmakers in negative territory after it announced in a post-close
conference call yesterday that wide availability of its newest mainframe computer would be delayed until next year. The computers had been expected to ship in mid-December, but Big Blue said it wouldn't have the supply to satisfy consumer demand in the fourth quarter.
The company declined to talk about its fourth-quarter results. It did say that a shortage of ceramic packaging, which hurt IBM's third-quarter sales, would continue through the end of the year.
British Telecom
(BTY)
was pulling down telcos. Investors weren't happy with the company's restructuring plans.
AT&T
was down 3.1% to $21.31 in sympathy.
Yesterday,
Juniper Networks
(JNPR) - Get Juniper Networks Inc. Report
fell on concerns about a slowdown in spending by telecom service providers. The stock kept on its downward spiral and lately was 7.8% lower.
The
S&P Retail Index
was falling 3.7%.
Best Buy
(BBY) - Get Best Buy Co. Inc. Report
was the sector's biggest drag. It plummeted this morning after issuing an earnings warning because of a slower economy and lower gross margins. The retailer said its third-quarter earnings are expected to come in at 27 cents a share and fourth-quarter earnings are predicted to be 90 cents.
First Call/Thomson Financial
estimates put Best Buy's third quarter at 44 cents and fourth quarter at $1.02. The stock recently was down a whopping 37.8%.
Other retailers reporting sluggish sales today were
Gap
(GPS) - Get Gap Inc. (The) Report
,
Lands' End
(LE) - Get Lands' End Inc. Report
and
Kmart
(KM)
.
Meanwhile, it was reported last night that
Lehman Brothers
(LEH)
may be considering a bid for
Bear Stearns
(BSC)
. The interest in merging the two financial giants is believed to be at a very early stage, and observers say there is only a slim chance of an offer, according to a report in
The Financial Times
. Lehman was down 3.7%, while Bear Stearns was up 3.1%.
According to the report, analysts say Lehman is attracted by Bear Stearns' clearing business (the back office side of trading). However, analysts also speculate that Lehman may be put off by cultural issues and by the high price being demanded by Bear's management, the newspaper reported.
If a deal does happen, it would continue the consolidation trend in the financial services sector. Just this week,
J.P. Morgan
(JPM) - Get JP Morgan Chase & Co. Report
and
Chase
(CMB)
got the nod from antitrust regulators that their merger deal could go through.
The Wonderful World of Downgrades
The Dow was getting kicked lower by
Disney
(DIS) - Get The Walt Disney Company Report
, which reported better-than-expected earnings, but then warned that advertising would be weak through the remainder of the year. The stock was down 16% and taking off 36 points from the index. Also,
Merrill Lynch
cut Disney to near-term neutral from accumulate.
Back to top
Market Internals
Breadth was terrible on moderate volume.
New York Stock Exchange: 916 advancers, 1,714 decliners, 595 million shares. 47 new 52-week highs, 37 new lows.
Nasdaq Stock Market: 1,030 advancers, 2,536 decliners, 1.033 billion shares. 24 new highs, 140 new lows.
Back to top
Most Active Stocks
NYSE Most Actives
Nasdaq Most Actives
Back to top
Sector Watch
Universal suffering in the sectors today, with barely any green on the screen.
The
American Stock Exchange Tobacco Index
was down 2.7%.
Philip Morris
(MO) - Get Altria Group Inc. Report
was 5.6% lower, while
RJ Reynolds
(RJR)
was off 6.9%.
Also down today was the
Philadelphia Stock Exchange Oil Service Index
. It was losing 3.2%, after an initial post-election bounce.
TheStreet.com Internet Sector
index was getting the squeeze. It lately was dropping 9.2%, with killer drag from component
CMGI
(CMGI)
. CMGI was down 18.9% after online marketing company
Engage
(ENGA)
, which is majority owned by CMGI, warned that its first-quarter revenue would be lower than expected.
Back to top
Bonds/Economy
Bonds continue to shrug off the presidential impasse and took some encouragement from the latest price data. A weak start in the equities market was also helpful to the fixed-income sector.
The benchmark 10-year
Treasury note was lately up 12/32 at 99 18/32, to yield 5.81%.
The 30-year
Treasury bond was at 105 21/32, up 14/32, to yield 5.845%.
The
Producer Price Index
(
definition |
chart |
) for October rose 0.4% after an 0.9% rise in September, An increase of 0.1% had been expected.
The core rate---which cuts out food and energy costs--- fell by 0.1% after a rise of 0.3% in the prior month. Overall, the index is seen as benign, despite the tick up in the headline rate.
Initial jobless claims
(
definition |
chart |
source
) for the week ended Nov. 4 rose sharply to 344,000 from 309,000 last week, well above expectation. The claims number is the highest since Jan. 9, 1999, and the four-week average for initial claims has now moved up to 317,250 from 303,250 on Oct. 14.
Back to top
International
European markets were lower at the end of the day. The
CAC-40
in Paris was off 64.88 to 6271.15. The still-trading
DAX
in Germany was down 24.43 to 6984.21. In London, the
FTSE
was 35.20 to 6984.21.
The euro,
ever embattled, was trading higher at 0.8574.
Asian markets ended mixed Thursday, as the outcome of the U.S. presidential election continued to keep investors on the sidelines. Technology shares throughout the region, however, were lower on the heels of the Nasdaq drop Wednesday.
In Tokyo, the
Nikkei 225
closed down 339.6 points, or 2.2%, at 15,060.1. Japanese technology shares from electronics giants to chipmakers were lower.
Sony
, for example, fell 170 yen, or 1.8%, to 9,060 ($84.42) and NEC
(NIPNY)
fell 50 yen, or 2.1%, to 2,290.
The dollar lately traded at 107.48 yen.
Hong Kong's
Hang Seng
index also ended in the red, falling 149.3, or 1%, to 15,504.8.
China Mobile
(CHL) - Get China Mobile Ltd. Report
fell HK$1.75, or 3.3%, to 50.75 ($6.51) after its rating was downgraded to a sell by
Credit Suisse First Boston
.
South Korea's
Kospi
rose 2.6, or 0.5%, to 560.7, as financial shares led the broader market higher.
Back to top