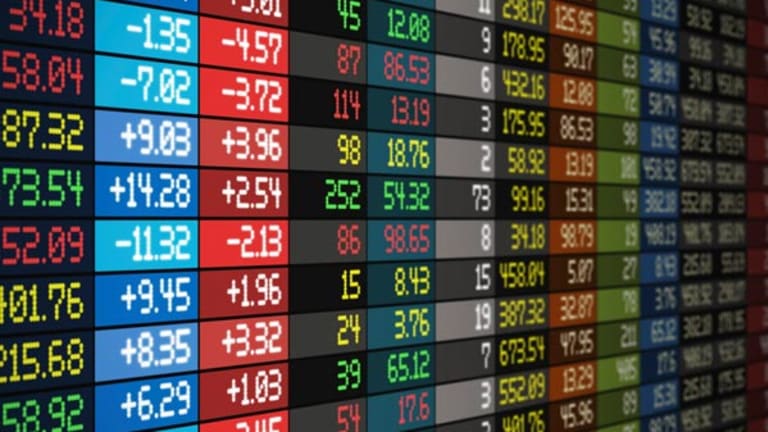 Today's Market: Cisco Warning Drags on Stocks
Rash of earnings continues --with bad news from Eastman Kodak, good news from Johnson & Johnson. Texas Instruments, Ericsson expected to cut jobs.
(Updated from 9:30 a.m. ET)
Investors were selling stocks at this morning's open. Following an earnings warning from networking king
Cisco
(CSCO)
-- and ahead of another monster mash of earnings news and rush of economic data this morning -- who could blame them?
But an early selloff shouldn't get very far. Traders said the numbers at Cisco were pretty much expected. Cisco was off 7.7% to $15.88.
A few
Dow bellwethers reported strong earnings --
Johnson & Johnson
(JNJ)
and tobacco heavyweight
Philip Morris
(MO)
. Both were rising in early trading. The Dow, however, was off 51 to 10,106. The
Nasdaq was losing 39 to 1871.
"We're not going to go very far down, but we could see a lot of frenzied trading out there as investors react to all the numbers coming out," said
Kaufman Bros.
trader Scott Curtis, referring to earnings reports and economic data.
The battle over when the earnings picture will turn around probably won't be settled until the market wades through some more earnings reports this week and next. "It will take another few weeks of earnings season for us to really know where we stand," Curtis said.
After the closing bell yesterday, Cisco said its fiscal third-quarter earnings
will miss analysts' expectations and said it will cut a total of 8,500 jobs. The networking king, whose third quarter ends this month, will also write down an astonishing $2.5 billion worth of parts, a sum equal to the inventory the networker was carrying at the end of last year.
Still, analysts this morning sang a familiar tune. With this warning, they said, Cisco may finally have put the worst news behind it. Things can only get better, said
Goldman Sachs
,
Lehman Brothers
,
W.R. Hambrecht
and
Credit Suisse First Boston
.
A similar call on chip stocks early last week helped propel a four-day rally in tech stocks. But a contrary call on seminconductors out of
Morgan Stanley
yesterday deflated some of those gains. The Nasdaq fell 2.6% and the
S&P 500 slipped 0.3%. But the Dow managed to squeeze out a 0.3% gain.
Today's earnings lineup is formidable, with a motley crue of blue-chips reporting, including beleaguered chipmaker
Intel
(INTC)
, photography giant
Eastman Kodak
undefined
and industrial machinery giant
Caterpillar
(CAT)
.
So far, the news is mixed. Kodak got the earnings day off to a negative start, saying profits fell sharply and it would have to cut about 3,500 jobs. Caterpillar missed estimates by a penny with 47 cents per share, while revenues were down 2% to $4.81 billion. But Johnson & Johnson and Philip Morris had good news. Johnson & Johnson reported profits that were up 14% on the year to $1.06 a share, beating analyst estimates by 2 cents. Philip Morris beat first quarter estimates by a penny with 95 cents per share, while revenues were up 10.8% to $22.4 billion.
Wall Street also has to contend with whirlwind of economic reports this morning. It has been watching economic data closely as it tries to gauge whether the economy is already in or possibly headed for a recession. The
consumer price index released this morning showed prices rose slightly in March. The index gained 0.1% last month, in line with expectations of economists polled by Reuters.
The CPI, a key inflation gauge, measures the change in cost of a representative basket of goods and services such as food, energy, housing and transportation. Today's report reaffirms the belief that inflation is not an important concern as the economy slows.
March
industrial production and capacity utilization numbers, released at 9:15 a.m. ET., showed that production rose 0.4%. It was expected to fall 0.1%. This is the first increase since September. Excluding cars and parts, industrial output in March was unchanged compared to February. It measures the change in production levels at factories, utilities and mines nationwide.
Just last week, investors were thinking that all the bad news that's been crippling stocks might be behind us. But yesterday, analysts said there's no sign of improvement in corporate fundamentals.
Morgan Stanley's
Mark Edelstone scaled back his 2001 and 2002 earnings outlook for Intel, citing weak demand from communications companies. Edelstone also cut estimates for several communications-chip makers. And
J.P. Morgan
cut its earnings estimates on
IBM
(IBM)
and
Sun Microsystems
(SUNW)
, noting there is no indication of marked improvement in the near-term outlook for information-technology spending.
Back to top
Bonds/Economy
The treasury market was slightly higher this morning as equities were hit with some selling. The benchmark 10-year
Treasury note was lately up 5/32 at 98 7/32, yielding 5.233%.
Treasury prices fell for a fifth-straight day yesterday, despite general weakness in stocks.
Back to top
International
Just back from the Easter holiday , European investors were selling off stocks, but earlier weakness had faded some. Still, Cisco's earnings warning put pressure on telecom stocks there, and the major indices were in the red by late morning. London's
FTSE 100
was lately down 64.9 to 5701.7. The Paris
CAC 40
was sliding 103.8, or 1.9%, to 5268.9, and Frankfurt's
Xetra Dax
was lately down 124.5, or 2.1%, to 5877.8.
The FTSE was earlier losing 99.4 points, the Paris
CAC 40
was earlier off 130.9, and Frankfurt's
Xetra Dax
was earlier down 149.2
The euro was lately trading at $0.8783.
Cisco also put a dent in Asian telecom stocks overnight. Returning from Easter holiday Tuesday, Hong Kong investors spun the
Hang Seng
2.95% lower, or 383 points, to 12,606.5. Tokyo's key
Nikkei 225
fell for a second straight day this week, closing down 1.42%, or 187.8, to 13,067.
The dollar was trading at 123.9 yen.
Back to top