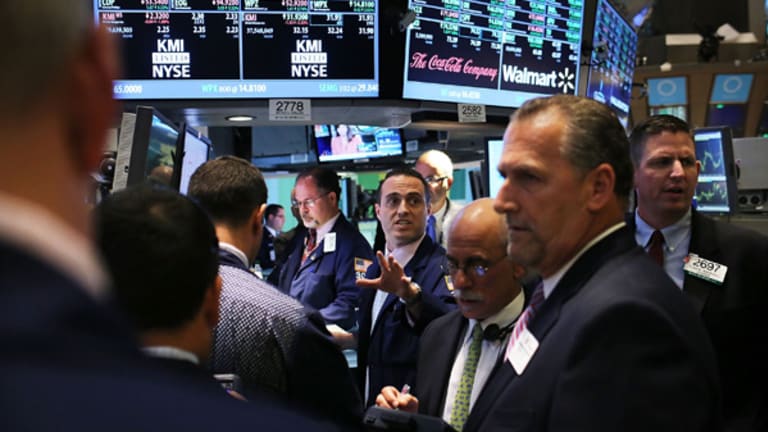 Today's Market: Broad Market Bends Under Weight of Earnings Worries
Apple's warning has put an ugly pall over the end of the week, as fears of earnings season grow.
The end of the third quarter is just a few hours away, and for most money managers, the period will not be missed. The culprit for today's misery is
Apple
(AAPL) - Get Apple Inc. (AAPL) Report
; the computer maker warned of a significant slowdown in third quarter earnings, and the shares have lost half their value.
The fundamental focus has shifted dramatically in the last few weeks, as high-profile companies have warned of earnings shortfalls due to increased fuel costs and diminished demand. The major indices, perhaps with the Olympics in mind, are doing their best "agony of defeat" impression, with the
Dow Jones Industrial Average losing 98 to 10,726. The
S&P 500 was off 10 to 1448, and the
Nasdaq Composite Index dropped 64 to 3715. The
Russell 2000 dropped 3 to 521.
"The macro outlook continues to have investors pinned down," said Jon Olesky, head of block trading at
Morgan Stanley Dean Witter
. "People are nervous as can be that there's more and more evidence that the economy is slowing at an alarming rate."
Apple, the most actively traded stock on the
Nasdaq Stock Market
, was lately down $27.56, or 51.5%, to $25.94, cutting the company's former market cap of $17.4 billion in half. Its price-to-earnings ratio has dropped to 12.8, comparable to your average smelly industrial company like
Alcoa
or
Caterpillar
(CAT) - Get Caterpillar Inc. Report
.
Computer stocks were taking it hard today, although the losses are most significant in Apple and
Gateway
(GTW)
. Unlike other box makers, which use
Microsoft
(MSFT) - Get Microsoft Corporation (MSFT) Report
software, Apple is kind of an entity to itself, some
contend. However, a slowdown in revenue can't be good for other PC makers, as
IBM
(IBM) - Get International Business Machines (IBM) Report
was downgraded several weeks ago on demand-related issues.
Dell
(DELL) - Get Dell Technologies Inc Class C Report
was lately down 6.9% and Gateway lost 13.1%.
IBM's losses caused 35 points of negative drag on the Dow, and
Hewlett-Packard
(HWP)
was knocking it down 59 points.
It's hard to dismiss the various earnings warnings as company- or issue-specific problems like higher fuel costs, problems with a currency, or bad weather -- which it seemed investors were doing a couple weeks ago. Apple plainly stated that it saw significant slowing of demand in September, similar to comments made by
Eastman Kodak
(EK)
a few days ago.
"It seems the magnitude of shortfall came in September, and that's what Kodak alluded to," said Olesky. "To a degree, this slowdown stuff seems to be accelerating."
United Airlines
parent
UAL
(UAL) - Get United Airlines Holdings, Inc. Report
also issued an earnings warning today, blaming revenue shortfalls on fuel costs, labor issues, and flight delays (something more than a few people are familiar with). United lost 5.7%.
Following warnings from
McDonald's
(MCD) - Get McDonald's Corporation (MCD) Report
,
Intel
(INTC) - Get Intel Corporation (INTC) Report
, and
Gillette
(G) - Get Genpact Limited Report
, the environment is gloomy right now.
The
Federal Reserve's efforts to slow the economy no longer exist in a vacuum, as the tightening of credit has cut off demand for products.
CNet News.com
reported today that Intel is delaying delivery of its Pentium 4 processors, which only enhances that thesis. Intel was down 5.6%.
"The market has conditioned itself for these companies to be gangbusters all the time, both in earnings growth and performance," said Brian Belski, market strategist at
U.S. Bancorp Piper Jaffray
. "We need to realize that's not reality."
The negative action will probably magnify fund managers' desire to sell losers out of their portfolio by the end of the day in an effort to make their quarter-end figures look as good as possible. Yesterday's rebound was seen as an example of the gamesmanship that goes on during quarter-end
window dressing, when portfolio managers try to prop up various stocks. But today, they're more focused on dumping losers.
Market Internals
Breadth was negative on moderate volume.
New York Stock Exchange: 1,375 advancers, 1,310 decliners, 544 million shares. 102 new 52-week highs, 41 new lows.
Nasdaq Stock Market: 1,513 advancers, 2,261 decliners, 967 million shares. 86 new highs, 119 new lows.
Back to top
Most Active Stocks
NYSE Most Actives
Nasdaq Most Actives
Apple: 92.5 million shares. Intel: 39.2 million shares. Dell: 32.2 million shares.
Back to top
Sector Watch
The seesaw of
money from tech to drugs that's persisted through most of the year continues today, as investors dump technology stocks in favor of the defensive growth stocks, drugs. The
American Stock Exchange Pharmaceutical Index
is lately up 1.1%, led by a 2.1% gain in Dow component
Merck
(MRK) - Get Merck & Co., Inc. (MRK) Report
.
Also moving up today are the tobacco stocks; the
Amex Tobacco Index
rose 1.5%.
Fiber optics stocks are among the few technology names scoring well, as
Corning
(GLW) - Get Corning Inc Report
gained 2.4%.
Back to top
Bonds/Economy
Treasuries are stronger thanks to slumping stocks and the calendar, which traditionally favors the Treasury market on the last business day of the quarter. Pressure to own safe, liquid assets for appearance's sake often prompts buying of Treasuries by portfolio managers who report their holdings on the last day of the quarter, bond market analysts say.
The day's most important economic indicator, the
Chicago Purchasing Managers' Index
(
definition |
chart ), was stronger than expected. It rose to 51.4 in September from 46.5 in August, indicating renewed expansion in the manufacturing sector.
The benchmark 10-year
Treasury note lately was up 9/32 at 99 23/32, dropping its yield to 5.787%.
Back to top
International
European markets were generally weak. In London, the
FTSE 100
was off 30.1 to 6294.2. Across the channel, the
CAC 40
in Paris was 44.40 lower to 6266.63, and the
Xetra Dax
in Frankfurt lost 57.01 to 6775.75.
Asian markets jumped on Friday as U.S. markets recovered overnight, but most traders are viewing the bounce as a one-time event.
In Japan, local fund managers buying selected tech shares before the close of the fiscal first-half Sept. 30 helped the
Nikkei 225
index rise 120.30 to 15,747.26.
Hong Kong's
Hang Seng
index bounced 233.23, or 1.5%, to 15,648.98 as property and banks shares rallied.
Back to top