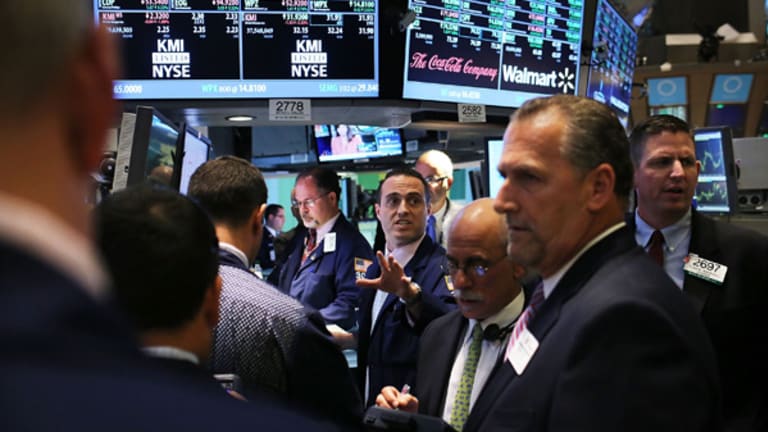 Tech investors are trying, yet again, to laugh in the face of earnings warnings.
Parts of the market are taking their requisite pound of flesh from those unfortunate souls that dared modify their outlook or otherwise say something depressing. But the market's generally improving attitude means investors are trying not to let the bad news spread to the entire technology sector. Still, the blue-chip
Dow Jones Industrial Average is weakening as the weekend grows closer.
PC makers
Hewlett-Packard
(HWP)
and
Gateway
(GTW)
, both of which issued earnings warnings yesterday, were getting taken down, to be sure. H-P was losing 4.6% to $30.94 and Gateway lately dropped 10.5% to $20.51.
The
Philadelphia Stock Exchange Computer Box Maker Index
, which tracks the computer sector, was down 2.6%.
B2B company
Ariba
(ARBA)
, which beat expectations but was hit with downgrades, was off 18.7%. The B2B company reported earnings of 5 cents a share for the quarter, besting expectations for earnings of 2 cents a share. In a commen today,
ABN Amro
acknowledged the quarter, but said "we are concerned with a perceived slowdown in sequential revenue growth when deferred revenue is taken into account." Sequential revenue growth (or quarter-over-quarter) increased 26%, slower than in previous quarters.
The tech-heavy
Nasdaq was over the map today, lately trading slightly lower. And pockets of the tech market were weakening as the lunch hour wore on around Wall Street. The
Philadelphia Stock Exchange Semiconductor Index
, which tracks the chip sector, was lately 2.6% lower. Chip companies, which make the brains that power computers, have been on a wild ride lower as PC sales have slowed.
Market observers, however, have been impressed with the steady improvement in market internals and the methodical, if aggressive, rotation from defensive stocks into a variety of growth stocks. Maybe it's a broken record, but sentiment has been modified by the
Federal Reserve's interest rate cut undertaken early last week. So far, investor psyche has proven immune to the day-to-day reports of companies lowering future outlook or missing on earnings.
"The market's inability to sell off on news from
Cisco
(CSCO) - Get Cisco Systems, Inc. Report
,
Motorola
(MOT)
and
Yahoo!
(YHOO)
shows it's obvious that the psychological outlook has changed 180 degrees," said Paul Cherney, market analyst at
S&P MarketScope
. And that's what's happened in the last few days of trading. "If those headlines came out six weeks ago we would have cratered."
Remember when
Intel
(INTC) - Get Intel Corporation (INTC) Report
sunk the market several months ago with an early warning of a slowdown?
Internet stocks are trading higher, along with retail and biotechnology companies. Many more stocks are hitting 52-week highs compared to those hitting new lows.
Cablevision Systems
(CVC)
hit a new high today, continuing a trend of strong performance among media stocks -- on this, the day after the Federal Communications Commission gave the final government okay for the merger of
America Online
(AOL)
and
Time Warner
into AOL Time Warner.
Cablevision was lately up 0.7%.
Viacom
(VIA) - Get Viacom Inc. Class A Report
is also up, along with
Disney
(DIS) - Get Walt Disney Company Report
.
The one area that's been largely ignored in this week's rally has been cyclicals. Those stocks, which move up and down in synch with expectations for economic growth, are losing ground today, and have been all week after performing reasonably well last week.
Lately the
Morgan Stanley Cyclical Index
was down 2.1%. Among the cyclicals having a hard time are
United Technologies
undefined
, lately down 3.9%, and
General Electric
(GE) - Get General Electric Company (GE) Report
, which was going nowhere.
The recent pattern among investors seems to represent a desire to get positioned into stocks that will benefit from increased economic growth. That means they're once again staying away from defensive stocks like insurance and tobacco where they seek shelter when tech looks attractive. The
S&P Insurance Index
was lately down 3.6% while the
S&P Tobacco Index
was edging lower.
Market Internals
Breadth was strong on the Nasdaq on heavy volume; middling on the NYSE, but also on heavy volume.
New York Stock Exchange: 1,282 advancers, 1,459 decliners, 744.9 million shares. 69 new 52-week highs, 4 new lows.
Nasdaq Stock Market: 2,149 advancers, 1,443 decliners, 1.6 billion shares. 47 new highs, 7 new lows.
Back to top
Most Active Stocks
NYSE Most Actives
Nasdaq Most Actives
Back to top
Sector Watch
Energy stocks were falling after crude oil prices slipped lower this morning. Prices rose earlier this week on expectations that OPEC, the organization of oil exporting countries, will cut production when it meets next week. But most market-watchers felt the projected production cuts of 1.5 million barrels a day have already been accounted for in crude oil prices.
The
American Stock Exchange Natural Gas Index
was down 1.4% and the
American Stock Exchange Oil & Gas Index
was 0.6% lower.
TheStreet.com Internet Sector
index, aka
the DOT, was shining, lately up 3.7%. Components
Amazon.com
(AMZN) - Get Amazon.com, Inc. Report
and
Yahoo!
(YHOO)
were recovering some of what they've lost this week after Yahoo!'s disappointing outlook.
Back to top
Bonds/Economy
Treasuries are trading lower, sharply so in the long-term market. The latest economic reports have traders wondering if the recent dire predictions of the economy are accurate or not. Yields on the 10-year note and the long bond are climbing.
Analysts are increasingly concerned about how the
Federal Reserve will react to the most recent information on the economy. The retail sales report for December, though hardly upbeat, is not as weak as anticipated. And prices paid by producers last month were unchanged. This suggests the economy is slowing, but not screeching to a halt -- and inflationary pressure is still around. That could be enough reason for the Fed to make sure it doesn't overreact when making its next interest rate cut. Current expectations of a month-end half percentage point cut in the fed funds rate are now about half of where they stood last week.
The benchmark 10-year
Treasury notelately was down 31/32 to 103 23/32, raising its yield to 5.250%.
In economic news, the much awaited
retail sales
(
definition |
chart |
source
) report showed a rise of 0.1% in December. This is contrary to the forecast of economists polled by
Reuters
, who expected a decline of 0.4%. The latest numbers may check the current talk about economic collapse. But keep in mind that this advance is slight and follows successive drops of 0.5% and 0.1% in November and October, respectively. Moreover, new car sales, which rose a strong 0.3%, helped its progress.
The
Producer Price Index
(
definition |
chart |
), which measures the prices paid by producers in the overall production process -- a key indicator of inflation -- remained unchanged for December, after having risen 0.1% the previous month. But the core PPI, which excludes the much more changeable food and energy components, rose by 0.3%. That's a substantial increase. Inflation may therefore remain an important consideration in the ongoing monetary policy.
Back to top
International
European stocks are moving strong near the close. Paris'
CAC-40
gained 122.93 to 5825.71. Frankfurt's
Xetra Dax
rose 59.20 to 6524.41. London's
FTSE 100
rose 49 to 6163.9.
Asian stocks were strong today. Hong Kong's
Hang Seng
rose 204.65 to 15295.42, while Tokyo's
Nikkei 225
gained 146.67 to 13347.74.
For more on the world stock markets, check out TheStreet.com's
global indices information.
Back to top