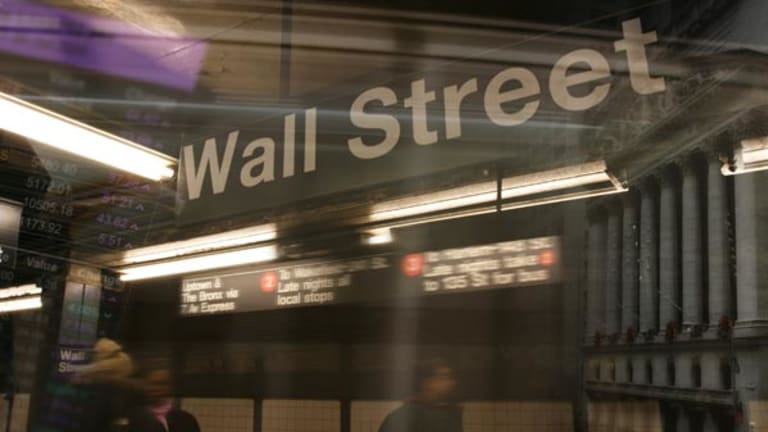 Today's Market: Blue-Chips End Lower; Tech Stocks Little Changed
<LI>DLJ jumps on CSFB deal.</LI> <LI>Whirlpool slips.</LI> <LI>Chip stocks have a hard day.</LI>
<LI>DLJ jumps on CSFB deal.</LI> <LI>Whirlpool slips.</LI> <LI>Chip stocks have a hard day.</LI>
(
Updated from 4:12 p.m. EDT
)
Blue-chips stumbled into the close while tech stocks managed to climb higher.
In general there was a lot of red but the
Dow Jones Industrial Average took a lot of the heat, dropping 112.09, or 1%, to 11,103.01. The
Nasdaq Composite rose 21.78, or 0.5%, to 4103.95. The
S&P 500 fell 7.23, or 0.5%, to 1,502.61. The
Russell 2000 rose 2.7, or 0.5%, to 532.33.
"We're basically seeing some good old-fashioned profit-taking in stocks like
General Electric
(GE) - Get Report
and
IBM
(IBM) - Get Report
and some of that money is going to some of the beaten-up tech companies," said Jeff Ament, asociate vice president and investment officer at
Dain Rauscher Wessels
, noting the bounce in net bellwether
Amazon.com
(AMZN) - Get Report
which was helped along by positive comments from
Goldman Sachs
.
Indeed Amazon.com led the net sector higher with
TheStreet.com Internet Sector
index tacked on 44.11, or 5.5%, to 843.35.
And, aside from the normal sector rotation, "I think we had a hell of a month," said Ament noting that the Dow is up
6.6% for the month. "Most people are just taking profits and closing down for the week."
On the upside, many brokerages were showing some muscle a day after yesterday's rumors of a
Donaldson Lufkin & Jenrette
(DLJ)
proved true. DLJ rose 5.2%. The
American Stock Exchange Broker/Dealer Index
gained 8.2% to 670.99, after hitting an intraday record of 679.87.
Stocks viewed as potential takeover plays --
J.P. Morgan
(JPM) - Get Report
and
Bear Stearns
(BSC)
were also on the move. Insurance stocks were receiving a bit of takeover sympathy buying, as the
S&P Insurance Index
gained 2.1%.
Headlining today's news was
Credit Suisse First Boston's
announcement that it would purchase DLJ for $90 a share, or $11.5 billion. The merger calls for DLJ to be transferred from Paris-based
AXA
(AXA)
to
Credit Suisse Group
, parent of CSFB. The formal announcement was made earlier today.
TheStreet.com
wrote about
the deal in a separate story.
Despite the understandable momentum in financial stocks today, Harry Laubscher, market analyst at
Tucker Anthony
sees them along with insurance and utility stocks as overbought. "We're not very keen about closing a position entirely, but a large number of them are overvalued at the present time and will be selling for less," probably by the end of the year. "We're telling people we would consider selling calls or buying a put to limit the loss potential."
By the same token, Laubscher thinks some sectors are oversold right now, namely telecom stocks such as
AT&T
(T) - Get Report
and
Lucent
(LU)
. Laubscher also thinks investors might want to take advantage of the price of
Ford
(F) - Get Report
which has slipped 12.8% since August 7 in the wake of news about a tire recall.
"From our standpoint the market is very confusing. It's supposed to be a monthly strength cycle, its usually strong for the last days of the month and the first few days of the next one. From our technical standpoint, the market is going to get a sell signal," said Laubscher.
Many of the Dow stocks were weak today, most notably
IBM
(IBM) - Get Report
, which stripped 16 points off the average.
On the whole today, market activity seemed focused on specific stocks, not sectors. The exception was the chip sector. The
Philadelphia Stock Exchange Semiconductor Index
fell 1.2%, following movement down in Japanese chip-makers. Those stocks dropped during Tokyo trading on concerns of lower prices on DRAM, which is manufactured by the Japanese chip-makers. DRAM, or dynamic random access memory, is a commodity, and when prices fall, it hurts the stocks of companies that make it.
However, not many U.S. chip-makers concentrate on making DRAM, so the weakness seemed more a knee-jerk response to the Japanese action.
Whirlpool
(WHR) - Get Report
was unchanged at 37 7/8 despite issuing a profit warning this morning, saying that earnings for the third and fourth quarters would fall short of Wall Street estimates due to
Circuit City's
(CC) - Get Report
decision to stop selling major appliances.
TheStreet.com/NYTimes.com
joint newsroom covered
Whirlpool's woes in a separate story.
This morning, Merrill Lynch raised its price target on shares of optical giant
Corning
(GLW) - Get Report
from $375 to $400.
Standard & Poor's
announced it would increase the number of shares of Corning in the S&P 500 due to some of the company's recent acquisitions. Corning popped 4.8%, to $324.50 after hitting an intraday record of 327. The closing price marked a new 52-week high.
Internet infrastructure firm
Juniper Networks
(JNPR) - Get Report
jumped 4% on news that the company would join the
Nasdaq 100 Index
at the beginning of trading on Sept. 7. It will replace
Visx
(VISX)
, which is moving to the
New York Stock Exchange under the symbol "EYE". Visx shares fell 1.1%
Back to top
Market Internals
Breadth was narrowly mixed on moderate volume.
New York Stock Exchange: 1,401 advancers, 1,420 decliners, 817 million shares. 93 new 52-week highs, 34 new lows.
Nasdaq Stock Market: 2,143 advancers, 1,901 decliners, 1.507 billion shares. 100 new highs, 47 new lows.
Back to top
Most Active Stocks
NYSE Most Actives
Lucent (LU) : 17.8 million shares. AT&T (T) - Get Report: 16.8 million shares. Axa Financial (AXF) : 10 million shares.
Nasdaq Most Actives
Microsoft (MSFT) - Get Report: 21.6 million shares. Commerce One (CMRC) : 20.8 million shares. JDS Uniphase (JDSU) : 20.2 million shares.
Back to top
Sector Watch
The
Philadelphia Oil Service Sector Index
was off 1%, including losses in
Halliburton
(HAL) - Get Report
, which lost 1.4%, and
Schlumberger
(SLB) - Get Report
, which slipped 1.5%.
Airline stocks, which dropped yesterday, weren't having an easy time of it today either. The
American Stock Exchange Airline Index
lost 0.5%.
Food and beverage stocks were mostly lower, including
Tricon Global Restaurants
(YUM) - Get Report
, which lost 1.1%, and Dow component
Coca-Cola
(KO) - Get Report
, off 3.7%.
Back to top
Bonds/Economy
Treasuries are slightly higher on little news, lifting yields for the third day in a row. Bond traders are counting down to the release of key economic data Friday -- the
employment report and the
Purchasing Managers' Index, both for August.
In the only economic news of the day, the
index of leading economic indicators
(
definition |
chart |
) slid 0.1% in July, its third decline in a row. The
large decline in manufacturers' new orders in July was principally responsible.
The benchmark 10-year Treasury note was lately unchanged at 99 19/32, its yield at 5.81%.
Back to top
International
In overseas trading, major
European indices were mixed. Germany's
Xetra Dax
was down 97.77, or 1.4%, to 7196.63. France's
CAC 40
ended up 0.63 to 6634.62, while the U.K.'s
FTSE 100
closed up 28.8 to 6615.1.
The euro was lately trading at $0.8924.
Japanese large-cap technology and electronics shares took a beating today. And a weaker-than-expected industrial production figure also hurt trading. Japan's
Nikkei 225
fell 240.08, or 1.4%, to 16901.67 overnight.
The greenback was lately trading at 106.43 yen.
Hong Kong's
Hang Seng
lost 144.23 to close at 17095.88. See today's
Asian Markets Update for more.
Back to top