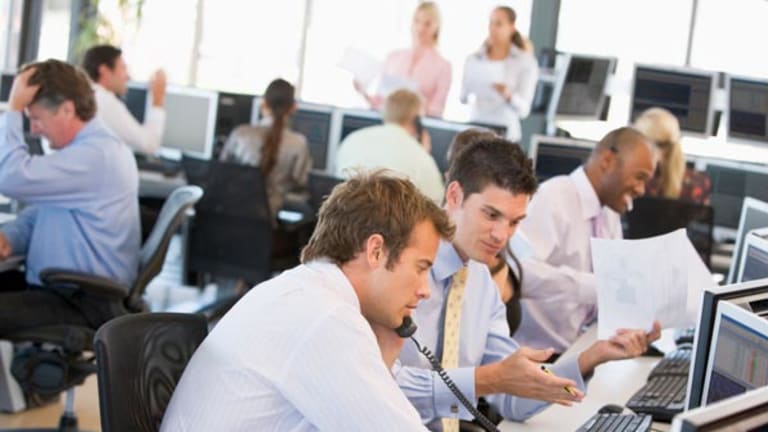 Publish date:
Today's Market: Blue-Chips Bob and Weave Their Way Through a Tough Bout; Tech TKO'd
With summertime a not-so-distant memory, let's get ready to rumble!
With summertime a not-so-distant memory, let's get ready to rumble!
A one-two punch from the research corner of the ring knocked down major indices. Blue-chips bounced back, but the blow left tech stocks down for the count.
Investors who returned from the holiday weekend expecting a quiet day, instead watched the fallout in the tech sector after an influential analyst made negative comments about chip giant
Intel
(INTC) - Get Report
. The stock, one of the
Nasdaq Composite's largest, sank 6.3% to $69.25 and accounted for a decent portion of the Comp's drop. It finished down 91.15, or 2.2%, to 4143.18.
"Intel is the catalyst for today. The
S&P 500 being down 14 points, that's just a little bit skewed by the large-cap weighting of Intel," said Howard Barlow, vice president of
WHB/Wolverine Asset Management
in Stamford, Conn. "I haven't seen Intel down $5 for many, many quarters now," he added.
Intel is also a component of the
Dow Jones Industrial Average and weighed the average down by almost 28 points. The drop was offset by gains in a broad range of components including
American Express
(AXP) - Get Report
, up 2.3%;
Coca-Cola
(KO) - Get Report
, up 3.3%; and
Home Depot
(HD) - Get Report
, up 4.5%.
The S&P 500 fell 13.69, or 0.9%, to 1,507.08 while the
Russell 2000 lost 2.89, or 0.5%, to 539.02.
Some market observers viewed today's downside as a natural outcome of the market's recent run higher. "I think this is in the category of healthy profit-taking, consolidation -- whatever you want to call it. It's all pretty innocent," said John Olesky, head of block trading at
Morgan Stanley Dean Witter
. "If, by Thursday of this week, the market doesn't feel right, that's more of an issue. Then you have more of a question mark. What you want to see this week is validation of last week's action."
The Trouble With Drugs
Another source of pain for investors today was the pharmaceutical sector, smarting on news that
Banc of America Securities
analyst Leonard Yaffe cut the firm's recommended weighting of drug stocks to a market weight, from over weight, saying it believes growth of the U.S. drug industry could slow to an 8% to 10% rate during 2001 to 2005. Yaffe said he believes the initial phase of the slowdown, from 15%-18%, to 12%-14%, is already occurring and that additional pressures should come from the upcoming patent expiration cycle and the prospect of generic drug substitution. The
American Stock Exchange Pharmaceutical Index
fell 2.7%.
The note pinpointed
Merck
(MRK) - Get Report
, which it said faces the greatest risk of companies looking at $34 billion in upcoming patent expirations. Merck has exposure of $7 billion, while it said
Pfizer
(PFE) - Get Report
and
Pharmacia
(PHA)
are well-insulated. Merck, also a Dow component, fell 3%.
Other group downgrades were handed out by
Deutsche Bank Alex. Brown
which cut ratings on a number of major energy companies including
Anadarko Petroleum
(APC) - Get Report
and
Burlington Resources
(BR) - Get Report
. The
American Stock Exchange Oil & Gas Index
inched up 0.5% despite the move.
Transportation stocks also moved up a notch despite a downgrade on a number of trucking and transport stocks from Morgan Stanley.
"With us, it's always stock by stock," said Barlow. "Our theme is that you have to really discriminate, because they just rotate from group to group, sometimes in the space of hours."
Market Internals
Breadth was narrowly mixed on the NYSE on light volume, while on the Nasdaq, breadth was negative on moderate volume.
New York Stock Exchange: 1,422 advancers, 1,438 decliners, 840.7 million shares. 118 new 52-week highs, 22 new lows.
Nasdaq Stock Market: 1,826 advancers, 2,227 decliners, 1.6 billion shares. 118 new highs, 60 new lows.
Back to top
Most Active Stocks
NYSE Most Actives
Pfizer: 19.2 million shares. Ford (F) - Get Report: 17.9 million shares. Lucent (LU) : 17.5 million shares.
Nasdaq Most Actives
Intel: 57.5 million shares. WorldCom (WCOM) : 53.8 million shares. Intermedia Communications (ICIX) : 32.2 million shares.
Back to top
Sector Watch
Retailers were one of the sectors moving up strongly today. The
S&P Retail Index
gained 1.8%, helped along by strong moves in
Home Depot
(HD) - Get Report
and
Wal-Mart
(WMT) - Get Report
. Other strong retailers include
Circuit City
(CC) - Get Report
and
Sears
(S) - Get Report
.
On the downside, the
Nasdaq Biotechnology Index
was in poor shape, losing 4.3%.
Back to top
Bonds/Economy
On little news and light volume, treasuries are surrendering a portion of the gains that
last week dropped most yields to their lowest levels of the year.
With no major economic releases slated for the week, bond traders are focusing on the new-issue calendar, which typically heats up in September after slowing to a crawl in the final week of August. European telecom companies are expected to issue at least $40 billion of bonds by the end of the year to finance new wireless investments. It is not yet clear how much will be offered during September. Large quantities of new corporate bonds can put pressure on Treasury bond prices because investors may sell Treasuries in order to buy the new corporate bonds.
The benchmark 10-year Treasury note fell 2/32 at 100 15/32, lifting its yield to 5.69%.
Back to top
International
The recent run-up in technology and telecom stocks came to an abrupt halt in
European markets today. Gains won in earlier trading were shed as investors engaged in some profit-taking.
The
FTSE 100
ended down 45.60 to 6752.50.
Across the channel, the
CAC 40
in Paris lost 65.57 to 6856.76, and the
Xetra Dax
in Frankfurt was 56.93 lower to 7388.63.
The euro was traded at $0.8902.
Asian markets tumbled overnight. The
Nikkei 225
index shed 235.94, or 1.4%, to close at 16,452.27.
The dollar traded at 105.78 yen.
After rising nearly 600 points over the last two sessions, Hong Kong's
Hang Seng
took a break and fell 130.95 to close at 17,595.22.
Back to top