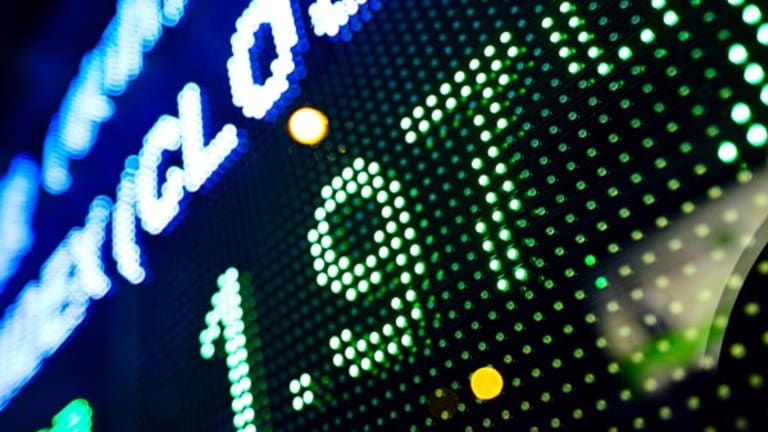 Today's Market: Big Tech Comes Storming Back and Nasdaq Gets Healthy in a Hurry
As a perfectly lousy month winds down, things are looking a lot brighter for November.
Perhaps it's true that the meek (which, in market parlance, would be those timid defensive stocks) will inherit the earth, but the strong are going to make a pretty comfortable living in the meantime. Today, technology stalwarts are racking up the gains while consumer products and utilities stocks have retreated to the background, as investors renew their interest in big technology.
The
Nasdaq Composite Index has considerable lift today, with gains apparent in most important technology sectors. Importantly, investors have returned to the most speculative technology sectors, the fiber-optic and networking names, which are the stocks counted on to deliver the most earnings growth in coming years.
Not that investors have lost their appetite for cyclicals. It seems the recent pessimism regarding a slowing economy has receded somewhat, and by that token, if growth is going to occur, well, by golly, cyclical stocks are going to benefit. So, there's reasonable strength in those sectors as well, and that's helped the broader market -- winners are ahead of losers 8-5 on the
New York Stock Exchange.
But the true story today is in technology. Networking and fiber optics stocks are leading the way, starting with some of the day's biggest gainers,
PMC-Sierra
(PMCS)
, rising 11.1% to $169.88, and
Juniper Networks
(JNPR) - Get Juniper Networks, Inc. (JNPR) Report
, gaining 10.8% to $184.50.
It's assumed some of the market's slop during September and October was related to tax-loss selling by mutual funds, when funds drop their losers stocks. Today is the end of mutual funds' fiscal year, and there's anticipation that buying interest will improve in November.
The good cheer extends to telecommunications companies like
Nokia
(NOK) - Get Nokia Oyj Sponsored ADR Report
gaining 5.5% to $41.88, as well as Internet, semiconductor and computer makers. IBM was up sharply today after announcing a 3.5 million-share
buyback. The stock was up 4.6% to $97.63.
"I think we're going to look back on this and say, this was probably one of those opportunities when you could have gotten in at a reasonable price," said Tony Cecin, manager of Nasdaq trading at
U.S. Bancorp Piper Jaffray
.
Certainly,
Cisco
(CSCO) - Get Cisco Systems, Inc. Report
is one that was viewed as attractive. The networking giant's stock bounced from yesterday's close, the lowest since December 1999, and today was up 7% to $51.44.
Of the major technology indices, the
Nasdaq Telecommunications Index
gained 4.6%, the
Philadelphia Stock Exchange Semiconductor Index
, commonly called the SOX, rose 6.3%, and the
Morgan Stanley High-Tech 35 Index
rose 4.1%. Chip-maker
Xilinx
(XLNX) - Get Xilinx, Inc. (XLNX) Report
was up 10.7% to $74 after
Merrill Lynch
added the stock to its "Focus 1" list.
Meanwhile,
Rambus
(RMBS) - Get Rambus Inc. Report
is
declining, after reports that Intel was going to stop using its DRAM chips in its
platforms.
Won't Get Fooled Again
The recent selloff in technology shares is not far from the market's mind and strategists were on the cautious side today. Nasdaq rallies in the last two months have been great opportunities to sell stock.
"I'm always looking over my shoulder at the brick to hit me in the face," said Phil Dow, director of equity strategy at
Dain Rauscher
. "I don't know if this is for real yet. I like today, but I don't have a hell of a lot of conviction."
So far, at least, this is the real deal.
The weakest Dow component is
Procter & Gamble
(PG) - Get Procter & Gamble Company Report
, slipping 7.8% to $70.88 after reporting
earnings this morning. Other consumer products stocks are similarly weak;
Colgate-Palmolive
(CL) - Get Colgate-Palmolive Company Report
was lately down 3.5% to $56.90.
Other defensive stocks, such as
Philip Morris
(MO) - Get Altria Group Inc Report
, were lower today. Big Mo lost 2.5% to $37 and the
S&P Tobacco Index
dropped 0.9%.
Market Internals
Breadth was positive on strong volume.
New York Stock Exchange: 1,652 advancers, 1,059 decliners, 684 million shares. 60 new 52-week highs, 29 new lows.
Nasdaq Stock Market: 2,421 advancers, 1,325 decliners, 1.053 billion shares. 58 new highs, 101 new lows.
Back to top
Most Active Stocks
NYSE Most Actives
Lucent (LU) : 19.3 million shares. Nortel Networks (NT) : 15.7 million shares. AT&T (T) - Get AT&T Inc. Report: 15.1 million shares.
Nasdaq Most Actives
Back to top
Sector Watch
The defensive favorites of yesterday were sagging today, with cyclicals, paper stocks and financials getting whacked.
The
Philadelphia Stock Exchange Forest & Paper Products Index
was 0.6% lower after soaring yesterday on an upgrade from
Deutsche Banc Alex. Brown
this morning.
Bowater
(BOW)
was falling 2.3%. The stock was upgraded to strong buy from buy by Deutsche yesterday.
Meanwhile, Internet stocks were having a ball.
Yahoo!
(YHOO)
gained 10.7% to $58.25, lifting
TheStreet.com Internet Sector
index to a 5.7% gain.
Back to top
Bonds/Economy
Bonds were firmer with traders hopeful that this week's economic data will show further signs of a slowing economy and provide a supportive environment for the fixed income market.
The benchmark 10-year
Treasury note is at 100 7/32, up 4/32, to yield 5.717%.
The 30-year
Treasury bondis at 107 2/32, 4/32 higher, to yield 5.75%.
New home sales
rose to a seasonally adjusted annual rate of 946,000 in September from 866,000 in August, the fastest rate of sales since February. Mortgage interest rates have been declining steadily since mid-May and stand at their lowest levels in nearly a year.
The
BTM Weekly U.S. Retail Chain Store Sales Index
(
definition |
chart ) for the week ended Oct. 28 slipped 1.2% after a decline of 0.2% in the prior week.
The
APICS Business Outlook Index
(
definition |
chart |
source
) for September rose to 53.5 from 49.3 in August.
Back to top
International
Battered tech shares were inching up in
Europe today.
The
FTSE 100
in London ended up 50 to 6438.40.
The
CAC 40
in Paris closed up 100.82 higher to 6397.66, while the
Xetra Dax
in Frankfurt was rising 125.90 to 7052.47.
The battered euro continued to rise. It was lately at 0.8495.
Most Asian
equity markets closed higher Tuesday, as investors in Japan, South Korea and Hong Kong snapped up the shares that had been sold at considerably lower levels over the past few days.
In Tokyo, the
Nikkei 225
closed up 75.0 points, or 0.5%, at 14,539.6.
In Tokyo trading, the dollar traded up 0.29 yen to 108.99 yen, and extended those gains in New York, lately traded at 109.15.
Elsewhere, South Korea's
Kospi
index climbed 9.8, or 1.9%, to 514.5 as
SK Telecom
(SKM) - Get SK Telecom Co., Ltd. Sponsored ADR Report
jumped 5.4% to 242,500 won ($212.72).
Hong Kong's
Hang Seng
index rose 95.4, or 0.6%, to 14,895.3.
Back to top
Senior markets editor Ellen Braitman chats with Christopher Edmonds, columnist for
RealMoney.com
exclusively on
TheStreet.com
at 3 p.m. EST on Wednesday, Nov. 1. Join them with your market and investment questions by logging on the home page.