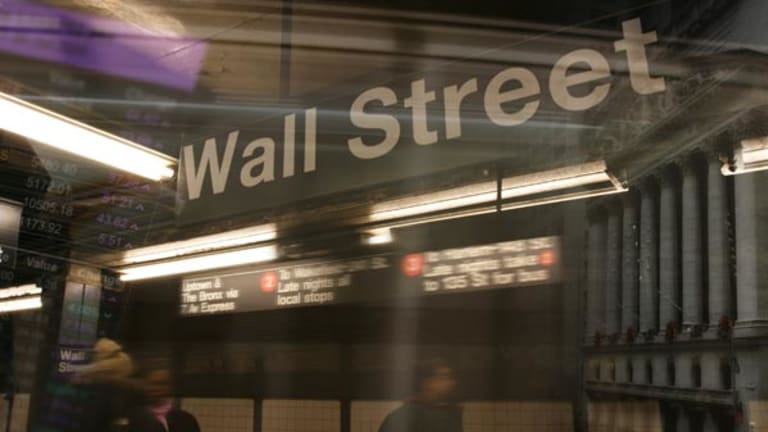 Today's Market: Bears and Bulls Throw Punches at Midday
<LI>Investors await tomorrow's Greenspan speech.</LI> <LI>JDS Uniphase drags networking stocks lower.</LI> <LI>Consumer confidence and durable goods come out worse than expected.</LI>
Wall Street seemed to gather around the ticker like children encircling a schoolyard brawl. Traders chanted "Fight! Fight! Fight!" as the bulls and bears caused a ruckus, swinging blue-chips into the green and punching tech stocks that were already beaten down. Maybe the teacher won't notice.
Thank defensives for the gains.
3M
(MMM)
and
Philip Morris
(MO)
were doing best.
With little corporate news to direct the market, the latest round of economic data continued to stymie traders who really want a rate cut before the
Federal Reserve next meets on March 20. Consumer Confidence, this morning's report showed, hit its lowest point in more than four years. And orders of durable goods, pricey stuff like jumbo jets and cars, fell more than expected in January. The economy is weak, consumers aren't happy and the markets are struggling.
TheStreet.com's
David Gaffen took a look at what the latest round of data
means for the markets.
Rumors abound that Fed chair Alan Greenspan will be saying something than he's been saying during tomorrow's reiteration of his semi-annual testimony to the House Finance Committee. What will he say? No one really knows for sure, but the speech will give markets another look into the Fed's crystal ball. And with economic forces conflicting and an utter lack of direction, traders are counting on Greenie to help show the way.
The picture is not good. Weak consumer confidence and slowing spending retard economic growth. But that impetus for the Fed to cut rates is offset by recent reports that show rising prices and stronger-than-expected economic growth. Muddied economic waters have given way to a rise in uncertainty, which markets clearly don't like.
And among corporations, there is little good news to spark investors to really move the market in any clear direction. Tech came under pressure today after some analysts said not-so-nice things.
Goldman Sachs
, for example, reduced estimates on a plethora of enterprise hardware companies, the big-guns of the tech world. Analyst Laura Conigliaro cut revenue and earnings-per-share figures on
EMC
(EMC)
,
Hewlett-Packard
undefined
,
IBM
(IBM)
,
Network Appliances
(NTAP)
,
Silicon Graphics
(SGI)
and
Storage Technology
(STK)
.
"While valuations are becoming more tempting and we are getting closer to a bottom, with revenue and EPS bias still to the downside, we see little reason to rush into these stocks immediately," she wrote in a report this morning. H-P fell 1.6%, while IBM dropped 0.7%. Both were drags on the
Dow Jones Industrial Average, which lately was firmly in positive territory.
Merrill Lynch's
technology analyst, Steve Fortuna, downgraded PC maker
Gateway
undefined
to mid-term neutral from accumulate, telling investors that more earnings revisions from the computer company would likely be forthcoming. He said that consumer demand was unlikely to rebound in the second half of the year and that management was helpless to deal with the dearth of demand.
"Also, and very importantly," Fortuna wrote, "we think there is a high likelihood that management significantly lowers its earnings per share outlook during its analyst meeting this week, well below the current $1.28 Street consensus. We are currently reviewing our fiscal 2001 EPS estimate of $1.42 pending the results of Gateway's analyst meeting." It begins tonight.
Gateway was 3.1% lower.
If market internals hold, today will be end as a very difficult day for traders. Volume is thin, so price movements can be exaggerated if a bunch of trades happen in a hurry. Losers easily beat winners on the Nasdaq Stock Market as investors ducked out of networking stocks, disk drive storage and biotechs.
Utilities and financials were getting the upside nod, but not in such great shakes that heads were turning. The
Dow Jones Utility Average
gained 0.5%.
Market Internals and Most Actives
General Electric
(GE)
topped the most actives as news that its would-be merger with
Honeywell
(HON)
will come under close scrutiny from the European Union. Uptown,
Cisco Systems
(CSCO)
attracted all the eyeballs, while the litigious
Microsoft
(MSFT)
ranked a distant second.
Back to top
Sector Watch
Boy, usually when companies announce a restructuring, markets reward them with a little boost since the actions are geared toward offsetting weakness. Well, don't tell that to
JDS Uniphase
(JDSU)
. Despite the fact that this networking company announced it will trim its workforce by 3,000 employees, markets were not cheered. It dropped 9.2%, leading the entire sector lower.
The
American Stock Exchange Networking Index
slid 2.3%. Negative sentiment plagues this once-hot area.
Corning
(GLW)
dropped 8%.
Back to top
Bonds/Economy
Investors were looking at bonds to store their cash. The long-bonds were the place to be for big gains today, as the 10-year Treasury gained 23/32 to 100 13/32 with a yield of 4.94%. Both the 5-year and 30-year had big gains, too, while the shorter maturities suffered.
The 3-month, 6-month and 1-year bills all sat with losses. The 2-year was relatively flat.
Back to top
International
Sometimes America helps Europe, other times, like today, America isn't quite so helpful.
A gleeful European rally was sideswiped by the American open, which was decidedly negative. Then the late-morning rally Stateside helped bit, but didn't elevate bourses to their once-loftier highs. London's
FTSE
gained 24.4 to 5941.2 around the end of its trading day. The previous day, the index closed at a level unseen in the past 16 months. Financials, especially the banks and insurers, were up as traders speculate about a possible rate cut.
Elsewhere on the continent, Germany's
Xetra Dax
gained 48.2 to 6237.2, while Paris'
CAC
rose 22.7 to 5437.8.
The euro last traded at $0.9156, a gain from the previous day's trading. The yen traded at 116.1.
Asia wasn't nearly as lovely, especially Tokyo's
Nikkei 225
, which has performed so badly that the Nasdaq looks good by comparison. It fell 141.3 to 13,059.9, dropping to a 28-month closing low as chipmakers slumped and banking stocks succumbed to profit taking. That warning from
Texas Instruments
(TXN)
yesterday didn't help much, either.
Hong Kong's
Hang Seng
dropped 395.5 to 14,834.7.
Back to top