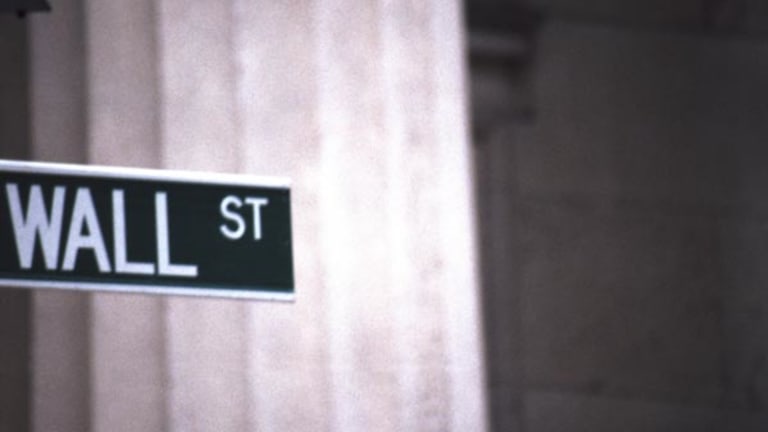 Today's Market: At Open, Apple Drops and Other Stocks Follow
<LI>Apple losing almost half its value.</LI> <LI>United Airlines warns about earnings.</LI> <LI>September Chicago Purchasing Managers Index rises to 51.4, hinting at increase in manufacturing activity.</LI>
(Updated from 9:43 a.m.)
Another one down. And it's not a pretty sight.
Last night after the close, PC giant
Apple
(AAPL) - Get Apple Inc. (AAPL) Report
said it expects to miss fourth-quarter earnings estimates. Investors dragged the company's shares into the mud during after-hours trading, cutting the company's value almost in half.
TheStreet.com
took a closer look at the
plunge in a piece last night.
This morning, Apple was 48% lower to $27.19.
But tech may have already been set up for a some selling on the heels of triple-digit gains for the
Nasdaq Composite Index yesterday. After seeing losses for a week straight, it closed up 122 points to 3778 Thursday. This morning, the Nasdaq was 40 lower to 3739.
The broader market was also having a bad day.
S&P 500 moved down 6 to 1453. And the
Dow Jones Industrial Average was 44 lower to 10,780.
"I suspected a sell-off anyway, following strength from yesterday," said Rosanne Lang, vice president of program trading at
Cantor Fitzgerald
.
"I'm not sure we'll give back all of yesterday's gains, but we'll probably vacillate through a big part of it. I don't see where we can pick up any strength," she added. "Apple may just serve as an excuse to see weakness in the techs. A lot of these stocks have rallied back with great strength, despite intraday downswings. It remains to be seen how much upside remains out there on any given day."
Apple certainly isn't going to escape the carnage. With impeccable timing,
Bear Stearns
,
PaineWebber
and
Morgan Stanley Dean Witter
downgraded the stock this morning. PaineWebber said the sales weakness was Apple-specific, however.
Even so, the rest of the PCs may have a challenging day. In early trading, PC-maker
Dell
(DELL) - Get Dell Technologies Inc Class C Report
was 4.5% lower. Dell said yesterday that it expects a strong fourth quarter to help it reach its 30% revenue-growth goal for the year.
Hewlett-Packard
(HWP)
was losing 3.7%. And
Gateway
(GTW)
fell 9.5% early on.
Perhaps the worst news from Apple is that, like
Eastman Kodak
(EK)
, which warned of an earnings miss Tuesday morning, Apple cited a slowdown in sales across all geographies. This sets them apart from other companies that have blamed expected shortfalls on a depressed euro or rising oil prices. It's bad news for PC-makers at a time when worries over a slowdown in PC sales have been building.
But enough about tech.
Window dressing -- where portfolio managers tidy their books for the scrutiny of investors at the end of each quarter -- should be an important current in today's session. Some window dressing has been going on all week, but today marks the end of the third quarter, and a lot of the tidying is expected to take place in the last two hours of the session. Any stocks that have really been beaten down over the past few months could get the rug pulled out from under them as managers rush to sell and erase them from their books; those stocks that have shown consistent strength could get a lift as portfolio managers pile in.
TheStreet.com
wrote about window dressing a
separate story.
"Funds activity should pressure the market on the sell side today, independent of any real fundamentals of the market," said Lang.
There is some good news out there today concerning oil prices, which could help allay fears that growth in the global economy may start grinding to a halt. Crude-oil prices tumbled $1.12 to $30.33 a barrel after Saudi Arabia said the country is prepared to supply the world with as much oil as necessary to help deflate price pressure.
But no good news for
United Airlines
(UAL) - Get United Airlines Holdings, Inc. Report
or toy-maker
Mattel
(MAT) - Get Mattel, Inc. Report
. UAL fell 7.4% this morning after it warned that it expects to report a loss for the third quarter and possibly in the fourth, due to operational "disruptions." The airline was plagued by labor problems over the summer.
Mattel announced that it was selling its troubled Learning Co. unit, in what
The Wall Street Journal
called the "worst-ever corporate deal". Mattel did not disclose a sales price, but said the loss would leave it with an after-tax loss of about $430 million. Mattel was unchanged in morning activity on
Instinet
. Mattel was losing 4.8% in early trading.
Elsewhere in the news, Mexico's top cement firm,
Cemex
(CMX)
, should get some attention, after it cemented (couldn't resist) a deal to acquire
Southdown
(SDW)
, the largest independent cement-maker in the U.S., for $2.6 billion. Cemex was unchanged, while Southdown was jumping 30.8%.
This morning at 10 a.m. EDT, the
Chicago Purchasing Manager's Index, the Chicago-area manufacturing index, comes out. It helps predict the broader
Purchasing Manager's Index. According to
Reuter's
the index is expected to reach 48.5 vs. 46.5 the previous month. A number above 50 signals expansion of manufacturing activity, while a reading below 50 indicates a decline.
Back to top
Bonds/Economy
The benchmark 10-year Treasury note was lately 6/32 higher at 99 20/32, and yielding 5.799%.
Back to top
International
European markets bounced at the open on the heels of the U.S. rally yesterday. But the major indices had slipped into the red by midsession, as they began to worry about the U.S. markets' reaction to Apple.
In London, the
FTSE 100
was off 13.90 to 6250.20.
Across the channel, the
CAC 40
in Paris was 25.46 lower to 6285.57, and the
Xetra Dax
in Frankfurt lost 29.38 to 6803.38.
A day after voters in Denmark decided not to join the euro, the single currency was lately trading near unchanged at 0.8785.
Asian markets jumped on Friday as U.S. markets recovered overnight, but most traders are viewing the bounce as a one-time event.
In Japan, local fund managers buying selected tech shares before the close of the fiscal first-half Sept. 30 helped the
Nikkei 225
index rise 120.30 to 15,747.26.
In Tokyo currency trading, the greenback edged a notch or two higher against the yen to 107.80. The dollar was lately trading at 108.27 yen.
Hong Kong's
Hang Seng
index bounced 233.23, or 1.5%, to 15,648.98 as property and banks shares rallied.
Hang Seng Bank
(HSNGY)
rose HK$3.25, or 4.0%, to 85.25 ($10.93), while
Sun Hung Kai Properties
(SUHJY)
gained 3.50, or 5.0%, to 73.25. The latter announced fiscal first-half profits of HK$10.8 billion, a 17% rise from the same time last year, after the market closed Thursday.
Back to top