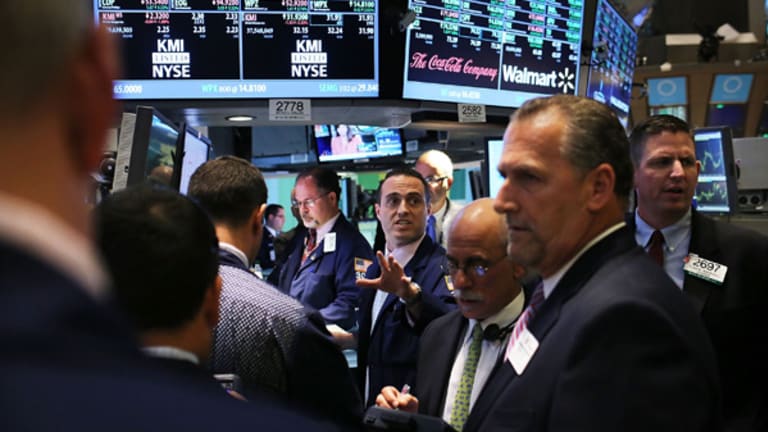 Today's Market: As Presidential Decision Nears, Stocks Soar
<LI>Florida vote should be final at 5 p.m EST -- maybe.</LI> <LI>Retailers, financials gain.</LI> <LI>Large-cap tech leads Nasdaq well past 3000.</LI>
"And the flowers are still standing!"
Take it from Bill Murray circa
Ghostbusters
, the day's market gains were still on the table at midday after a judge in Florida said that votes in the recount need to be certified by 5 p.m. today. Can you believe the election happened seven days ago? Happy week-old birthday undecided presidential election!
The major stock market indices spiked as the judge's decision was announced. They settled back a bit as investors heard part two of the judge's decision. The Florida state judge ruled that results of the presidential recount must be certified by 5:00 p.m. EST tonight. However, the news is not particularly cut-and dried because the judge said an appeals process of the results could still be activated. The indices still stand solidly higher.
Markets today were significantly higher for the first time since voters went to the polls last Tuesday. Right out of the gate this morning, both major market indices sprinted ahead, shaking off yesterday's late-day weakness that spoiled a rather exciting attempt at a rally yesterday afternoon.
Trading volume isn't nearly as thick as it was in September, but it sure beats recent trading sessions. That's a good sign that investors are again getting more interested in the market. Better still are market internals, those numbers that track how many stocks are moving up compared to how many are dropping like flies. For the first time in recent memory, winners cleanly pinned losers. On both the
New York Stock Exchange and
Nasdaq Stock Market
, the number of winners was more than double the number of losers.
By the looks of it, buyers have come back into the market, alleviating a deep, week-long selloff. Like
Filene's Basement
during a Christmastime one-day sale, investors were knee-deep in the hunt for bargains.
"My feeling was the rally was overdue and that's what I told people in the morning meeting," said Ned Collins, vice president of U.S. stocks for
Daiwa Securities America
. "We were so oversold . . . but still there are a lot of questions out there. There are questions about earnings shortfalls. There are questions about the presidential election."
Don't get too excited. If you've picked up the business section, turned on the financial news or kept up with
TheStreet.com's
coverage, then you've read over and over again that markets don't like uncertainty. Despite the fact that its been beaten to death by mainstream media outlets, traders still thought it rang true. "We may get a short term rally," Collins said, "but I'm not convinced yet."
Large-cap tech stocks were leading the
Nasdaq higher. Given how far some of these stocks have fallen from their highs, you can see the bargain shoppers circling.
Oracle
(ORCL) - Get Oracle Corporation Report
, the most-actively traded stock on the Nasdaq, jumped 13.4%. It signed a
technology pact with
Citigroup
.
Sun Microsystems
(SUNW) - Get Sunworks Inc. Report
rose 7.9%, Chipmaker
Intel
(INTC) - Get Intel Corporation Report
was gaining 4.8% and
JDS Uniphase
(JDSU)
was climbing 6.6%. They're not alone. The
Morgan Stanley High-Technology 35 Index
, a broad-based index that contains a large collection of the most-widely held tech stocks, rose 4.9%.
A Seller's Market, Today Anyway
Retailers were having an active day. The
S&P Retail Index
, exactly the kind of place you'd want to go to figure out how retailers were doing, was up 2.6%. Retail sales in October rose 0.1%, which was stronger than the drop in sales that had been expected in the battered retail sector. By all accounts, the third-quarter picture for retailers was unspectacular and the fourth-quarter is fairly uncertain, with many companies warning that Christmas might not be so jolly.
Home Depot
(HD) - Get Home Depot Inc. (The) Report
and
Wal-Mart
(WMT) - Get Walmart Inc. Report
were two retailing giants that issued earnings today. Home improvement retailer Home Depot announced third-quarter earnings of 28 cents a share, hitting the
First Call/Thomson Financial
estimate right on the nail, while beating the year-ago quarter by three cents. But, according to CEO Arthur Blank, falling commodity prices and a competitive retail environment will make it tougher to produce big results this fourth quarter. In a company press release, Blank said: "These factors have also made us cautious regarding our sales outlook for the fourth quarter fiscal 2000."
Meanwhile, Wal-Mart reported third-quarter earnings of 31 cents a share, right in line with estimates and two-cents higher than the year-ago 29 cents. Sales rose to $45.7 billion from $40.9 billion.
And wouldja lookit that! Home Depot rose 6.7%, while Wal-Mart rose 5.1%.
Here's a quick roundup of how some other retailers performed:
TJX
(TJX) - Get TJX Companies Inc. (The) Report
,
Target
(TGT) - Get Target Corporation Report
and
J.C. Penney
(JCP) - Get J. C. Penney Company, Inc. Report
beat expectations.
Staples
(SPLS)
,
Cost Plus
(CPWM)
and
Williams-Sonoma
(WSM) - Get Williams-Sonoma Inc. (DE) Report
missed expectations.
But, keep in mind, many of those warned that the fourth quarter could be a hairy one. For more on
the retailers, check
TheStreet.com's
continuing coverage.
Fed Up Tomorrow
And all this moving and shaking in retailers, election results and markets is churning just one day before the
Federal Open Market Committee meeting. Now, although most people are calling for a neutral bias when Alan Greenspan and his friends wax economic, tomorrow's meeting is still pretty important, as the Fed-obsessed market will look for indications of future Fed plans. A neutral bias means the Fed isn't worried that inflation is going to wreck havoc on the markets -- and likely won't feel compelled to raise or lower rates to tinker with the pace of economic growth. For now, anyway.
Will the Fed hike rates? Will it slash rates? And how does low unemployment and the apparent slowing of earnings growth affect the economy? And markets still dislike uncertainty, right?
The answers to these and other questions will be answered tomorrow. This is your heads up. Stay tuned.
Market Internals
After about a week's worth of breadth, things were smelling all right. Winners dominated losers, while volume was better than it has been in the last few trading sessions.
New York Stock Exchange: 1,758 advancers, 940 decliners, 606 million shares. 35 new 52-week highs, 21 new lows.
Nasdaq Stock Market: 2,382 advancers, 1,270 decliners, 962 million shares. 26 new highs, 84 new lows.
Back to top
Most Active Stocks
NYSE Most Actives
Nasdaq Most Actives
Back to top
Sector Watch
Green markets are the place to be, Tech livin' is the life for me. Yee-haw! Let's call this a recovery, ya hear?
Forget
Dennis Rodman
, technology-related stocks have rebounded nicely without any of the tattooing, cross-dressing or Madonna associated with "the Worm." Semiconductors, computer makers, heck, even those bloodied dot-coms were all much higher. The
Philadelphia Stock Exchange Semiconductor Index
, which tracks the stocks of companies that make chips, rose 4.6%, while the
Philadelphia Stock Exchange Computer Box Maker Sector
rose 5.1%.
TheStreet.com Internet Sector
index rose 4.7%.
Brokers were finally relieved from the destructive force called
J.P. Morgan
(JPM) - Get JP Morgan Chase & Co. Report
, which traded 1.7% higher today. The
American Stock Exchange Securities Broker/Dealer Index
rose 3.3%.
Back to top
Bonds/Economy
Bonds are weaker today after several days of strength because of gains today in the stock market.
The benchmark 10-year
Treasury note was lately down 5/32 to 99 22/32, yielding 5.793%.
Back to top
International
European markets were solidly higher, making a move to the upside and a solid one at that. With the outcome of the presidential election set to be uncertain for the near future, it appears that the folks across the pond have begun to go about the business of doing business. Lately, European markets have been tentative with a wary eye cast on American markets, choosing to take direction from domestic moves.
London's
FTSE
rose 2.2%. The
CAC
in Paris rose 3.1%, while Germany's
Xetra Dax
gained 2.61%.
The euro smelled like dead fish. It last traded at $0.8581.
Asian markets were mixed. Hong Kong had a plus-side tsunami, while Japan looked a little soggy. The
Nikkei 225
slipped 4.6 to 14,660, while the
Hang Seng
rocketed up 361.8, or 2.4%, to 15,177.5. The yen last traded at 108.04.
Back to top